Viewers of TubiTV will now enjoy premium movie content as the partnership will see films produced by Royal Family Films aired on TubiTV for free
Royal Family Films, an independent film company based in Newark, NJ, has partnered with TubiTV to air its movies. The films will be available on TubiTV as the partnership will make Royal Family Films air on the FOX-owned TV station.
At the moment, Royal Family Films currently has five movies in its filmography, namely Living with Regrets (2013), King of Newark (2016), The Fearless 1 (2018), King of Newark 2 (2018), The Fearless Two (2019).
About Living With No Regrets (2013)
Malcolm Graves is a master hustler from the streets of Newark, New Jersey, who just wants to rise above it all before the streets bury him and all the people he loves.
About King of Newark 1 (2016)
Malcolm Graves's past comes back to haunt him as he faces the consequences of his right and wrong decisions on trust, loyalty, lies, and the violence he created in this riveting sequel to Living With No Regrets.
About The Fearless 1 (2017)
Cody is a top martial artist that has been focusing on peacefully rebuilding his life after a tragic family event, but trouble seems to find him as he attempts to stay focused on healing.
About King of Newark 2 (2018)
After an assassination attempt, Mayor Malcolm Graves fights to regain control of his life and city while saving his son from making the same mistakes of his past. Based on Living With No Regrets (2013) and King of Newark (2016).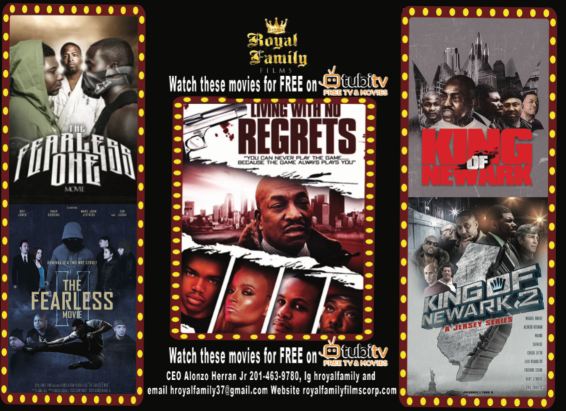 About The Fearless 2 (2019)
Cody and Kimberly are building a new life together. Samaad has revived the underground fights and wants Cody back to score a big payday, but a shadowy figure has sinister plans for all of them in this sequel to The Fearless One (2017).
CEO of Royal Family Films, Alonzo Herran, Jr., is ecstatic about the partnership with TubiTV and believes more of the sort will be signed in the future. For Alonzo, it is all about providing a platform for the actors to display their talent. "I will continue to create jobs for other actors and films in unique spaces where minority talents need to be displayed," Alonzo affirmed.
An award-winning film company, movies by Royal Family Films, have won awards, including an HBO/Cinema and Las Vegas award for The Fearless 1. In addition, King of Newark won the Brooklyn Film Fest and Charlotte Film Fest awards.
About Royal Family Films
Royal Family Films is an award-winning independent film company based in Newark, New Jersey. The company began as a publishing house for novels but has metamorphosed into a hub for entertaining movie content. Led by Alonzo Herran, Jr., the company prides itself on being independently funded by its founder but is always open to possible partnerships.
For further inquiries, send an email to hroyalfamily@aol.com.
ABOUT TubiTV
Headquartered in San Francisco, TubiTV (www.tubi.tv), a division of FOX Entertainment, is a free ad-supported streaming service that features popular TV shows and movies.
Media Contact
Company Name: Royal Family Films Corp
Contact Person: Alonzo Herran Jr
Email: Send Email
Country: United States
Website: http://www.tubi.tv/