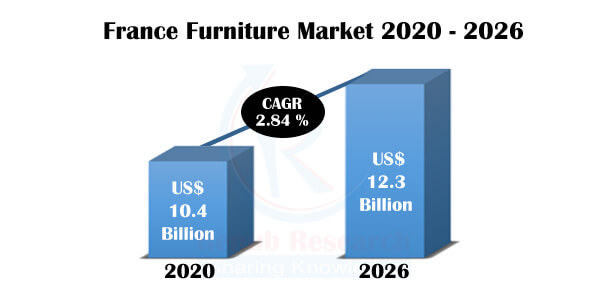 "However, as per Renub Research, The France Furniture Industry will grow with a CAGR of 2.84 % during 2021-2026."
France Furniture Market will be US$ 12.3 Billion by 2026. Forecast, Impact of COVID-19, Industry Size, Growth Trends, Opportunity Company Analysis, Financial Insight.
Furniture has been an essential part of France lifestyle for centuries. In the present times, the market of furniture in France is booming. This country is playing a significant role in the furniture markets in the European region. France marked third place in Europe and seventh in the furniture market globally. France is a destination for one-of-a-kind and outstanding furniture design. Kitchen Furniture, Upholstered Furniture, Beds, Bathroom Furniture, Garden Furniture, Furnishing Furniture used according to interior and comfort. The kitchen is an entegral part of the France house and has great importance. Its embellishment has much important as any other part of the home. France kitchen furniture market includes varieties of cabinets, table chairs, buffets and many others. Upholstered furniture is also getting popular in France because of its feature to provide comfort and luxury furniture. According to Renub Research report, France Furniture Market will be US$ 12.3 Billion by 2026.
The expansion of real estate and housing, advancement in technology, rising disposable income and rising desire for stylish homes in compact apartments are all factors driving the France furniture market. However, in 2018, household furnishings declined due to a fall in the housing, real estate, construction sectors, and social movement actions. These factors impacted the furniture business in France. However, as per Renub Research, The France Furniture Industry will grow with a CAGR of 2.84 % during 2021-2026.
Request a Free Sample Copy of the Report: https://www.renub.com/request-sample-page.php?gturl=france-furniture-market-p.php
In France, customers have the convenience to order furniture both online and offline. The online furniture business in France is rising due to increased digitalization and flexibility of home delivery with customization options. Online platforms are producing considerable income for corporations like Roche Bobois and Ikea. France furniture market includes furniture from mid-range to luxury. In this report, we have given a complete insight into most prominent companies like Roche Bobois, IKEA, BUT, and Conforama. These companies have fostered various strategies, such as mergers &acquisitions and partnerships, to accelerate growth and be competitive in this industry. For the year 2020, The Furniture Market in France was valued US$ 10.4 Billion.
COVID-19 pandemic Impact on Furniture Industry
Because of the pandemic shutdown, the furniture sector has seen a massive increase in internet orders. The COVID-19 pandemic, which occurred in the first half of 2020, has had a significant impact on the furniture business. Due to the current pandemic situation, restrictions and lockdowns and ban on transportation have impacted this industry's growth in France. But we anticipated a positive recovery in the year 2021.
Renub Research report titled "France Furniture Market & Forecast by Segments (Kitchen Furniture, Upholstered Furniture, Beds, Bathroom Furniture, Garden Furniture, Furnishing Furniture), Distribution Channels (Large Furniture Stores, Kitchen Houses, Medium Furniture Stores, Luxury Furniture Stores, Craft, Others), Ordering Methods (Online, Offline), Material (Plastic, Wood, Metal, Others), Companies (Roche Bobois, IKEA, Conforama,BUT)" provides a complete analysis of furniture industry in France.
Follow the link for the full report with detailed TOC and list of figures and tables: https://www.renub.com/france-furniture-market-p.php
Segments – Market Breakup from 5 viewpoints
1. Kitchen Furniture
2. Upholstered Furniture
3. Beds, Bathroom Furniture
4. Garden Furniture
5. Furnishing Furniture
Distribution Channels – Market Breakup from 7 viewpoint
1. Large Furniture Stores
2. Kitchen Houses
3. Medium Furniture Stores
4. Luxury Furniture Stores
5. Craft
6. Others
Ordering Methods – Market Breakup from 2 viewpoint
• Online Furniture Market
• Offline Furniture Market
Material – Market Breakup from 4 viewpoint
1. Plastic
2. Wood
3. Metal
4. Others
All companies covered from 3 viewpoints
• Overviews
• Recent Developments
• Revenues
Company – Market Breakup from 4 viewpoint
1. Roche Bobois
2. IKEA
3. Conforama
4. BUT
Industry Related Opportunity:
India Furniture Market: https://www.renub.com/india-furniture-market-p.php
Modular Kitchen Market: https://www.renub.com/modular-kitchen-market-p.php
About the Company:
Renub Research is a Market Research and Consulting Company. We have more than 10 years of experience especially in international Business-to-Business Researches, Surveys and Consulting. We provide a wide range of business research solutions that helps companies in making better business decisions. We partner with clients in all sectors and regions to identify their highest-value opportunities, address their most critical challenges, and transform their businesses. Our wide clientele comprises major players in Healthcare, Travel and Tourism, Food & Beverages, Power & Energy, Information Technology, Telecom & Internet, Chemical, Logistics & Automotive, Consumer Goods & Retail, Building, and Construction, & Agriculture. Our clients rely on our market analysis and data to make informed knowledgeable decisions. We are regarded as one of the best providers of knowledge. Our pertinent analysis helps consultants, bankers, and executives to make informed and correct decisions.
Our core team is comprised of experienced people holding graduate, postgraduate, and Ph.D. degrees in Finance, Marketing, Human Resource, Bio-Technology, Medicine, Information Technology, Environmental Science, and many more. Our research helps to make business decisions: on strategy, organization, operations, technology, mergers & acquisitions etc. We support many blue chip companies by providing them with findings and perspectives across a wide range of markets. Our research reports offer a blend of information insight, analysis, and forecasting that is essential in today's ultra-competitive markets.
Contact Us:
Renub Research
Phone No: +1 678-302-0700 (USA) | +91–120–421–9822 (IND)
Email: info[at]renub[dot]com
Web: https://www.renub.com
Follow on Linkedin: https://www.linkedin.com/company/renub-research
Media Contact
Company Name: Renub Research
Contact Person: Rajat Gupta
Email: Send Email
Phone: 16783020700
Address:Roswell, GA 30076
City: Roswell
State: GA
Country: United States
Website: www.renub.com/consumer-goods-and-retail-27-c.php