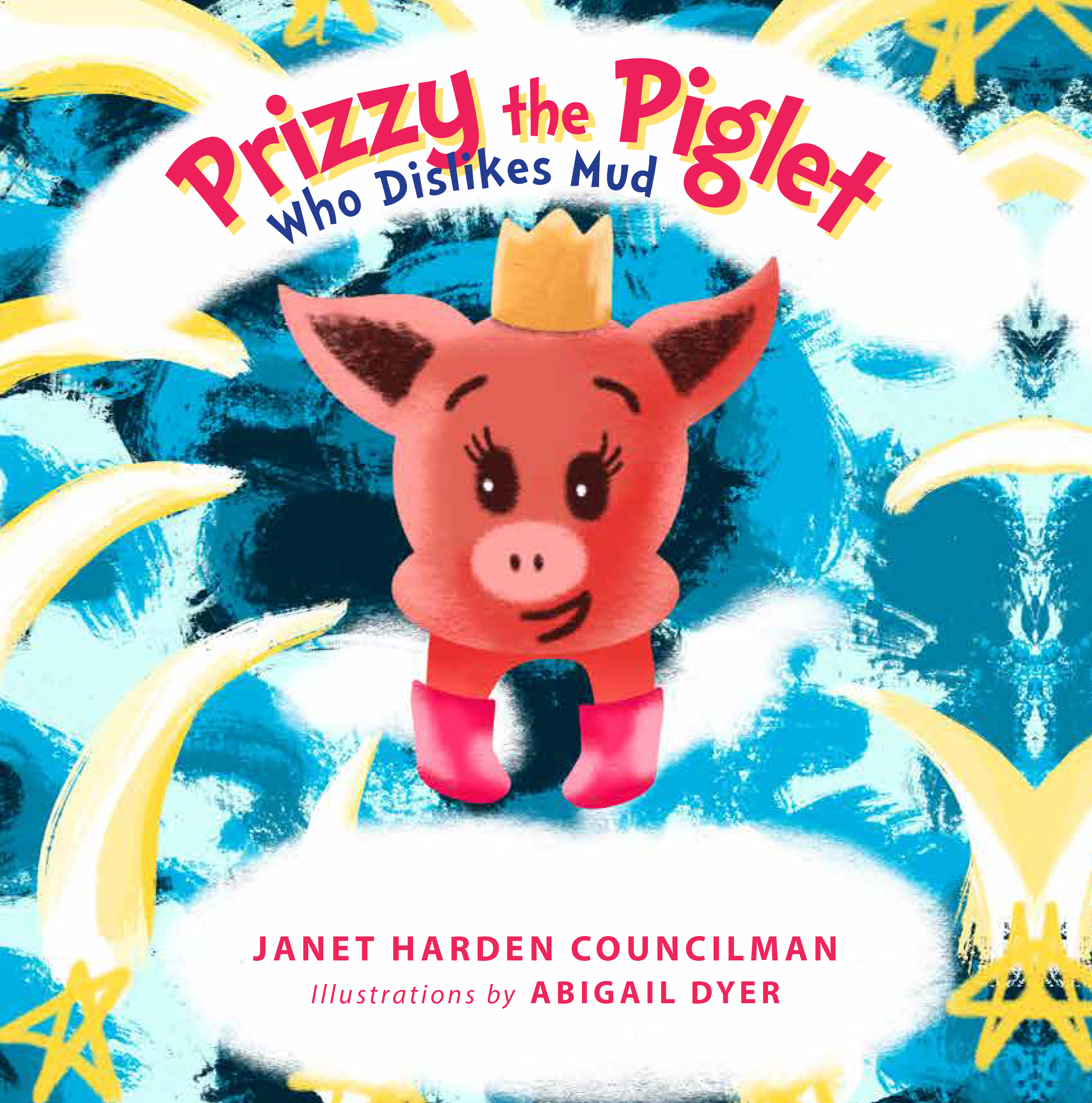 BURLINGTON, N.C. – July 2, 2021 – Have you heard of a cute, pink, little pig who didn't want to get dirty? Meet Prizzy, the piglet from Mr. McDonald's farm with a highly unusual character trait – she's scared of mud. This loveable character is from, "Prizzy The Piglet Who Dislikes Mud" by Author Janet Harden Councilman and illustrated by Abigail Dyer.
This 20-paged beautifully crafted book and best read aloud for babies, toddlers and even up to twelve years old, will find joy in Prizzy's adventure. It is a story of a tiny porker named Prizzy who refused to get her hooves dirty. She dislikes mud and loves to follow Mr. McDonald around the farm while he does his chores each day. Her unusual trait caught the attention of Mr. McDonald, noticing Prizzy doesn't like to play in the mud holes with all the other piglets in the litter. He decides he has to do something very special for Prizzy. One fine day, he surprises Prizzy with a gift. As she watches Mr. McDonald unbox the package, her eyes rolled with joy and big a smile. Are you excited to know what's in store for Prizzy? Could it be a snugly fitting glass slipper like Cinderella or booties which she can use to run around Mr. McDonald's farm?
Reading this book with a child is both charming and delightful as it is easily read and understood, a tale worthy to be told. "Prizzy The Piglet Who Dislikes Mud" is one of the many children's books that will be something special to share whether at home or on a family vacation.
For more information about Councilman and her other works, visit her website at https://www.janetcouncilmanbooks.com/.
Like and follow Councilman's Facebook page at https://www.facebook.com/Janet-Councilman-101469268685064.
"Prizzy The Piglet Who Dislikes Mud"
By Janet Harden Councilman
Kindle | $3.99 | 978-1-64753-698-5
Paperback | $8.99 | 978-1-64753-696-1
Hardcover | $14.99 | 978-1-64753-697-8
Available on URLink Print & Media, Amazon, Barnes & Noble and other online book retailers
About the Author
Janet Harden Councilman attended Ringling College of Art and Design in Sarasota, Florida and studied Commercial Art.
After working with a printing company, she decided to work with autistic students at South Graham Elementary School. While working there, she decided to write children's books. The series of books she wrote are about the character traits taught in elementary schools. The traits she wants to impart are being Respectful, Responsible, Fairness, and Caring.
Janet lives in Burlington, North Carolina where she continues to draw portraits of people, dogs, and cats.
Media Contact
Company Name: URLink Marketing | URLink Print and Media
Contact Person: Media Relations
Email: Send Email
Phone: 1-888-980-6523
Address:1603 Capitol Ave., Suite 310
City: Cheyenne
State: Wyoming 82001
Country: United States
Website: www.urlinkpublishing.com/