Coopers Plains, QLD – The Brisbane area is serviced by Big Rhino PTY LTD, a family-owned and operated Brisbane mobile crane hire company that is celebrating 30 years of Crane Hire. Big Rhino has launched a new website that is now live, featuring crane hiring services offered by the company that include the 12t Franna, 20t Franna, 16t Citycrane, 20T Citycrane, 25t Slew Cranes, and more.
Franna Crane Hire Brisbane is a rapidly expanding crane hire company with a strong presence in the Brisbane, Logan, Ipswich and Gold Coast areas, and it takes pride in its highly capable, experienced, and friendly workforce. Their fleet has doubled in size, and each Mobile Crane, slew crane and Franna crane has its own set of job skills that can be combined to perform some of the other tasks. The 16T Kobelco Slew Crane, with a 6mtr footprint and a very long 25 mtr reach mobile crane, was in high demand as it can be set up in a very small area and has a great reach, which is exactly what the construction industry is looking for as building blocks and the land become smaller and some access is steeper than ever. Their Franna 12T is a versatile tiny crane that can pick up and go with the load, as well as being in high demand for construction sites. It's also utilised for pool lifts and a variety of other quick lifting crane applications. A bigger load is also carried by the arrival of Big Rhino PTY LTD's 25T Tadano Truck mounted crane and a 20t Franna.
The 16t crane of the Crane Hire Brisbane company dominates their fleet. With a 6×6 meter footprint, a 25-meter live boom, and a 5-meter fly attachment, this smaller All Terrain Crane can handle a variety of operations, including but not limited to house blocks, steel erection, trusses and roofing, sound barriers, and ventilation and air conditioning. Big Rhino PTY LTD's 25t truck mount crane is the company's largest crane and is also very popular with its clients. It can lift blocks up to 21 meters depending on their weight, which is a lot further than their 16-ton all-terrain crane.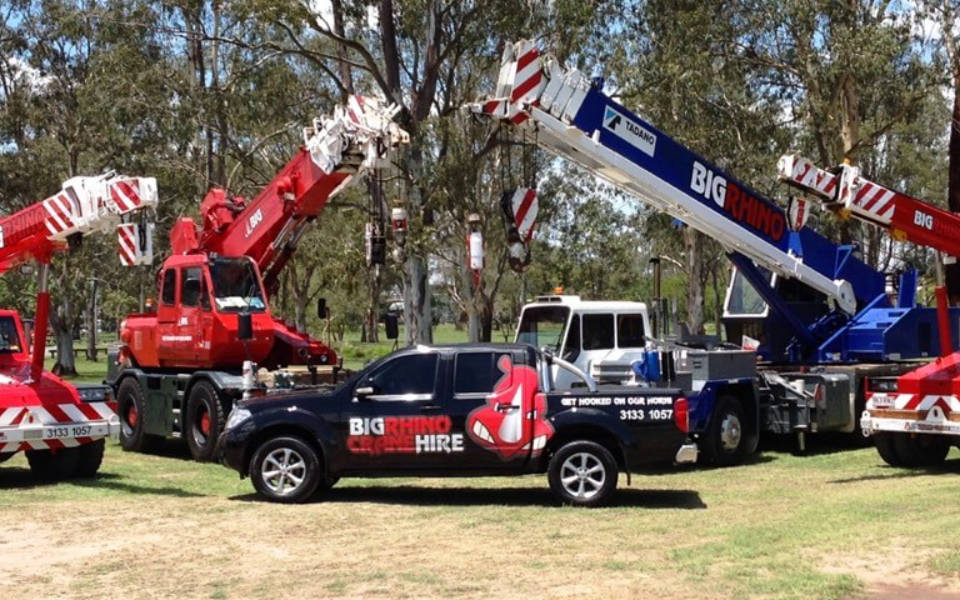 Additionally, the 20t Franna pick and carry crane from Big Rhino PTY LTD is the heart of their operation. It's designed to lift stuff that their 12t Franna can't. This crane lifts plant, concrete tanks/panels, truck bodywork, factory machines, and a variety of other unique lifts, as well as all standard construction lifts like blocks, trusses, and flooring, at a comfortable 10t but capable of more depending on the size of the load. Also, the lifting gear available includes Block Cage, Man Cage, Concrete Kibble, Materials Cage, Spreader Bars, and a variety of Lifting Clutches.
Big Rhino PTY LTD is located at 8 Delph St, Coopers Plains, QLD 4108, AU. For inquiries, contact the mobile crane company via phone at 0434 243 151 or visit its website for more information.
Media Contact
Company Name: Big Rhino PTY LTD
Contact Person: Marg Gravener
Email: Send Email
Phone: 0434 243 151
Address:8 Delph St
City: Coopers Plains
State: QLD
Country: Australia
Website: https://bigrhino.com.au/