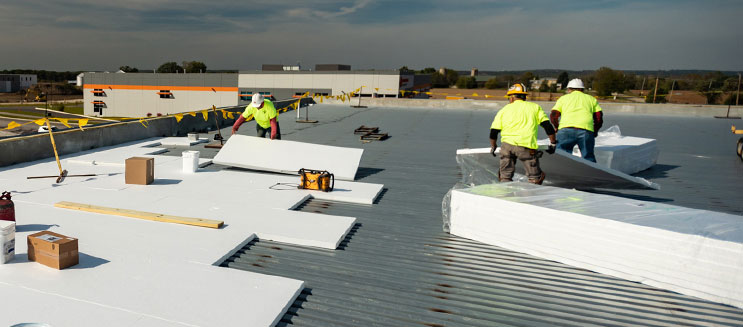 NorthCan Roofing offers unmatched expertise in industrial flat roof installation, repairs, and replacement.
NorthCan Roofing, the name trusted by businesses in and around Toronto for all their commercial roofing needs, excels in industrial roofing installation, replacement, and repairs. Acclaimed as the best in the flat roof repairs domain in the Greater Toronto Area, NorthCan Roofing combines superior workmanship with excellent customer service to ensure that the roofing needs of their clients are addressed effectively.
"We offer the full range of industrial flat roofing solutions that can be easily customized to match the individual needs of every business," says the spokesperson for the company. "You can choose our industrial roofing to match the structure of your building and your budget. We have one of the best roofing experts to guide you in making the right choice if you are not too sure how to do it."
The flat roofing options offered by NorthCan Roofing in the industrial roofing segment include:
Single Ply made of TPO or Thermoplastic Polyolefin
Single Ply made of EPDM or Ethylene Propylene Diene Monomer
Four-Ply BUR or Built-Up Roof including tar and gravel
Double Ply made of Modified Bitumen
The company also offers metal flashing and siding options in industrial roofing.
NorthCan Roofing is a commercial roofing service that's trusted for its high-quality industrial inspections and maintenance work. Companies concerned about the safety of their existing roofing systems can rely on NorthCan Roofing to carry out a meticulous and professional inspection of their roofing system and carry out the maintenance procedures needed to make the whole system secure. It also helps in improving the longevity of the roofing.
"We have more than 30 years of experience in industrial flat roofing and our expert team has the distinction of having worked on almost every type of flat roofing project under the sun," the spokesperson adds. "We provide our customers with services for the full lifespan of their industrial flat roof. We also have specialized service specifically for industrial flat roofs."
NorthCan Roofing stands apart for its high-quality workmanship. The company also never compromises on the quality of roofing materials and accessories used in every roofing project. Clients can enjoy customized solutions during and after the roofing project such as professional advice, year-round maintenance, and 24/7/365 emergency repairs.
For more information, visit https://northcanroofing.com/
Media Contact
Company Name: NorthCan Roofing Inc.
Contact Person: Alex Nasimov
Email: Send Email
Phone: 4164560777
Address:425 Alness Street
City: Toronto
State: ON
Country: Canada
Website: https://northcanroofing.com/