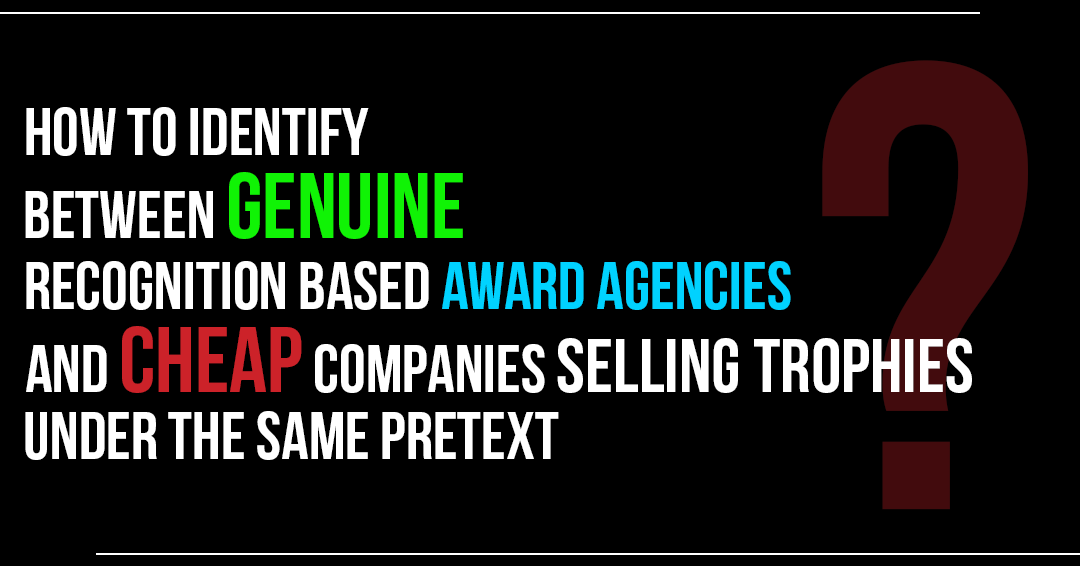 Trophies VS Awards
How to identify if an organization is awarding you with a genuine Award and Recognition, or just selling trophies and kits to you for a price?
1) Trophy: When a company charges you for the trophy, i.e all they are providing you with is a Cheap Trophy for a small price. RUN, because they are just selling a trophy, not recognizing you.
2) Google: When you cannot find the company in GOOGLE. For any company to recognize you, they should have a recognition of their own first. If they don't have any online presence, how are they even qualified enough to recognize you in the first place.
3) Website Profile: If the awarding company does not provide you with a profile on their website. As long as you, being the awardee, are not featured on their WEBSITE, it is just like buying a trophy from a nearby store.
4) Branding and PR: Many fraudsters in the market convince people that it is worth spending thousands to get a trophy that they can show off, but as long as they don't provide proper branding or PR to back it up, what is the use?
Branding and PR could include:
• Live Interviews
• Blog Posts
• Vlogs
• YouTube Feature
• Press Release on National or Global Platforms
• Individual or Group Press Release
• Google News Coverage (Not mandatory)
5) Brand Value: One of the most important factors involved in Brand Value. There are multiple ways to find the brand value of any company.
• Brand appears on the first page of Google
• Google Maps Availability (Google Verified Business)
• Google News Feature
• Website Design
• Quality of Awardees
• ISO certification
• Government Registration
• Social Media
• Email id: A branded mail id will look something like: @.com (which mostly don't use @gmail.com)
• The number of Articles you can find on the company, or by the company on major national/global news sites like Hindustan Times, ANI, etc. (Local/Hyper-Local Sites don't count.)
• Reviews on Google, Testimonials on the website, Awards, etc.
If you are contacted by anyone who cannot provide these things, or whom you cannot verify by these methods, staying away is the best way to go for it.
The next question that comes to mind is, why pay for recognition or an award?
1. First thing, you never pay for an award or recognition. If you are paying for a trophy or a kit, then you are wasting your money.
2. Almost every major company and agency charges you when you apply for the awards or recognition, but those are BRANDING and PR charges, and not the charges for receiving the award.
As I mentioned above, that when you are awarded you should get branding and PR because what is the use of recognition if you are the only person who knows about it. If the only possible proof of that is the Kit you have with you, no online or press mentions, no profiles. These Branding agencies and PR companies charge huge amounts for the press release and branding. If the charges you pay are paid for these things, then it is normal and not at all fake. But if you are paying for just a name mention, then it's waste again.
An article about the awardee consisting at the very least 50 words should be released, on at least 5-10 news sites, this is considered a proper Press Release.
• If the PR is done in a single premium news site like Economic Times, Hindustan Times, Outlook, Telegraph, etc., then it can be considered a PR if at least 50 or more words about each awardee are mentioned.
• If the PR is done on Multiple Local, or standard news sites, again with 50 or more words, it can be considered.
• If a PR is done by just mentioning your names in an article consisting of over 200-500 words, it is a press release of the award, not a press release of yours. Paying tens of thousands just to get a name mention may not be worth it.
There are companies who charge a lower amount and provides standard recognition in one or more local or national sites, and proper recognition on their websites and mentions, these can be considered for once if the nomination charges are below INR 1000. But again if that company does not even have their own website or assign you with at least an article, are they really qualified enough to recognize you?
Difference between Recognition based Awards and Prizes?
Many local companies and institutes organize local and state-level Competitions, as long as a company is well registered, and are organizing a contest in the same field they work with, participating in this is a good way to gain local appreciation. But these are competitions, where you pay basic entry charges and you are ranked on the basis of your skills. These are not awards or recognitions.
So don't confuse between these two.
Recently there had been a trend where Book Publication Houses, Dance Classes, Libraries, etc. have started organizing a variety of competitions which are especially good for the up and comers of their field. Organizing a competition and awarding the best ones are called PRIZES, not awards.
For Example:
If someone wins a contest, he/she can say, "I won the first prize".
While when someone is awarded a recognition-based award, he/she can say, "I have been recognized/awarded for my skills".
But they are not qualified enough to give some trophies to multiple people on the pretext of recognition or Award while all they do is get a trophy printed and couriered to you, sometimes without even checking or verifying your skills for a cheap cost.
Kindly check all the requirements above before you get swallowed in this. If you want me to go deeper into any particular point, kindly comment below so I could make a special post mentioning that particular thing.
Media Contact
Company Name: FanatiXx
Contact Person: HEMANT BANSAL
Email: Send Email
Phone: 8448203204
Country: India
Website: www.hemantbansal.life