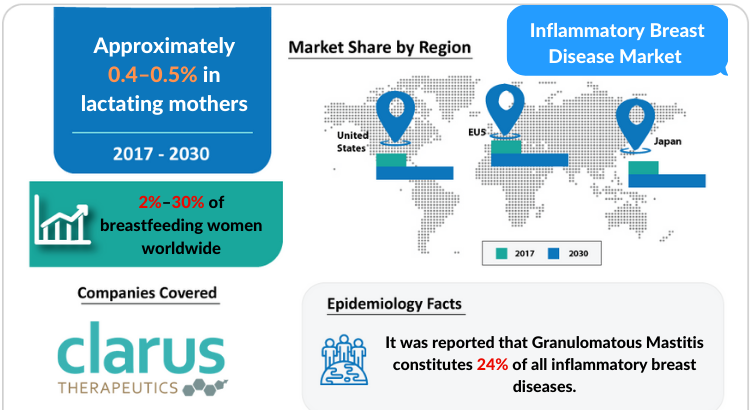 DelveInsight has added a new research study on Inflammatory Breast Disease Market Report with detailed information on the overview, market insights, drugs industry, treatment, growth, size, share, trends, during the forecast period of 2017 to 2030
Inflammatory Breast Disease Overview
Inflammatory breast diseases are an uncommon group of diseases that have clinical and radiological characteristics with breast cancer. Inflammation frequently leads to infection. Inflammatory breast disease is often mistaken as breast cancer as both the diseases share the same signs and symptoms.
Download Sample Copy @ https://www.delveinsight.com/sample-request/inflammatory-breast-cancer-market
Inflammatory Breast Disease Market: Regions Covered
The United States
EU5 (Germany, France, Italy, Spain, and the United Kingdom)
Japan
Inflammatory Breast Disease Symptoms
Mastitis signs and symptoms generally occur suddenly. These symptoms include Breast tenderness or warmth to the touch, breast swelling, thickening of breast tissue, or a breast lump, pain or a burning sensation continuously or while breastfeeding, skin redness, often in a wedge-shaped pattern and high fever.
Inflammatory Breast Disease Diagnosis
The diagnosis of inflammatory breast disease is based upon physical examination. The doctor will analyses the culture of breast milk and in non-lactating patient's mammogram or breast biopsy is usually done.
Inflammatory Breast Disease Treatment
The treatment of inflammatory breast disease is majorly based upon off-label therapies that include antibiotics and pain relievers. In certain cases surgery is also advised.
Inflammatory Breast Disease Market Report
Mastitis is inflammation of the breast tissue and can be broken down into lactational and non-lactational mastitis. Lactational mastitis is the most common form of mastitis. Two types of non-lactational mastitis include periductal mastitis, and idiopathic granulomatous mastitis (IGM).
Inflammatory Breast Disease Treatment Market
The treatment for inflammatory breast disease involves Antibiotics, Pain relievers, and surgery for an Abscess. If the patients have an infection, a 10-day course of antibiotics is usually needed. It's important to take all of the medication to minimize the chance of recurrence.
Inflammatory Breast Disease Emerging Therapies Assessment
As per the secondary findings and Clinicaltrials.gov, not many companies have indulged themselves to develop a novel treatment option for inflammatory breast disease. This might be due to the lack of awareness, misdiagnosis with other diseases and may be due to its extremely rare nature. However, the dynamics of the inflammatory breast disease market might change in the coming years. At present, Clarus Therapeutics is involved in the development of a pharmaceutical agent for this rare disorder and is initial phase of development.
Inflammatory Breast Cancer Market Outlook
The Inflammatory Breast Cancer market outlook of the report helps to build the detailed comprehension of the historic, current, and forecasted Inflammatory Breast Cancer market trends by analyzing the impact of current therapies on the market, unmet needs, drivers and barriers and demand of better technology.
Inflammatory Breast Cancer Drug Chapters
The Drug chapter segment of the Inflammatory Breast Cancer report encloses the detailed analysis of Inflammatory Breast Cancer marketed drugs and late stage (Phase-III and Phase-II) pipeline drugs. It also helps to understand the Inflammatory Breast Cancer clinical trial details, expressive pharmacological action, agreements and collaborations, approval and patent details, advantages and disadvantages of each included drug and the latest news and press releases.
Read Detailed Table of Content of the report
1. Key Insights
2. Executive Summary of Inflammatory Breast Cancer
3. Competitive Intelligence Analysis for Inflammatory Breast Cancer
4. Inflammatory Breast Cancer: Market Overview at a Glance
5. Inflammatory Breast Cancer: Disease Background and Overview
6. Patient Journey
7. Inflammatory Breast Cancer Epidemiology and Patient Population
8. Treatment Algorithm, Current Treatment, and Medical Practices
9. Unmet Needs
10. Key Endpoints of Inflammatory Breast Cancer Treatment
11. Marketed Products
12. Emerging Therapies
13. Inflammatory Breast Cancer: Seven Major Market Analysis
14. Attribute analysis
15. 7MM: Market Outlook
16. Access and Reimbursement Overview of Inflammatory Breast Cancer
17. KOL Views
18. Market Drivers
19. Market Barriers
20. Appendix
21. DelveInsight Capabilities
22. Disclaimer
23. About DelveInsight
Inflammatory Breast Cancer Market Report Scope
The report covers the descriptive overview of Inflammatory Breast Cancer, explaining its causes, signs and symptoms, pathophysiology, diagnosis and currently available therapies
Comprehensive insight has been provided into the Inflammatory Breast Cancer epidemiology and treatment in the 7MM
Additionally, an all-inclusive account of both the current and emerging therapies for Inflammatory Breast Cancer are provided, along with the assessment of new therapies, which will have an impact on the current treatment landscape
A detailed review of Inflammatory Breast Cancer market; historical and forecasted is included in the report, covering drug outreach in the 7MM
The report provides an edge while developing business strategies, by understanding trends shaping and driving the global Inflammatory Breast Cancer market
How Does This Inflammatory Breast Cancer Market Insights Help?
The report will help in developing business strategies by understanding trends shaping and driving the Inflammatory Breast Cancer market
To understand the future market competition in the Inflammatory Breast Cancer market and Insightful review of the key market drivers and barriers
Organize sales and marketing efforts by identifying the best opportunities for Inflammatory Breast Cancer in the US, Europe (Germany, Spain, Italy, France, and the United Kingdom) and Japan
Identification of strong upcoming players in the market will help in devising strategies that will help in getting ahead of competitors
Organize sales and marketing efforts by identifying the best opportunities for Inflammatory Breast Cancer market
To understand the future market competition in the Inflammatory Breast Cancer market
About Us
DelveInsight is a Business Consulting and Market research company, providing expert business solutions for life science vertical and offering quintessential advisory services in the areas of R&D, Strategy Formulation, Operations, Competitive Intelligence, Competitive Landscaping, and Mergers & Acquisitions
Media Contact
Company Name: DelveInsight Business Research
Contact Person: Yash Bhardwaj
Email: Send Email
Phone: 9193216187
Address:304 S. Jones Blvd #2432
City: Las Vegas
State: NV
Country: United States
Website: https://www.delveinsight.com/