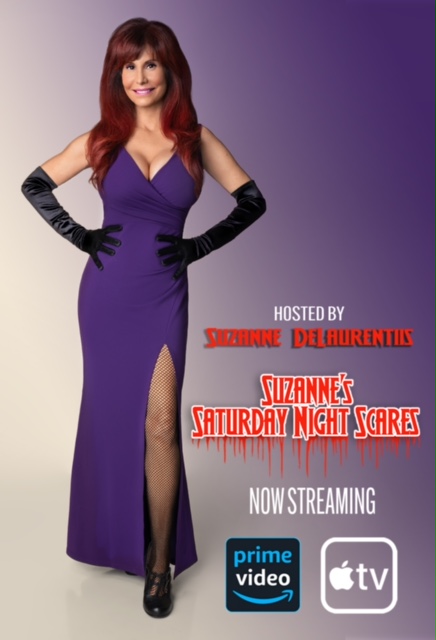 Suzanne DeLaurentiis Productions is proud to announce her series, Suzanne's Saturday Nights Scares is now streaming on Amazon Prime Video and Apple TV.
For classic horror fans, the series showcases older classic horror films with special interviews with celebrity guests and special horror icons from the old time Hollywood horror genre who talk about fun facts and tidbits from behind the scenes. Recent guests include Morgan Fairchild (The Initiation of Sarah) and Lara Parker (Dark Shadows).
Suzanne DeLaurentiis, who has produced movies and shows for many different genres for over 35 years in the industry including the award-winning mafia drama, "10th and Wolf," says that the return to the indie horror genre is her first love.
She created "Suzanne's Saturday Night Scares," as her homage to classic horror and even filmed the series in a historic haunted estate in Hollywood.
"I was intrigued as a kid in the sixties by spooky, scary stories and would rush home every day to catch an episode of my favorite show, Dark Shadows," says Suzanne. "I hope that people enjoy it as much as I do."
About Suzanne Delaurentiis:
Award-winning independent producer, director, writer, and philanthropist Suzanne DeLaurentiis has thirty-five years of experience in the industry shepherding the development of over a hundred feature films, television features, and documentaries. She is best known for her work on the award-winning drama, "10th and Wolf." Some of her other credits include: "How Sweet It Is," "A Month of Sundays," "D-Railed," "Area 407," "Shut up and Kiss Me,""Middleton Christmas," "It Crawls Beneath," and the Amazon hit series, "Pet Doctors of Atlanta." She is the producer and writer for two horror genre television series, "Suzanne's Saturday Night Scares," and "Very Frightening Tales" due for release in 2021.
She has been honored with many awards including the Terry Scarlett Award for Filmmaking, the Distinguished Founders Award for Excellence in Filmmaking, and the Opal Award from Women In Film.
Suzanne devotes much of her spare time to raising money and awareness for veterans charities and developed a program that trains wounded veterans to work successfully in the film/television industry. In 2010, Suzanne Delaurentiis received a Commendation Medal from the United States Military for her services.
Media Contact
Company Name: Suzanne DeLaurentiis PR
Contact Person: Suzanne DeLaurentiis
Email: Send Email
Phone: (310) 801-3675
Country: United States
Website: suzannessaturdaynightscares.com