"Olta Baraj, The best eye candy for your wanderlust."
Has it been a long day so far? Totally and fully consumed by 8 to 6 corporate jobs? Do not really know what to do and need some serious daily dose of motivation! Here is the solution! Scroll through Olta Baraj's Instagram account "Olta.photoholic" where she shares her content and gives various choices and possibilities that surely suit everyone's need.
Need to escape from reality for a while during work break — and maybe get inspired for next trip in the process, simply follow up with the most influential travel bloggers, and will find the way. These adventurous influencers and bloggers are go-to's for recommendations on where to stay, what to eat and how to live like a local in countries all over the world. Narrowing down Instagram accounts of the most influential travel bloggers of all time is not an easy task at all. There are various travel bloggers all over the world who were able to have great influence on their followers' choices and lifestyles.
Olta Baraj is a renowned influential travel icon and blogger who charms her followers with her Instagram content. Olta is a well-known travel aficionado who knows how to make good eye candy through her eye-catching and marvelous posts of her every travel. Her passion and love for traveling, exploring and diving in new cultures made her unique in such a domain. Through her countless travel experiences all over the world from Switzerland, Paris, Madrid, to Slovenia any many other countries, she has become the focus of attention of various international tourism companies and resorts.
Of all travel bloggers, Olta Baraj is considered an exceptional blogger who used to travel all over the world and share her content with her lovely husband who has always been and intrinsic part of her content. The cutest couple then became an inspiration for every aspiring travel couple across the globe. Olta shares eye catching and mouthwatering photos for every single detail in her travels. She pictures for her followers every single detail in every country she travels to through her journey from hotels, resorts and even restaurants. She is considered a truly full guide for her followers.
Whether they are looking for imagery of stunning snowcapped mountains, blissful beaches or some of the globe's most captivating cities, simply they can visit Olta Baraj's Instagram account "Olta.photoholic", https://www.instagram.com/olta.photoholic/, scroll through her posts, and they will definitely find their best choice.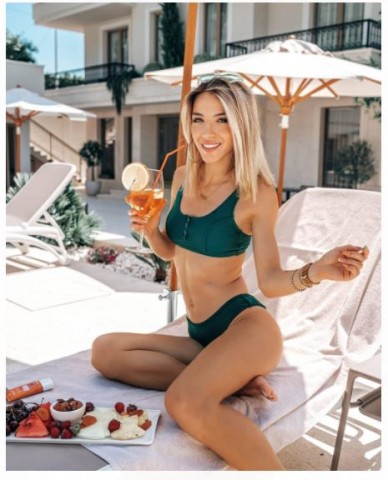 Media Contact
Company Name: KOSAWADA AGENCY
Contact Person: Jinan Fahes
Email: Send Email
Phone: 0097470715766
Country: United States
Website: www.kosawadapanel.com