Salinas Agtech Company Demonstrates Planting Six Lines of Romaine From One to Six Weeks Old
SALINAS, Ca. – July 12, 2021 – Agricultural tech company PlantTape conducted a field demonstration to showcase the versatility of its 3-point planter to transplant seedlings at different growth stages. In contrast to conventional transplanting systems, which rely on plants reaching a specific maturity in the nursery, the PlantTape system easily transplanted romaine lettuce seedlings ranging from one to six weeks old.
"PlantTape is unique to other transplanting systems, as plants can be transplanted at any stage of growth," says Dr. Hunter Smith, PlantTape's Vice President of Agriculture & Sales. "If growers need to transplant early or hold plants longer in the greenhouse, they have that flexibility with PlantTape."
"The difference with PlantTape is that the seedlings are not pulled from the trays by hand, but rather placed into the soil still in the plug," Dr. Smith explains. The PlantTape transplanting process significantly reduces transplant shock, because the roots are not confined into a containerized tray. "The planting module simply pulls the tape from the tray and cuts between each seedling, precisely placing them into the ground without anyone touching the plants", Dr. Smith says. "This mechanism is how growers have the option to transplant 1-week or 6-week-old plants."
In preparation for the planting demonstration, romaine lettuce was sown into the PlantTape material at one-week intervals. For the demonstration, a PlantTape 3-point automated transplanter was loaded with six lines of lettuce ranging from 1 week on the left, to 6 weeks on the right, with the intervening lines at one-week intervals. "The 6-week-old lettuce had four to five true leaves," explains Danielle Michaels, Northern Sales Manager, who oversaw the planting. "On the other side, the one-week-old romaine had cotyledons barely protruding from the soil plug."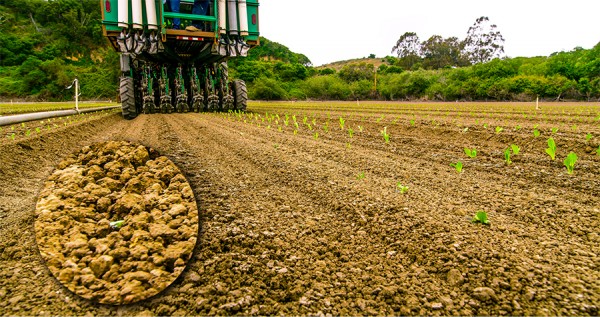 As seen in PlantTape's video of the demonstration, all six rows of seedlings were successfully transplanted, and a follow-up three weeks after planting showed all six rows of romaine still growing well.

Video Link: https://www.youtube.com/embed/m0YCvHzEJSk
The PlantTape blog post about the demonstration can be read here: https://www.planttape.com/planting-seedlings-at-any-stage/.
About PlantTape:
PlantTape is an agricultural technology company based in Salinas, CA. Founded in Spain and brought to the US by Tanimura & Antle in 2014, PlantTape released its automated transplanting system for commercial use in 2018 for growers of vegetables, tomatoes, etc. The PlantTape system involves automated sowing, nursery operations, and transplanting, and has been proven to increase efficiency while lowering costs for growers.
Contact:
Ashley Pipkin
Tel: 831-214-7453
Email: ashleypipkin@taproduce.com
www.planttape.com
Media Contact
Company Name: PlantTape Inc.
Contact Person: Ashley Pipkin
Email: Send Email
Phone: 831-214-7453
Address:1 Harris Rd
City: Salinas
State: CA
Country: United States
Website: https://www.planttape.com