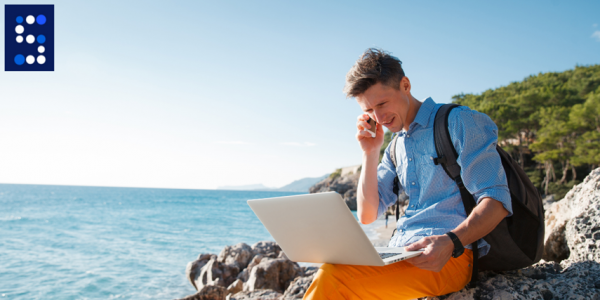 Gone are the days of office jobs and one-week holidays during the summer, as a growing number of professionals switch to a more flexible way of life. As of April 2021, there are approximately 4.35 million self-employed workers in the United Kingdom, according to statista.com, and remote work is transforming the UK labour market. Since there is no need to sit in an office from 9 to 5, professionals are creating more balance in their lives by travelling and working remotely.
But, travelling the world can be expensive, especially when withdrawing cash from ATMs and exchanging money into local currency using a traditional high-street bank. But that's where Spondula is different!
As the UK is undoubtedly heading towards a cashless society, more Brits are choosing to open online bank accounts over traditional high-street chains. Looking at 2020s third quarter (1 July – 30 September), online digital banks, including Starling Bank and Monzo, made net gains of 12,652 and 9,157 customers respectively, while traditional high street banks, Barclays, HSBC, NatWest and Santander all made net losses, according to finder.com. This shift from old-school banking to modern and flexible online transactions is helping fuel the growing number of freelancers in the UK and around the world.
Empowering their customers by offering personal online bank accounts able to hold up to 37 different currencies, Spondula makes it easy to manage your money as a freelancer. You can instantly pay for goods and services while overseas and in local currencies, avoid expensive currency exchange fees while exploring the world and receive payment from local and international clients. Spondula is available in 63 countries, and their list keeps growing.
You can sign up for a personal online bank account for free and in less than 15 minutes. Then simply download the Spondula mobile banking app to unlock the power of banking on the go. No hidden fees; it has been designed to make managing your finances while exploring the world easier than ever.

Instant international bank transfers with no hidden fees

Hold up to 37 different currencies in a personal bank account

Pay for goods while travelling the world
Request payment as a freelancer or digital nomad from local and overseas clients

Settle bills between friends and family with the handy banking app

Take advantage of their unique multi-currency card to pay for goods and services abroad

Support family, friends, and loved ones financially by sending money back home, without expensive fees and frustrating delays

Plus, Spondula's mobile banking app is available in up to 10 different languages, helping to break down communication barriers between UK digital nomads, freelancers, and overseas clients.
For more information or for quotes from Spondula's design and development team, contact: +44 161 872 0278 or email press@spondula.com
Twitter: https://twitter.com/Spondula_
Spondula is now available in 63 countries.
Spondula continues to evolve and will soon introduce a new range of exciting features such as Blockchain Gold, QR codes and Credit Lines.
Media Contact
Company Name: Spondula
Email: Send Email
Country: United Kingdom
Website: Spondula.com