Leslie Dangerfield Will Perform a Live Reading of Fernando the Bodega Cat at The Boogie Down Grind Cafe on July 17th 2021 as Part of the Award Program
New York, NY – Children's book author, Leslie Dangerfield is one of 500 New York City-based artists to receive $5,000 through the City Artist Corps Grants program, presented by The New York Foundation for the Arts (NYFA) and the New York City Department of Cultural Affairs (DCLA), with support from the Mayor's Office of Media and Entertainment (MOME) as well as Queens Theatre.
Leslie Dangerfield, a native of the Bronx, New York was recognized for her literary work Fernando the Bodega Cat and will bring a free engaging community story time to the Hunts Point neighborhood in the Bronx on July 27th, 2021 at 12pm.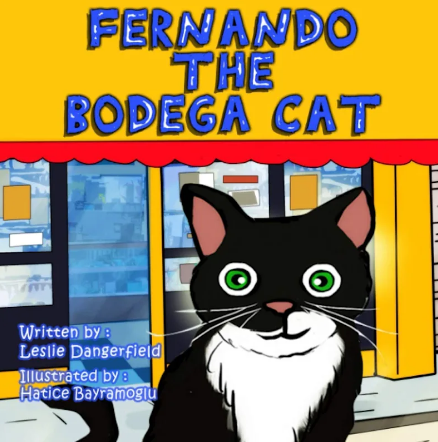 Fernando the Bodega Cat is a heart-warming children's story that highlights diversity and inclusion through daily interactions with a New York City bodega cat. The story contains 30 pages of vibrant illustrations that both children and adults from the boroughs have come to appreciate. The book has become a social media favorite among popular city residents.
Over the course of three award cycles, more than 3,000 artists will receive $5,000 grants to engage the public with artist activities across New York City's five boroughs this summer and fall. Artists can use the grant to create new work or phase of a work, or restage preexisting creative activities across any discipline.
Members of the public can participate in City Artist Corps Grants programming by following the hashtag #CityArtistCorps on social media.
City Artist Corps Grants was launched in June 2021 by NYFA and DCLA with support from the Mayor's Office of Media and Entertainment (MOME) as well as Queens Theatre. The program is funded by the $25 million New York City Artist Corps recovery initiative announced by Mayor de Blasio and DCLA earlier this year. The grants are intended to support NYC-based working artists who have been disproportionately impacted by COVID-19. It is strongly recommended that a portion of the grant be used to support artist fees, both for the applying artist and any other artist that are engaged to support the project.
The Cycle 2 application will open on Tuesday, July 6 at 10:00 AM EDT and will close on Tuesday, July 20 at 10:00 AM EDT. The Cycle 3 application will open on Tuesday, July 27 at 10:00 AM EDT and close on Tuesday, August 10 at 10:00 AM EDT. Please visit NYFA's website for full details and eligibility requirements.
Additional information about Leslie Dangerfield can be found on the author's site www.lesliedangerfield.com
Information about purchasing Fernando the Bodega Cat can be found on the Bristow Publishing website www.bristowpublishing.com
Media Contact
Company Name: Bristow Publishing
Contact Person: Leslie Dangerfield
Email: Send Email
City: New York
State: NY
Country: United States
Website: http://www.lesliedangerfield.com/