July 12, 2021 – Mobile phone devices are now a great part of our lives. Not only are these devices used for communication, but they also come with great cameras that help people take cool pictures. However, one of the downsides to it is that these pictures can only be viewed on a screen. This means, if consumers lose these devices or their cloud storage accounts, the pictures would also be gone with them.
Luckily, people can still take great pictures with their phones and have them printed out instantly. Thanks to the Kodak Dock Plus 4×6" Portable Instant Photo Printer. This portable phone photo printer ensures the special moments you share with your friends and family are printed and protected as a physical reminder for many years to come.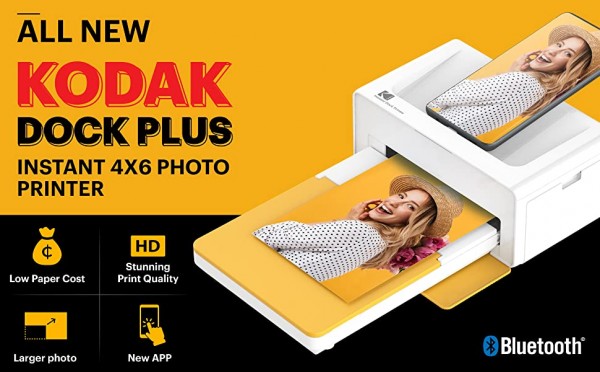 Among the various features that make this photo printer the best in the market are its portability, ability to print high-quality photos, and affordable price. Below are more reasons to choose the Kodak Dock Plus phone printer.
Print Your Memories: With the Kodak Dock Plus, consumers can print their favorite pics instantly from their mobile devices! Using a reliable and stable Bluetooth connection, this instant photo printer can help people save timeless memories.
Stellar Photo Quality: Kodak Dock Plus uses 4Pass Technology to print flawless photos instantly. Each photo is printed in layers of ribbon with a laminating process so it's fingerprint-proof and water-resistant for long-lasting quality.
Free Kodak App: Access to a free Kodak app that allows consumers to print anywhere and anytime. Users enjoy decorating real photos with stickers, frames, and filters with a simple and intuitive app that is compatible with iOS and Android devices.
User-Friendly: The Dock Plus instant photo printer can be used anytime and anywhere to help portray timeless memories. It uses a USB-C pre-installed docking pin and it includes a Lightning connector for iOS devices. This printer no longer uses the PictBridge function so it's less complicated and a lot more effective.
Share with Your Loved Ones: This instant printer allows users to share unique and timeless memories with their family and friends. Print favorite moments and keep them intact forever!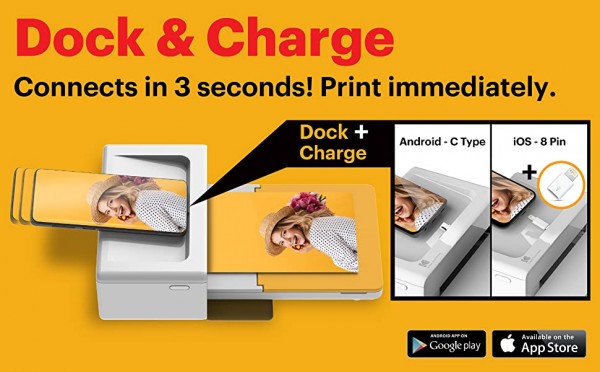 The Kodak instant photo printer is manufactured by Prinics Co., Ltd for Kodak. The instant printer is selling massively on Amazon and has already garnered a huge number of positive reviews of almost 4200 total.
JK, who made a verified purchase for the product on Amazon in the United States says the printer is easy to use and he loves it. He wrote in a review, "I've wanted to have this for so long, and without any doubt, I love it! The photo quality is great and it is easy to use. What I love the most is that I can keep the pictures printed and look at them right at home, not just on my phone! Would recommend it for sure!"
The Kodak instant photo printer is available on the Amazon marketplace for purchase. For more information about the instant photo printer, check out the product page on Amazon: https://www.amazon.com/dp/B08FDCNBTF.
About Prinics Co., Ltd
Headquartered in Suwon, South Korea, Prinics Co., Ltd is a Kodak licensee that develops and manufactures Kodak photo printers and instant cameras, which are protected by 50+ applied and registered patents. Prinics specializes and owns the trademark 4PASS dye-sublimation technology, offering the highest print quality in the photo printer industry for prints that are fingerprint resistant, water-resistant, and solar resistant, and can last a long time.
For more information on Prinics Co., Ltd Kodak photo printers and instant cameras, visit https://shop.kodakphotoprinter.com
Media Contact
Company Name: Prinics Co., Ltd
Contact Person: Andy Hong
Email: Send Email
Phone: +82 31 293 5993
Country: South Korea
Website: www.kodakphotoprinter.com