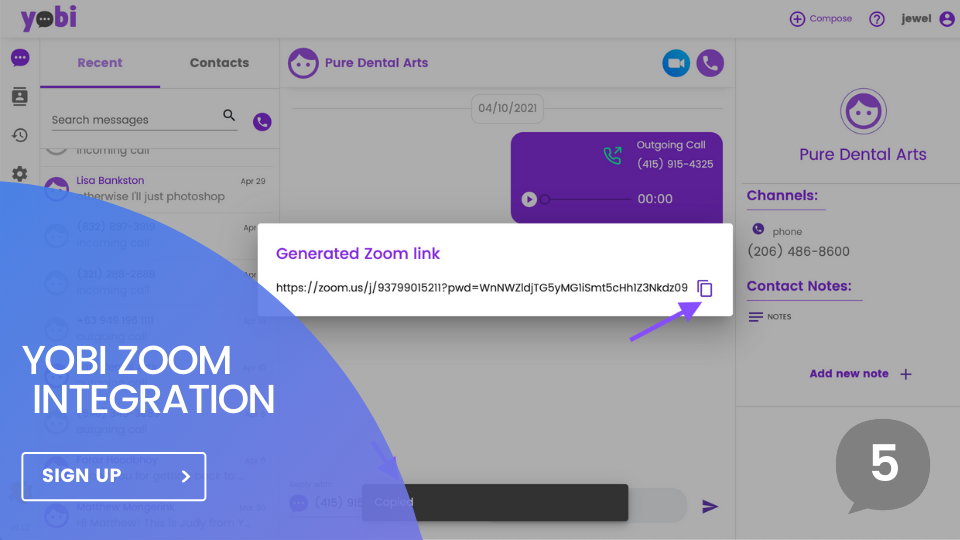 Providers of an innovative communications solution, YiB Inc., announces the release of a new integration of the Yobi app with Zoom Meetings
It is looking like the dawn of a new beginning for users of the increasingly popular Yobi app as makers of the conversation tool recently announced a new integration with Zoom Meetings. The Yobi Zoom Integration will allow users of the innovative conversation tool to start Zoom meetings with their contacts and enjoy a wide range of other functionalities in one app.
Over the years, several communication tools have been developed, with technological advancement aiding the process of sharing information between people in different parts of the world. Despite the emergence of several messaging solutions, millions of people, as well as businesses, still struggle to get a comprehensive tool for their diverse needs. However, the Yobi app is looking to offer a solution to the challenges plaguing most communication platforms with the recent integration of Zoom further reiterating this position.
The decision to integrate Zoom into the app is coming as no surprise, considering the increasing popularity of the platform. According to recent stats, 200 million daily meeting participants used Zoom as of May 2020, with the figure increasing to 300 million in the following month. These figures will undoubtedly increase even further with Yobi's integration with Zoom.
The new feature, which also enables the addition of team members as users to share contacts and notes on each conversation, is suited for entrepreneurs, content creators, and other categories of users. Other exciting features of Yobi include contact sharing via multiple channels, seamless connection with Hubspot and Shopify with easy synchronization of leads and customer conversations. In addition to the integration, the Yobi business phone offers a second business phone number, allowing users to share their number with their team.
For more information about Yobi and how to leverage its features to converse like an everyday rockstar, visit their website https://yobi.app/.
About Yobi
Yobi is a conversations app created by Ahmed Reza, a serial entrepreneur and tech enthusiast, who also founded Call Sumo and TrepHub. Ahmed's ultimate goal is to offer reliable and cutting-edge technologies to enhance marketing and communications for small, medium, and large businesses.
Media Contact
Company Name: Yobi
Contact Person: Judy Aposaga
Email: Send Email
Address:75 E Santa Clara St, #600
City: San Jose
State: CA 95113
Country: United States
Website: https://yobi.app/