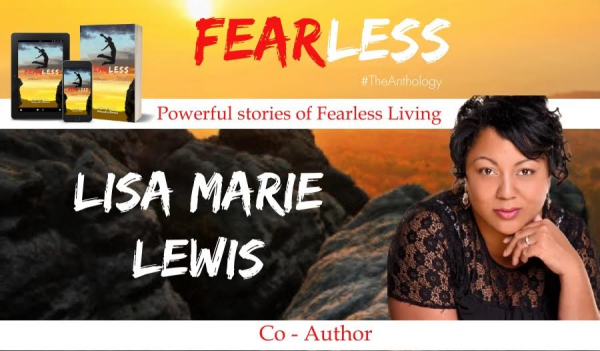 Fear is the biggest challenge to conquer for anyone. A new ray of hope has come from the anthology, 'Fearless', which brings together eight different authors who have inspiring stories to share on how they conquered this force and changed their lives. Published on June 25, 2021, Fearless the Anthology has quickly become the #1 best seller under the new releases category on Amazon and has also made it to the Amazon best seller list. Among its authors is the versatile author, educator, fashionista and entrepreneur, Lisa Marie Lewis.
'Fearless The Anthology' is worth buying for presenting stories that can kill fear with their rich, powerful narratives. No wonder this bestseller has made fans around the world, spreading the words of healing, hope and self-growth.
Lisa Marie Lewis has written six books before, and in 'Fearless' she has shared her intimate and motivational experiences with infertility and adoption. Readers will be enthralled to read about her conquest of inner fears and the journey towards finding her forever family.
The power of words, their enchanting world, and the opening of new worlds, such as those of children, led Lisa to begin to write. Children's stories allowed her to escape from the compromising world of adulthood, and realize the power of simple beliefs and raw emotions.
Lisa Marie Lewis is not only a writer, but also an entrepreneur, carrying titles such as an educator. Her successful projects include 'More Than A Teacher' coaching class, where she utilized her over 12 years of experience as an educator at the post-secondary level, in trade schools and at the university. But that's not all. Lisa has also been a beauty industry professional for over 22 years, and creator of brands like Native Jean.
All of these forays and achievements are best summed up with her features on Stalker's Radio and the 'Black Empire Magazine', and speaking at TBN's 40th-anniversary show debuting Christian authors. Lisa has also performed in the famous stage play, The Vagina Monologues.
Lisa stands as a role model and example for younger women, exemplifying one can accomplish anything once one sets their mind to it. Lisa Marie Lewis is available for book assignments and interviews.
For more information, please visit: https://linktr.ee/LisaMarieLewis
Media Contact
Company Name: Fearless the Anthology
Contact Person: Lisa Marie
Email: Send Email
Country: United States
Website: https://linktr.ee/LisaMarieLewis