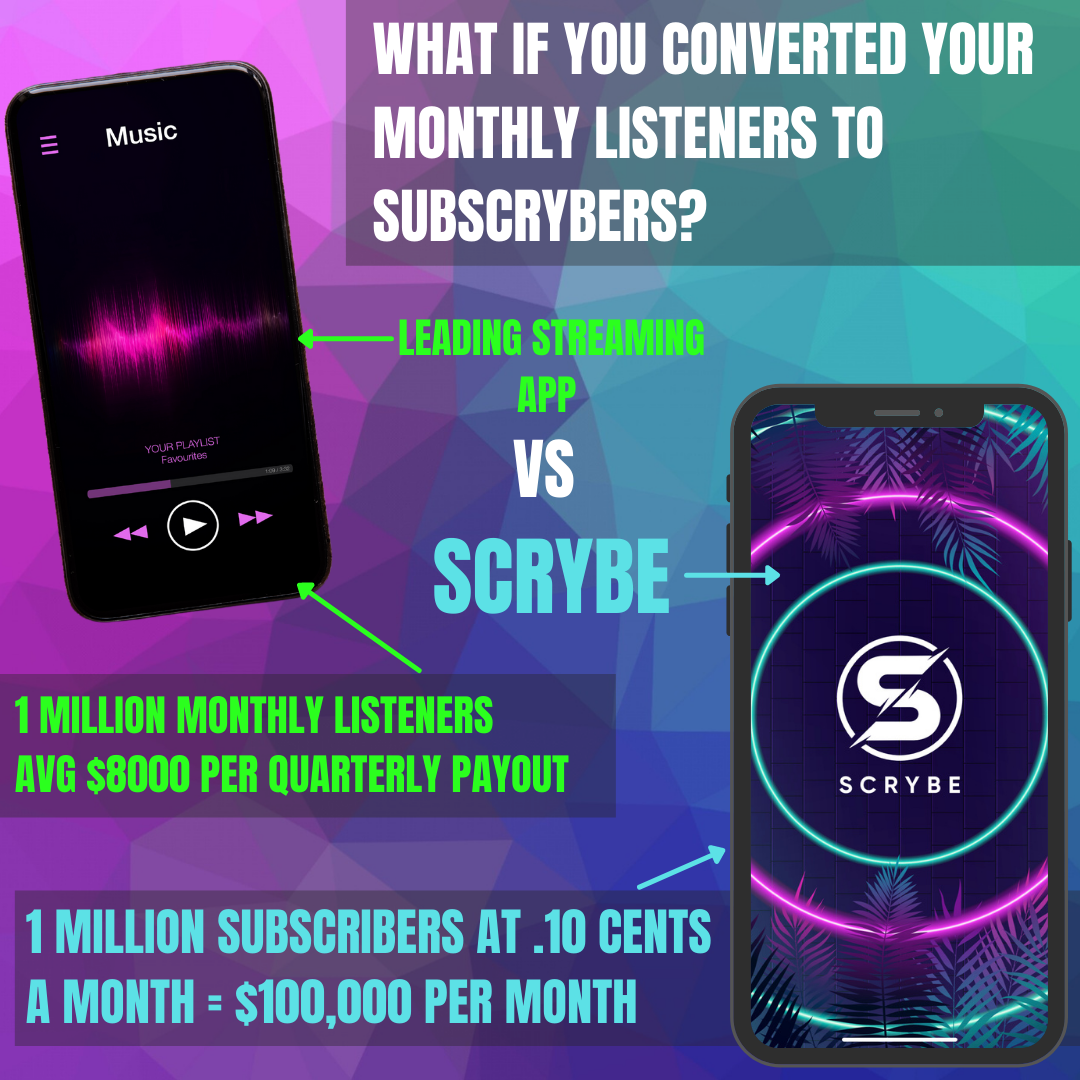 This past June, Christian Phyfier, CEO of Scrybe Streaming held a conference in Tempe Arizona announcing the details of the long awaited new streaming service said to guarantee to pay labels, recording artists and podcast hosts more than any other service on the market.
Upon its release, the overload of downloads and new music made the app extremely glitchy, many complaining that they were unable to login to the app and that it would occasionally crash after listening to a few songs. Christian admitted that the app release was still in its beta phase and that it was completely his decision to release the app and live test it. He wanted artists to be a part of the experience of developing the app, and to have ownership of some of the creative aspects that were to come.
It has been over a week since that announcement and the app has been getting better and gaining more interest. The young CEO and marketing expert says that the app will remain in it's "soft launch" phase until the android version releases late August, but even without a strong digital marketing component, Scrybe has been receiving outstanding daily interactions.
With less than a month on the app store, and only a couple of weeks of functioning properly, Scrybe has already proven it works for the artist and is easily grasped by the fan. Artists who have exclusively adopted Scrybe have claimed to have already generated more revenue on Scrybe than other leading platforms. Even with smaller artists receiving small nominal amounts, the recurring component of Scrybe puts them well above the pay rate they would receive anywhere else, while still not being taxing to their fans.
This app, while still being in its beta phase, has shown its proof of concept in such an early stage. Regardless of artist size, now is the perfect time for creators to begin to adopt it and take advantage of the audience it currently carries. While it may seem unsubstantial that the most popular creators using Scrybe have nearly 1,000 monthly streams, they are taking advantage of the fact that the small base of daily active users are looking forward to new content, and if yours is amongst some of the limited entertainment to indulge in, there is a higher chance of gaining a new fan.
For record labels and creators Scrybe is free to upload content using the website myscrybe.com. Listeners and fans have the ability to download the app and browse for free currently only in the IOS store.
Click below to watch a video about Scrybe or learn more at ScrybeStreaming.com and stay up to date by following them on all social platforms @Scrybestreaming.
Media Contact
Company Name: Scrybe Streaming LLC
Contact Person: Etienne Walden
Email: Send Email
Country: United States
Website: http://scrybestreaming.com/