Free Climbing, Events, and Classes All Weekend Long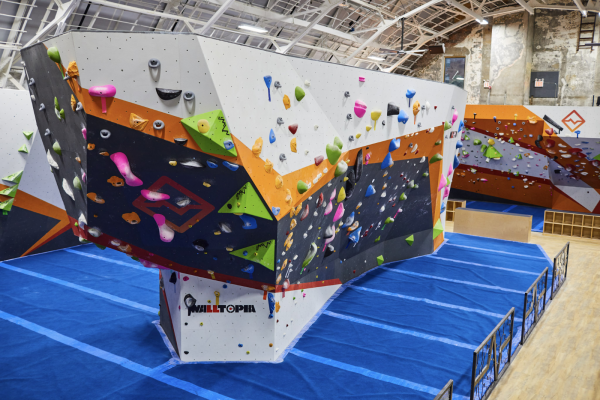 New York, NY – The Cliffs Climbing + Fitness is excited to announce the grand opening of its new indoor rock climbing facility the weekend of July 16th -18th where guests will be welcome to climb for free all weekend long. This new facility, The Cliffs at Harlem, will be located at 256 W 125th Street, directly across the street from the Apollo Theater.
"We are committed to providing the best possible climbing experience in an inclusive and welcoming environment," said Mike Wolfert, Founder of The Cliffs. "We are excited to bring this amenity to Harlem and be an active part of the community. I've been climbing indoors and outdoors for a long time, and it is my passion to introduce this sport to new people," said Wolfert.
Community connection is integral to The Cliffs mission. The Cliffs at LIC in Queens, NY has developed and sponsored youth outreach programs for many years. The programs "Climb Up" and "Young Women Who Crush" partner with several local non-profits and schools to offer free after-school programming for underprovided youth. The Cliffs is excited to expand its outreach programs in Harlem, and bring the benefits of climbing to the local community. Community scholarships will be available at a highly discounted rate, and all local Harlem residents are invited to visit The Cliffs at no cost on their first visit.
At 15,000 square feet, The Cliffs at Harlem is Manhattan's largest rock climbing facility featuring hundreds of climbs (refreshed weekly), and state-of-the-art climbing training equipment. The facility has campus boards, a tension board, and an LED MoonBoard for customized training programs; cardio and strength training equipment; yoga classes; full-service locker rooms with showers; and a Gear Shop for indoor and outdoor climbing needs. Membership, day passes, rental equipment, and youth programming will be available.
The Cliffs offers a range of classes and clinics led by industry experts for all experience levels, as well as the opportunity to climb on real rock outside with The Cliffs Outdoors. The Grand Opening Weekend will offer Intro classes at no cost. A "Learn to Boulder" package is available to new climbers, which includes unlimited access to the facility, two intro classes, and rental gear for one month all for $49. "We believe this has been the most accessible and inviting way for new climbers to become acquainted and integrated with the community" said Emily Buckley, Director of Operations.
The Cliffs at Harlem facility was designed by Brian Ripel, principal architect of Combined Architecture (combined-architecture.com); and walls constructed by Walltopia.
There are currently four additional Cliffs locations featuring both bouldering and rope climbing: The Cliffs at LIC in Queens, NY, The Cliffs at Valhalla in Westchester, NY, The Cliffs at DUMBO in Brooklyn, NY (an outdoor bouldering facility under the Manhattan Bridge), and The Cliffs at Callowhill in Philadelphia, PA. The Cliffs also plans to open a location in Brooklyn's Gowanus neighborhood in 2021, with additional projects in the pipeline. All locations have been operating under COVID-19 guidelines, which comes naturally since rock climbing is innately a socially distanced sport.
The Cliffs at Harlem will have an individual facility membership as well as a passport membership that includes access to all of The Cliffs locations. The facility is open to members and guests weekdays from 7:00am – 10:00pm and weekends from 9:00am until 10:00 pm.
About The Cliffs
The Cliffs Climbing + Fitness is a leader in the indoor and outdoor climbing industry, always striving to provide a best in class rock climbing and fitness experience. The Cliffs prides itself on delivering a premium rock climbing experience for all ages and abilities.
For more information about The Cliffs at Harlem, please visit harlem.thecliffsclimbing.com or call 646.933.7625.
You can also view the facility here.
Media Contact
Company Name: The Cliffs Climbing + Fitness
Contact Person: Sharon Cooper
Email: Send Email
Country: United States
Website: https://harlem.thecliffsclimbing.com/