Jonathan Melo Ellis, the Menswear Guru worked for Bachelor Shoes thanks to Chris Robles who gave him the opportunity to be a Senior Brand Ambassador for the company. During the year 2015 – 2016, the company managed to invoice more than 40,000.00 shoe sales worldwide.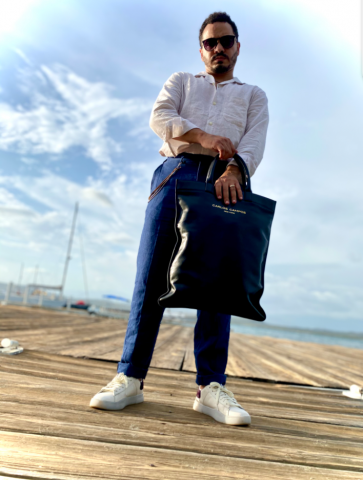 In the beginning, he began to work for different world-known brands. This male fashionista, from an early age, showed his passion for fashion. A clear example is that from the age of nine with his best friend he looked at GQ (Gentlemen's Quarterly) magazines and dreamed of seeing his name in them. He grew up in a neighborhood in the Dominican Republic, but thanks to his parents he never lacked for anything and fought for his dreams. At the age of 20, he never imagined everything that awaited him.

His passion was always menswear, so he was inspired by different male artists to create his own style. One of them, who till this day continues to inspire and admire him, is Pharrell Williams, who has been followed by his musical career since he resided in the Dominican Republic in 1999. He has several mentors such as Hipólito Pollantis, in the New York City area, and Carlos Campos, the most transcendent Latin designer in recent years.

2018 was a tough year, but also full of surprises, J. Melo Ellis was in New York without work and his great friend decided to invest and help him with one of his projects. This consisted of creating a brand of stockings called jmeloellis socks, finally, his wishes came true. Other projects took shape during 2019 in which he wrote two books on Amazon, and both are related to fashion, "How to dress expensive within your Budget" – a book that shows how to create a wardrobe background for any type of budget, and "Winter Colors" – in which he advises how to combine the colors more suitable for dressing during winter.
In 2020, he fulfilled another of his dreams, his brand began to be mentioned in GQ, Vanity Fair, and Condé Nast Traveler magazines, Óleo Magazine among others. This prompted him to advise international artists who are very present in everyone's lives as well as urban artists and professional baseball players.

This fashion Guru is focused on his new Instagram project: "APPROVED OR REJECTED" – where he is providing styling for Latin celebrities with the help of a well-known influencer in the Latin market, and he is currently working on his next edition of socks collection.
Media Contact
Company Name: Jonathan Melo Ellis (Urban Fashion Guru)
Contact Person: JMELOELLIS – Fashion Celebrity Stylist and Socks Designer
Email: Send Email
City: Orlando
State: FL
Country: United States
Website: https://instagram.com/jmeloellis