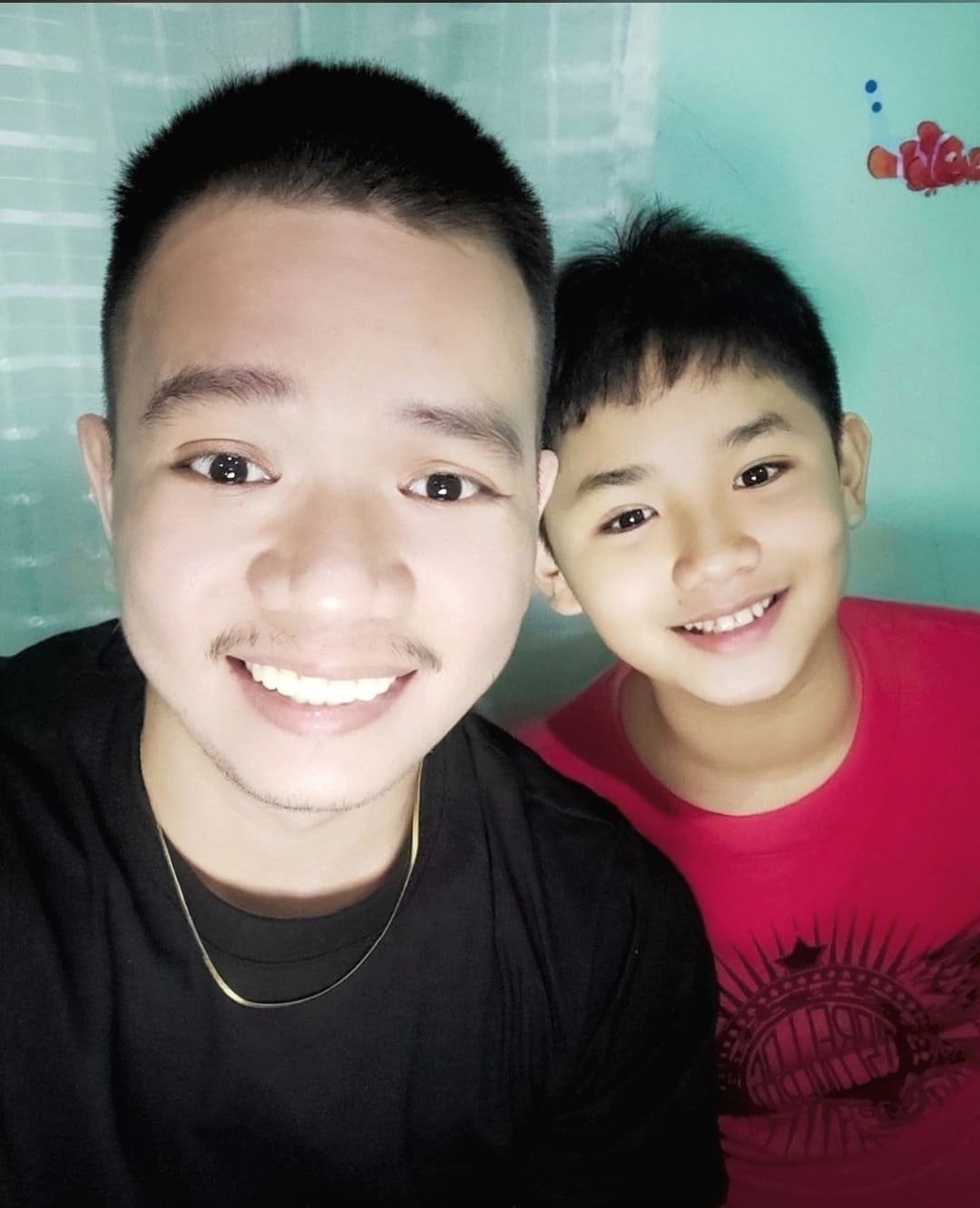 "Mon celebrating the young Leo being alive after all the complications. As Mon loves to say, "Keep sharing your story. You never know who's life will be saved because you showed up.""
You are not your present circumstances. Just because you were not born with money. It doesn't mean you have to die without it. Your mess is your message. Keep sharing it and surrounding yourself with others that you want become like them. You just never know when you will find others who are just like you.
"Just because I was born poor; it doesn't mean I have to die poor. We all have a message worth telling." – Mon Anthony Era
Mon Anthony Era always dreamed of providing a better life for his parents. That mindset started when he was rock bottom over and over again. Deep inside he knew that he was going to do it if he didn't quit. Another part of his dream was to helping young people. The ones that would most likely end up in the streets if no-one did anything about it.
He decided to step up and educate himself in the last decade to learn marketing, social media, branding, media strategies to help other people struggling online to grow.
Mon believes that even if you may not have much to start with or don't know anyone. You do have a shot at going after if you don't quit and put in the work.
He was at rock bottom working 7 days a week. He would take half a day off on a Sunday to go to church. In life you got to do what you got to do right as he loves to say?
Mon were Blessed to meet his mentor Carlos Siqueira online along his journey who mentored him for free and took him in as an intern in his company after hearing his story.
Mon's mentor gave him a salary and challenged him to get better by 1% every day for the rest of his life so he could fulfill his dreams faster.
It's about helping others when we are in over our heads. Mon heard from his mentor that he wished someone one day would have done that for him when he was a very poor as a kid selling bread in the streets.
Mon's mentor didn't just took him as an employee. He taught him a whole lot about human behavior, marketing, business, branding, entrepreneurship and philanthropic work. Mon was challenged to do the contribution work now even if he didn't have any extra money after paying all the bills. As his mentor Carlos loves to say, "Some people just don't have the money to donate. But we all have time to help others that are less fortunate than ourselves."
Fast forward 5 years later. Carlos & Mon helped so many people grow their online business, build better brands and go after their dreams. The best part, they helped thousands of young adults for free who follows them online and few dozen in the Philippines learn the ins and outs of growing a business online.
Mon constantly reminds himself that: 'You may be going through tough times, but there is someone out there going through worse.' Mon almost lost one of the kids they helped named Leo during covid in the Philippines. Little Leo got very sick and needed a blood transfusion, but his body was so weak and it was too risky to perform the procedure. His family didn't have the money to pay for the hospital bills, food, medicine, and the transportation to go back and forth to the hospital as Leo's father was out of work. Mon told that to his mentor Carlos and he loves all the kids they help. Carlos told Mon as they were talking online via zoom, "I just sent you money to your PayPal account. Stop everything you are doing and go give it to Leo's mom right now and tell her we got this. Leo will be healed in the mighty name of Jesus." Mon was in happy tears. Carlos asked his tens of thousands of followers around the world to send prayers for Leo. The world came together from all 5 continents and showed love for a kid they didn't even know who lives on the other side of the world on a small Island in very poor conditions.
Mon loves to say at his speeches to the kids and young adults, "At the end, it is all about love and people coming together. Those are the things we remember in life. Those moments are the moments we will take to the grave. It's all about community and creating that type of culture for your brand, your employees and everyone you serve. You must fight for success always and put in the sweat equity and never stop dreaming."
Mon now brings more young adults as interns to work from home online. Carlos pays for their education to learn English, gives them all his courses for free, and they teach them entrepreneurship, social media marketing, and also to do philanthropic work even though they are poor from an early age in their career.
Mon is so grateful for all the magic that was created this past 5 years and how many lives were impacted. Mon's is grateful that someone challenged himself to believe in himself and find gratitude in times of chaos. Mon now passes that knowledge on the same way his mentor Carlos do it every time when he learns things from his mentors and his very wealthy friends.
As Mon loves to say, 'You don't have to put everything in a course. Give more than what you take and watch the magic happens.'
Mon wants to challenge you to do the same. Pass on your wisdom for free to others in need who feel like quitting or giving up their dreams.
As Carlos loves to say for others to question themselves when they feel confused or wanting to quit on their dreams:
"How do I feel about myself when I am by myself?
"If you can honestly say: Happy. That's the secret.
"The happiest people on the planet don't have the best of everything, but they do make the best of everything."
Now, Mon & Carlos help others get featured on Podcasts, land media opportunities to interview them and have their inspirational message to become on the front page news in front of a whole lot of people like yourself reading this now.
In conclusion, Mon wants you to know that, "Nothing is impossible in life. Never listen to the crap others try to label you as or the things we allow inside our mind. Keep sharing your story. There is someone waiting to hear it out of 8 billion people." – Mon Anthony Era
For More Info on Mon A. Era, go to Linkedin: https://www.linkedin.com/in/mon-anthony-era/
Media Contact
Company Name: Disruptors LLC
Contact Person: Angelica Siqueira
Email: Send Email
Phone: 7722227567
Address:PO Box 1441
City: Lathrop
State: CA
Country: United States
Website: getonmorestages.com