Polycrystalline diamond also called PCD, are widely used for removing epoxy, glue, paint, mastic, coatings from the floor surface. We have a wide range of PCD products, including PCD grinding shoes, PCD grinding cup wheels, PCD grinding plate. We have different PCD segment size for your choise, such as full PCD segment, 1/2PCD segment, 1/3pcd segment etc. You can choose segment number and segment size base on the thickness of epoxy, and the working life you expect.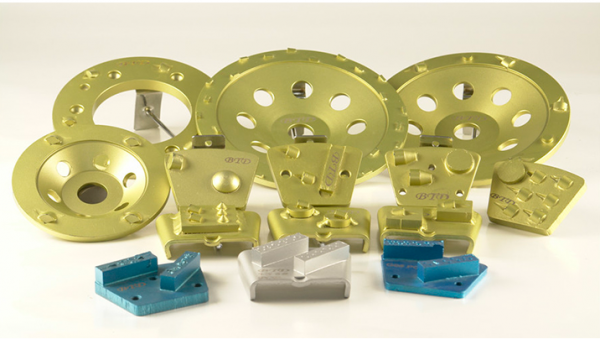 PCD grinding tools have a lot of advantages than traditional diamond grinding segments, first, traditional diamond grinding segments will get hot, gum up, and get real messy when trying to remove rubberized products, but the PCD segment scrapes and rips the coating from the surface, they will not load up or smear the coating, Second, PCD grinding tools are one of the most high efficiency products for removing coatings, they can quickly save your time and labor cost, Third, they have extremely long lifespan, greatly reduce your materials cost.
All Bontai's PCD diamond grinding tools are carefully designed by our professional R&D team after repeated study and test. Each PCD segments are purchase from high quality supplier, which make sure its quality to a great extent. Their unique design allow it to "SHAVE" away elastomer products and does it better then any other product on the market today. If you have to remove any kind of elastomer coatings such as glue, Kemper, waterproofing, mastic, paint, epoxy, resin, etc. Our PCD grinding tools is the way to go. Super fast removing speed, long lifespan and lower cost for doing the job.
To protect your PCD grinding segments, please avoid grinding on metals and nails, or they may drop off!
Media Contact
Company Name: Fuzhou Bontai Diamond Tools Co., Ltd.
Email: Send Email
Phone: 0086 18050782390
Address:Rd.10, Tieling Industrial Park, Phase #1, Economic & Technological Development Zone, Minhou District
City: Fuzhou
State: Fujian
Country: China
Website: https://www.bontaidiamond.com/