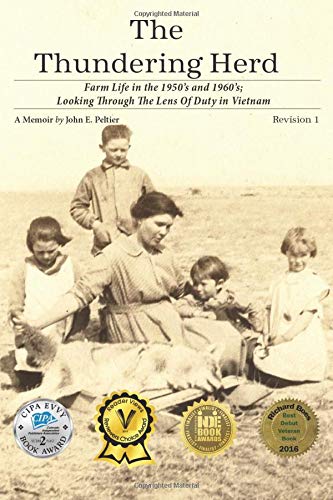 Peltier's mother famously branded their family as the "Thundering Herd", a famous phrase that stuck in Author John E. Peltier's mind that persuaded him to write a riveting book, The Thundering Herd: Farm Life in the 1950's and 60's; Looking through the lens of duty in Vietnam. A memoir that not only talks about John's life but with the inclusion of his family history. A story worth being told.
Famous CBS Radio Host, Al Cole's son, Benjie Cole of People of Distinction sits down with author John E. Peltier, to talk about the many facets of his personal experience and how he believes his family's stories should not be lost to time. He documented every aspect of the reality into this 303-page book. His stories were interesting and specific, full of details, sayings as well as insights.
The Thundering Herd: Farm Life in the 1950's and 60's; Looking through the lens of duty in Vietnam treks the life and times of the Peltier and the Scottish Keillor families together. The fifth among Wilburn and Barbara Peltier's twelve children raised on the flat salt grass prairie of Southeast Texas. It explored the pitch-perfect and profound life on their rice farm and cattle ranch, including perspectives and voices about what it's like to live on the farm and his unforgettable nerve-wracking moment with a deadly rattlesnake.
At the age of nineteen, John was drafted into the U.S. Army. After surviving boot camp and medical corpsman training, he found himself in Vietnam for 14 months. John used his time in the military and its experiences as the backdrop to describe his colorful life and reflect on mortality and his experiences in Vietnam. He settled back into civilian life and finished his education. The book also includes a disaster that struck his family in 1969, when he lost his father to a heart attack at the age of 54. He also discovered the two earthy loves of his life – his wife Janie and the vocation of construction – with the birth of the Peltier Brother Construction.
Peltier admitted that writing the book is a learning experience. He wanted to give it authenticity, voice, and perspective. It mattered to him that his stories get told, in all of their imperfect glory. Coming from a construction background he admitted he went through a lot of work in making this book and knitting the stories together allowed him to do massive research, as well as going to the University of Houston for a writing class. His lawyer and sister – in-law also helped out in editing the book to give it fresh perspectives.
He hopes that his readers will take away the lessons of living on the farm can be rewarding, but can also be challenging at times. The invaluable lessons on how to survive, be strong, independent, self-reliant, and responsible.
He spreads an invaluable lesson to upcoming writers to aim nothing to it, but to do your passion. "You just got to put your nose down and tail up and force yourself to be able to find your rhythm. To learn to move and be interesting at the same time."
Check out the full interview here: https://youtu.be/xaCqGWzWAyw
Republished by URLink Print and Media. Available soon in all major online retail book stores!
Media Contact
Company Name: URLink Marketing | URLink Print and Media
Contact Person: Media Relations
Email: Send Email
Phone: 1-888-980-6523
Address:1603 Capitol Ave., Suite 310
City: Cheyenne
State: Wyoming 82001
Country: United States
Website: www.urlinkpublishing.com/