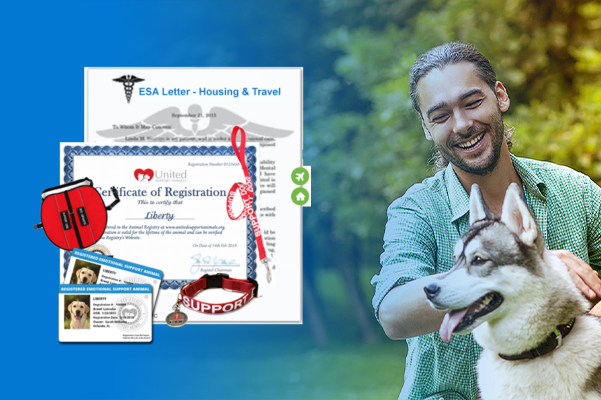 "Our Network of licensed Mental Health Professionals and Medical Doctors provides quick and confidential consultations to our members and customers. You DO NOT pay a dollar unless you are approved for an ESA Letter.
– Anthony H, General Manager"
United Support Animals provides efficient, FHA and ACCA compliant lifetime ESA registration services to protect your rights in having your ESA in any housing.
Trusted ESA registration service, United Support Animals, announced lifetime ESA registration services for emotional support animals. Clients can carry out registrations with no upfront payment until they are approved for the ESA registration letter.
United Support Animals provides an approved U.S registry where members and customers may register animals in the national database. The registration service is fast, efficient, and customer-friendly, and the service representatives help clients obtain all relevant information and documents required to get the animal registered.
The policies and codes surrounding Emotional Support Animals are more complex than service dogs or other therapy animals. ESA registration allows pet owners to bypass "no-pet housing" policies. Studies by TARSQ show that 100% of participants with ESAs reported that the quality of their life had improved considerably since getting a support animal.
Emotional support animals don't require specific training and are not considered service animals under the Americans with Disabilities Act (ADA). Landlords cannot deny housing to tenants who require support animals for emotional support, companionship, and stress relief. However, landlords can request documentation from certified physicians, medical professionals, or psychiatrists.
Emotional support animals can help people manage depression, anxiety, PTSD, and other psychological conditions. United Support Animals letters are accepted in more than 99.5 % of housing and dorms. Obtaining a lifetime ESA registration will help pet owners enjoy the following benefits:
Proven Benefits: People with anxiety, depression, insomnia, stress-related disorders, and other psychological conditions benefit from the companionship and support of support animals. In addition, dogs and other ESA's can calm and stabilize emotional disturbances afflicting psychologically and emotionally challenged people.
FHA Compliance: FHA compliance ensures that your pet is allowed into houses or dorms with "no pet policies." FHA laws protect people who genuinely need emotional support animals. Registration through United Support Animals helps avoid the possibility of facing pet restrictions.
Eliminates Expensive Pet Fees: ESA registration in a recognized ESA registry and the possession of an ESA letter will help pet owners avoid expensive pet housing deposits.
Bypass Breed and Size Restrictions: An ESA housing letter will also help owners surpass pet breed and pet size restrictions.
The most notable point about United Animal Service registrations is that pet owners can get an instant ESA letter if needed. Additionally, the registration process is hassle-free, straightforward, and affordable.
United Service Animals authorities and several satisfied clients vouch for the effectiveness of ESA registrations to protect your rights. The registration process is fast and easy. You can call United Support Animals representatives anytime between 9 am and 10 pm to raise any doubts, queries, or concerns you may have. In addition, the organization has access to a network of mental health professionals and doctors to help clients with legal documentation.
About United Support Animals:
The organization's prime goal is to help clients and support animals obtain registration letters and other necessary products and items to help identify your animal as your emotional support animal. We analyze the specific requirements of each of our clients and formulate and deliver relevant solutions to meet those needs. Doctors and psychologists who are part of our network can help clients get instant ESA registration letters to pass "no pet policies" in housing.
Media Contact
Company Name: United Support Animals
Contact Person: Anthony H, General Manager
Email: Send Email
Phone: (800) 918-3151
Address:6781 W Sunrise Blvd.
City: Plantation
State: Florida
Country: United States
Website: www.unitedsupportanimals.org