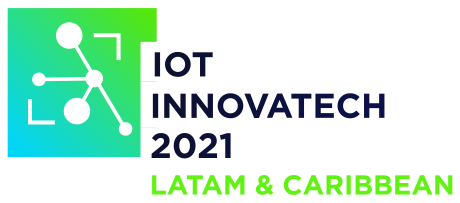 The event brings global tech businesses and executives to Puerto Rico
SAN JUAN, Puerto Rico – July 20, 2021 – Pre-registration has opened for the third-annual IoT Innovatech Latam & Caribbean conference scheduled for November 29 through December 2, 2021 at the Puerto Rico Convention Center. The congress is dedicated to driving Industry 4.0 and enterprise digital transformation in Latin America by bringing together global tech businesses and executives.
The congress under the theme "Recovering, rebuilding and reinventing our businesses", features more than 50 speakers and includes expert-led masterclasses, workshops, discussions, interviews, selected study/solutions cases and more. There are more than 25 topic areas scheduled for sessions grouped into four main tracks: Industry X, Connectivity, Customer Experience and Society & Governments. Each activity has been designed to maximize the generation of new contacts and opportunities.
The congress is intended for tech and business leaders looking to meet potential customers and partners, resolve doubts, receive offers, learn from experts or escape from the day-to-day and meet new people.
"Our commitment is to help the businesses of Latin America and the Caribbean achieve better levels of competitiveness and resilience through emerging technologies," said Daniel Amigo, the event director. "For this reason, we connect tech sector players, investors, startups, politicians and regulators with those who seek to materialize the opportunities of digital transformation in their companies and teams."
The congress is expected to attract more than 2,000 attendees from 25 countries, representing 20 different industries, along with more than 30 exhibitors.

The StartUp Connection Awards, to support and empower the next generation of innovators, will be presented during the conference.
The IoT Innovatech Latam & Caribbean is organized by Meet & Greet SpA with the support of the Industrial Internet Consortium, the Department of Economic Development and Commerce (DEDC), Discover Puerto Rico, Invest Puerto Rico and the Puerto Rico Science, Technology and Research Trust (PRSTRT).
The congress will be broadcast for people who want to attend online.
To learn more about the event and register, visit iotinnovatech.com/en/home. Participants can save up to $150 by registering for virtual, hybrid, or full package tickets during the early bird.
Contact: comms.innovatech@meetgreet.cl.
Media Contact
Company Name: Meet & Greet SpA
Contact Person: Roberto Amigo
Email: Send Email
Address:Callao 3037
City: Las Condes
State: Region Metropolitana
Country: Chile
Website: https://iotinnovatech.com/en/home