MiraBurst Miracle Berry products help diabetics and prediabetics enjoy healthy low sugar snacks, desserts and drinks
MiraBurst uses a unique superfruit – the miracle berry – to help diabetics and borderline diabetics enjoy a healthy low sugar diet without added sugars or sweeteners. With these miracle berry products, MiraBurst encourages diabetics and prediabetics to eat more fruits and vegetables and reduce consumption of processed foods and sugar.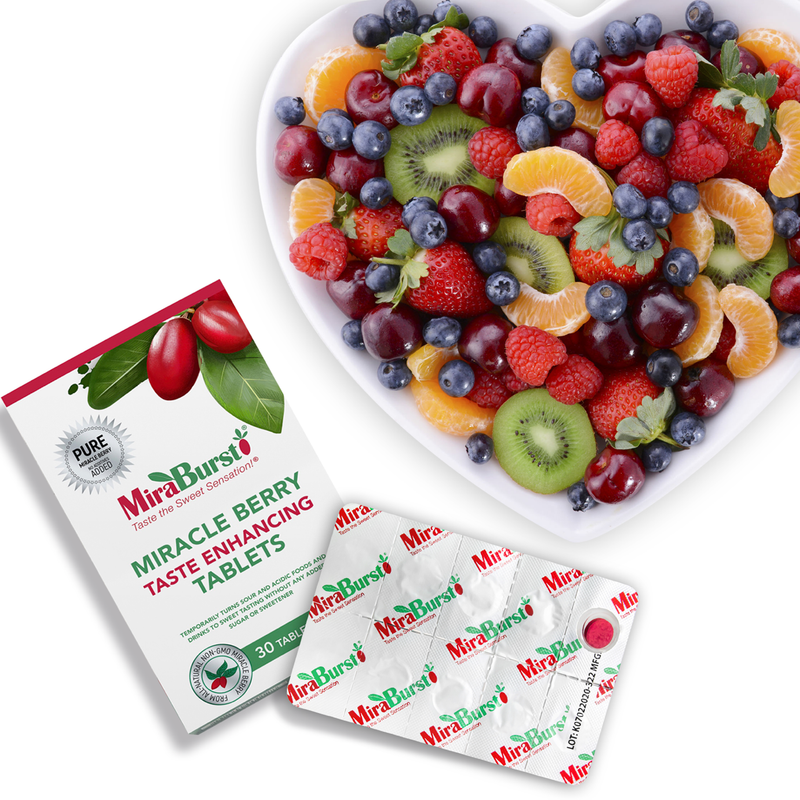 More than 34 million Americans have diabetes. Another 88 million have prediabetes. Despite these alarming statistics, diabetics and prediabetics have a hard time managing their conditions partly because most of them are addicted to sugar and sweets. MiraBurst is solving this problem with a unique superfruit – a natural taste modifier that tricks the mind to perceive sour or tart foods as sweet.
"I experienced the benefits of the miracle berry firsthand after I was diagnosed with prediabetes," says MiraBurst founder Dr. Emmanuel Asare. "With the help of the miracle berry, I could enjoy healthy low sugar fruits and desserts, lose some weight and eventually reverse my prediabetes diagnosis. I developed MiraBurst to help diabetics and borderline diabetics finally enjoy healthy low sugar snacks, drinks and desserts which are normally sour or tart."
The miracle berry serves as a taste modifier. Miraculin, the active ingredient found in the fruit's pulp, activates the sweet receptors on the tongue and tricks the mind to perceive sour or tart as sweet. The tablet has the exact natural composition as the berry with zero additives or preservatives. This miracle berry tablet dissolves on the tongue, making any sour or tart fruits, foods or drinks taste sweet.
With the help of the miracle berry, diabetics and borderline diabetics can enjoy diabetic superfoods recommended by the American Diabetes Association. By eating more berries, citrus fruits and unsweetened yogurt parfaits, they can cut down on processed foods as snacks or desserts. The miracle berry is also high in vitamins, minerals and micronutrients. It is also a rich source of polyphenols and other phytonutrients with antioxidant properties.
MiraBurst has accomplished what no other product on the market has done: they've made healthy eating enjoyable. Sugar and sweeteners can't remove the sour or tart taste from healthy fruits, foods, and drinks. With MiraBurst, every diabetic or borderline diabetic can finally enjoy a healthy eating habit while still satisfying their sweet tooth!
About MiraBurst
MiraBurst is the world leader in the cultivation, manufacturing, and distribution of miracle berry products. With their Miracle Berry products, they aim to help diabetics and prediabetics reduce their dependency on processed foods and sugar while making healthy eating enjoyable. The company is confident that this will lead to healthier eating and better control of blood sugars with possible reversal of prediabetes or even type 2 diabetes diagnoses.
Media Contact
Company Name: MiraBurst
Contact Person: Letitia Asare
Email: Send Email
Phone: 516-852-3795
City: New York
Country: United States
Website: www.miraburst.com