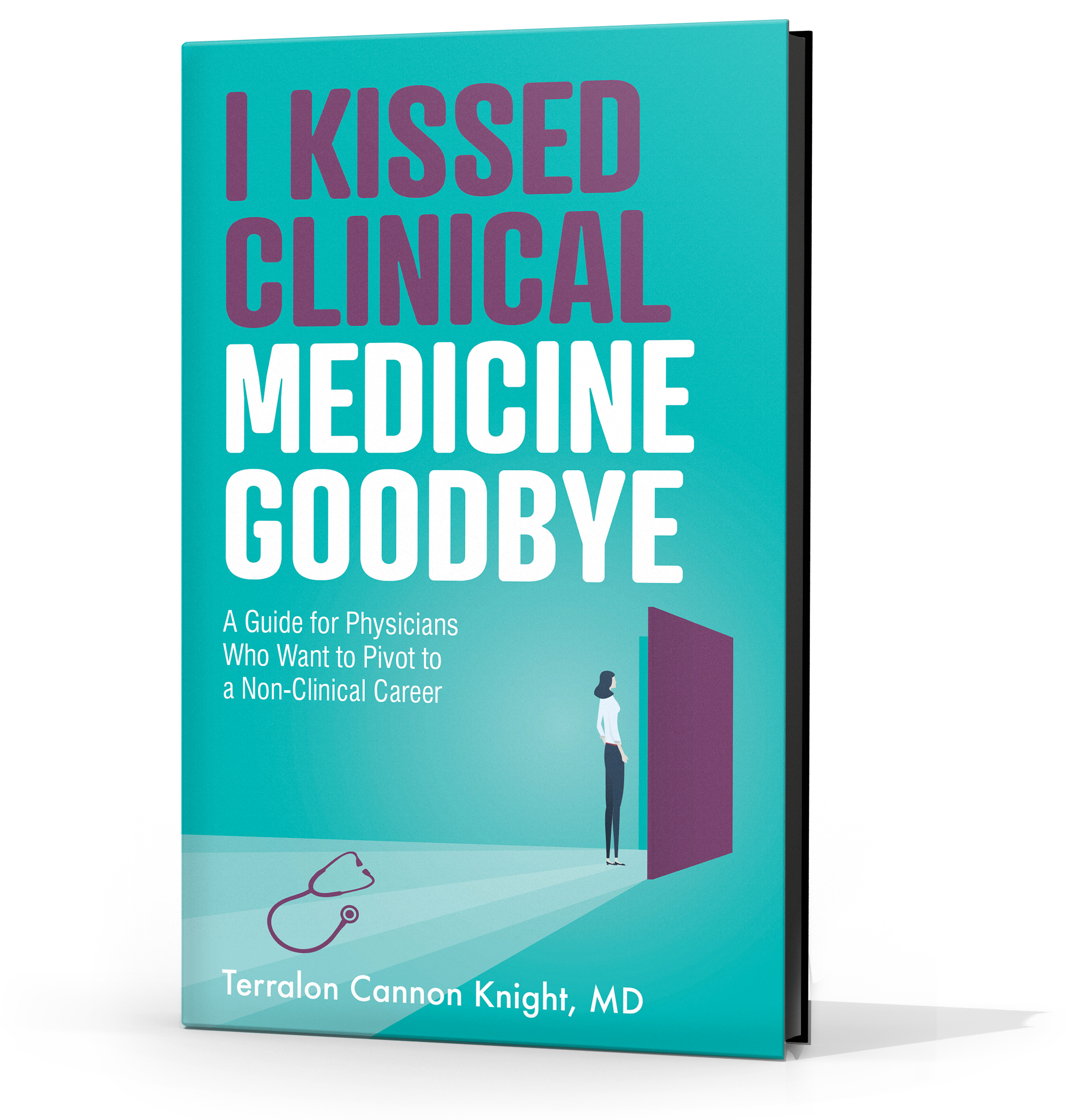 Physicians often follow the formula "high school + college + medical school = MD (internship + residency)." That is why, for many, leaving clinical medicine for a nonclinical career is not only foreign, but illogical. To provide resources to those seeking to make such a transition, Terralon Cannon Knight, MD has released I Kissed Clinical Medicine Goodbye: A Guide for Physicians Who Want to Pivot to a Non-Clinical Career.
UPPER MARLBORO, MD – July 22, 2021 – In I Kissed Clinical Medicine Goodbye, bestselling author and family physician Terralon Cannon Knight, MD helps doctors make the crucial career changes that will allow them to create more freedom, flexibility, and financial independence. Physicians will be led on a purpose-filled journey as they examine the whys and hows of making a career change, a growth vs. fixed mindset, and more while chartering a new route that aligns with their core values.
"I decided that whether others understood or not, it was important for my health and well-being and my family to make the change. I also decided that I owed it to myself to see where this new and utterly different path would take me," says Dr. Terralon.
The topics covered in I Kissed Clinical Medicine Goodbye are intended to support and enlighten physicians looking to transition away from clinical medicine prior to retirement. Written in relatable language from someone who has been at the crossroads many doctors are facing, the sage words about adapting, avoiding stress and burnout, staying relevant, and more will provide physicians with the insight and knowledge needed to finally make the career changes they have been second-guessing and prolonging.
I Kissed Clinical Medicine Goodbye gives physicians the resources and information they need to charter a new nonclinical course. "Changing careers can be scary, but it can be done. Change can be uncomfortable, but embrace it. We learn and grow through new experiences."
Terralon Cannon Knight, MD, is a board-certified family physician, speaker, author, and sought-after career transition coach. The principal of Knight Coaching, LLC, she has a passion for the underserved, with much of her career spent aiding communities in the District of Columbia, Maryland, and Virginia. Dr. Terralon obtained her medical degree from the Warren Alpert Medical School of Brown University and completed her family medicine residency at University of Texas at Houston.
Published by Publish Your Gift®, I Kissed Clinical Medicine Goodbye: A Guide for Physicians Who Want to Pivot to a Non-Clinical Careeris now available for purchase at www.drterralon.com.
Media Contact
Company Name: Purposely Created Publishing Group
Contact Person: Shani McIlwain
Email: Send Email
Phone: (888) 949-6228
Country: United States
Website: www.publishyourgift.com