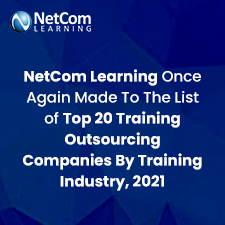 July 20, 2021 NetCom Learning Recognized as one of the Top 20 Training Outsourcing Companies, 2021
New York, United States – NetCom Learning, the leading IT & Business training company, has been once again recognized as one of the Top 20 IT Training Outsourcing Companies for 2021 by Training Industry Inc. for breadth, depth, and quality of offerings.
As a top provider of training outsourcing, NetCom Learning offers a diverse and robust set of training, skilling, and certifications to organizations that encompasses 4000+ courses based on 9 practice areas including but not limited to cloud, cybersecurity, IT networking, business skills. NetCom Learning is an authorized training partner for Microsoft, AWS, Google, Cisco, CompTIA, EC-Council, and Autodesk. Such a variety of solutions makes NetCom Learning stand out.
The selection for the Top 20 IT Training Outsourcing Companies was based on the following criteria –
Industry visibility, innovation, and impact.
The capability of delivering multiple types of training services.
Company size and growth potential.
Strength of clients and geographic reach.
"NetCom Learning prides itself in staying true to our values of lifelong learning. We help clients meet their business goals through skill development, process refinement, and digital transformation initiatives," said Russell Sarder, CEO of NetCom Learning. "We are honored to be recognized amongst the leading organizations that are leading the way in the constantly evolving market for IT training. In the current environment we are in; it is vital to strategically invest in your workforce to drive success in the years to come."
NetCom Learning has helped organizations stay abreast with technology changes by upskilling their teams to move their business forward. Their 1,000+ certified instructors deliver flexible, role-based custom training that develops the necessary skills for each role. The 4,000+ courses offered are available through a blend of in-depth technical virtual, classroom-based, or e-learning classes in private or public batches. NetCom Learning's presence has enabled them to deliver training to over 600 locations worldwide, including five different continents.
About Training Industry, Inc.
Training Industry (https://trainingindustry.com) presents news, articles, webinars, and research reports focused on supporting the corporate training leader and offers complimentary referrals to training professionals seeking to source products or services at https://trainingindustry.com/rfp.
About NetCom Learning
NetCom Learning helps build innovative learning organizations in the workplace by structuring a smarter workforce, supporting learning changes, and driving learning growth. For over 22+ years, NetCom Learning has been empowering organizations to reach optimal performance results and address challenges by managing all aspects of organizational learning. NetCom Learning has serviced over 80% of Fortune 100 companies and had helped over 14,000 organizations achieve their business goals by offering a full complement of Managed Learning Services, including IT and business training, curriculum design and content development, learning delivery and administration, consulting, and advisory services, and management of learning technology.
Media Contact
Company Name: NetCom Learning Inc.
Contact Person: Media Relations
Email: Send Email
Phone: (212) 629-7265
Address:252 West 37th Street Suite 1200W
City: New York
State: NY 10018
Country: United States
Website: https://www.netcomlearning.com/