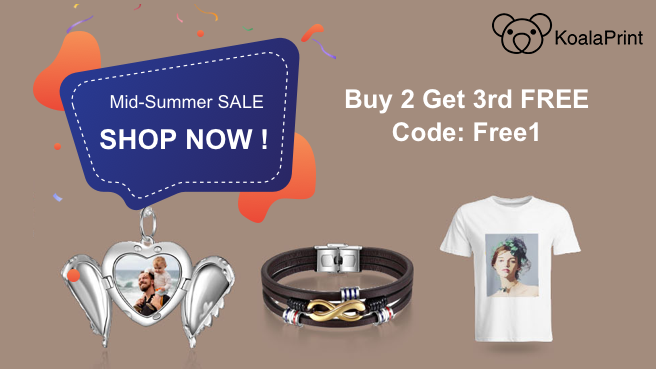 Providers of personalized gifts, KoalaPrint, launches a new online store to make their range of products easily accessible to customers with a sale activity to celebrate the feat
KoalaPrint is reiterating their commitment to providing the best possible shopping experience to their customers with the introduction of their user-friendly online store. In a related development, the providers of premium quality personalized gifts for every special occasion are currently running a sale that allows customers to get one product for free after buying 2.
The global gift market has continued to evolve over the years, with several brands emerging to deliver items to help customers celebrate big occasions and appreciate their loved ones. A part of the multi-billion-dollar industry that has witnessed tremendous growth in recent times is the custom gifts market. However, the team at KoalaPrint seems poised to take the "gifting" experience to another level as substantiated by the range of groundbreaking solutions available on their new digital store.
KoalaPrint offers unique and inspiring products to capture special moments and preserve memories, thanks to a team of highly experienced and well-trained creative designers generating filters and stickers to glorify the client's designs.
The categories of products offered by KoalaPrint include jewelry, home and living, pet, clothing, and accessories, such as hats, watches, and shirts, and a host of others, with a 30 days' refund and return policy on every item. KoalaPrint has continued to enjoy rave reviews from customers, with the recently launched online store expected to help the brand reach a wider audience.
For more information about KoalaPrint and to enjoy the current sale in celebration of the online store launch, visit – https://www.koalaprint.com/. KoalaPrint can also be found across several social media platforms, including Facebook, Instagram, and YouTube.
Media Contact
Company Name: KoalaPrint
Contact Person: Judy Lin
Email: Send Email
Phone: +86 18328692800
Address:Room 903, Block A, Bairuida Building, Vanke City Community, Bantian Street, Longgang District
City: Shenzhen
State: Guangdong Province
Country: China
Website: https://www.koalaprint.com/