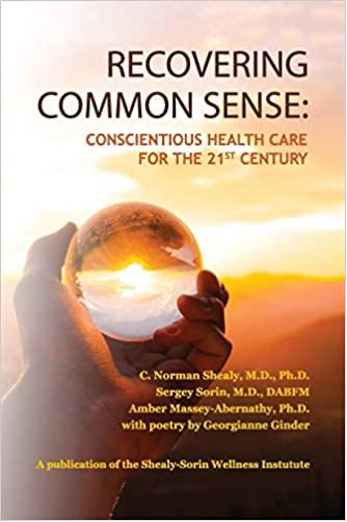 Recovering Common Sense:Conscientious Health Care For The 21st Century offers insight into today's healthcare problems and offers a health/wellness program for lifelong physical, emotional, and spiritual health
July 28, 2021 – Springfield, MO, USA – In their latest book, best-selling authors and holistic health practitioners Drs. C. Norman Shealy and Sergey Sorin are joined by experimental psychologist, Amber Massey-Abernathy, and by health-and-wellness counselor, Georgianne Ginder.
Recovering Common Sense offers a program for lifelong physical, emotional, and spiritual health based in Five-Factor Theory (FFT) and the "Five Health Basics."
"The problems with today's broken and misaligned healthcare system is just plain common sense," says Dr. Norman Shealy, Norman Shealy, M.D., Ph.D., D. Sc FACS, DABNS, often called the "Father of Holistic Medicine", is President of Shealy -Sorin Wellness Institute and Founder of the American Holistic Medical Association in 1978.
Dr. Shealy and the co-authors outline specific ways in which a person can take an active role in recovering from disease and in maintaining health.

As a practicing physician he is concerned with what works, whatever the theory, and over the years he has assembled a battery of training methods which patients (and non-patients too) can use to improve their state of health.
"Patients must begin to change, they maintained, from passive recipients of medical care to active self-responsible participants; otherwise our goal of developing an adequate national health system cannot be realized," says Shealy.
He adds, "Increasingly this burden of responsibility must be shared by the patient. Helping to overcome the present bind in providing medical care by enhancing the individual's powers of self-regulation is a major purpose of this book."
The authors make two claims, both rather bold though backed by clinical practice and experiment.
The first claim is medical: The Five-Factor Theory (FFT) personality traits have hormonal expressions, such that openness, conscientiousness, extraversion, agreeableness, and neuroticism – the so-called "big five" – are mirrored in levels of dopamine, serotonin, acetylcholine, oxytocin, anandamide, and other neurotransmitters.
While FFT traits are genetic in origin and change slowly over time, it is their contention that one can, in fact, choose health by growing in conscientiousness and common sense.
Their second claim is medical as well, but turns from brain chemistry to patterns and habits of behavior. Personality traits-neuroticism and conscientiousness particularly correlate with health and wellness.
"While the watchword previously was conscientiousness, the term for this book is "common sense" — or, rather, the lack thereof," says Dr. Shealy. "This book offers an outline of those modalities and of their role in conscientious health care."
About Shealy-Sorin Wellness Institute
With over 70+ years of combined experience of true holistic healthcare, and scientific research we strive to provide the highest standard available educational materials, instruction, guidance, and wellness products to achieve successful outcomes where conventional medicine has failed.
Authors
C. Norman Shealy, M.D., Ph.D. is Founder and President of International Institute of Holistic Medicine, President of Shealy Wellness,LLC and Holos Energy Medicine Education. He is editor of the Journal of Comprehensive Integrative Medicine and holds fifteen patents in energy medicine and has published thirty-five books and over 300 articles. For the past twenty-nine years, he has hosted the Shealy Wellness radio show on KWTO in Springfield, Mo.
Sergey Sorin, M.D., DABFM is a Board-certified physician with extensive clinical experience in conventional healthcare. Dr. Sorin is currently CEO and Medical Director of the Shealy-Sorin Wellness Institute. His publications include books, articles,and original research projects in peer-reviewed scientific journals. He is a co-host of the Shealy-Sorin Wellness radio show and has been a keynote speaker at numerous national and international conferences.
Amber R. Massey-Abernathy, Ph.D., is Associate Professor of Psychology at Missouri State University, where she specializes in psychology of childhood, psychology of adolescence, and personality. Her research includes stress and the application of Five-Factor Theory.
Georgianne Ginder, M.Sc., is a JSJ certified practitioner working as a health and wellness counselor for the Health Arts and Healthcare Program at Virginia Commonwealth University.
Media Contact
Company Name: Diana Blackburn
Contact Person: Media Outreach
Email: Send Email
Phone: 813.802.0534
Country: United States
Website: https://realholisticdoc.com/media/