Innovative boxing program for at-risk youth, Punch 4 PoundsKids in partnership with Footsteps To Follow, announce plans to host "E3-Engage, Empower and Employ" a city-wide peace and prosperity treaty, basketball tournament and job fair.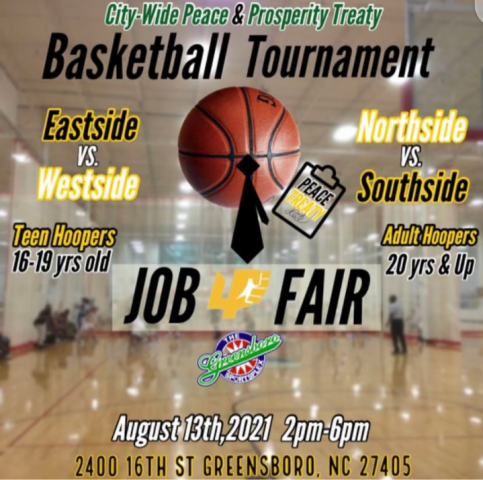 Punch 4 PoundsKids have reiterated their commitment to supporting at-risk youth by providing them with mental health and mentoring resources with the upcoming "E3-Engage, Empower and Employ." The event, which will be held on Friday, August 13, 2021, from 2pm to 6pm is organized to deter violence with engagement, empowerment and employment. In a related development, organizers of the event are seeking funding to help bring the project to life and save more lives across the nation.
Millions of youth in different parts of the world continue to struggle to reach their full potential. The case has been exacerbated in recent times due to the difficulty in having a steady means of livelihood. The case is not particularly different in North Carolina and other parts of the US, which is where the team at Punch 4 PoundsKids, led by Steven Matthews, is looking to make a difference through the upcoming job fair in North Carolina.
The innovative event will be hosted at SportsPlex (2400 16th St, Greensboro, NC 27405) as a part of an on-going engagement opportunity to offer youth and young adults opportunities for job readiness and employment. The combination of a job fair and Peace Treaty Basketball Tournament is particularly unique, increasing whole family participation and employer engagement.
"E3-Engage, Empower and Employ" will include Group meetings with up to fifty participants for 30-minutes each, and one-on-one employer meetings. The event features activities for all categories of participants from 16 years and above. Interview with industry leading companies seeking talented, and motivated job seekers. Attend this event and you could walk away with a new job offer the SAME DAY.
Seeking Employers on the areas of *Manufacturing * Warehouse * Retail * Restaurant * Hospitality *Janitorial Services* Much More…
* Free GTA Passes Offered
* Equal Employment Opportunities
Employers, Free Giveaways, Community Resources, and more!
For more information about "E3-Engage, Empower and Employ" and how to register for the event or sponsor the groundbreaking initiative, visit P4kids.com or p4_kids@yahoo.com
About Punch 4 PoundsKids
Punch 4 PoundKids was created as a boxing program for at-risk youth to develop the whole child through the art of boxing. The program has evolved, serving youth ranging from four years of age to twenty-four, widening their scope to allow the impact of the organization to stretch throughout the family household, working with over 400 youth in Guilford County since Covid-19.
Media Contact
Company Name: Punch 4 PoundsKids
Contact Person: Steven Matthews
Email: Send Email
Phone: 336-456-6468
Address:2400 16th St
City: Greensboro
State: NC 27405
Country: United States
Website: www.P4kids.com