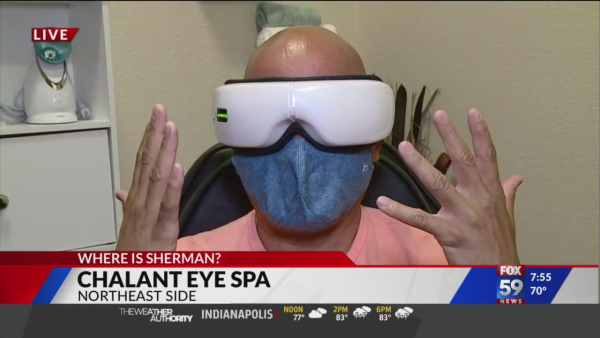 Chalant Eye Spa & Vision Wellness partners with corporate organizations to offer a strategic vision wellness program. Designed exclusively for employees, the company's skilled staff, combined with the latest technology, offers clients a quick and efficient way to rejuvenate eye care and simultaneously boost morale.
Chalant Vision Wellness corporate program's main goal is to improve employee productivity, decrease work errors, and reduce digital eye strain. With the shift of the workplace to the home space, individuals are spending more time on their electronic devices to accomplish tasks throughout the day, making the risk of eye strain and its effects on vision become a potential risk.
"Our vision wellness program engages employees in becoming happier, healthier, and more energetic at work, rather in office or remote work from home. We educate your employees on how to eliminate digital eye strain in the workplace, and the importance of maintaining healthy vision", says Dora Grant CEO of Chalant Eye Spa.
According to research, eye strain and exhaustion cause employees to cut back on fifteen minutes, or more, of work time a day. This amounts to the company losing more than $2,000 per year per affected employee. Digital eye strain can cause physical discomfort, including dry, burning, and itchy eyes.
As part of the vision wellness program, Chalant Eye Spa & Vision Wellness conducts rejuvenating eye massage. This massage relieves digital eye strain, dry, burning, and itchy eyes. It eliminates dark circles and wrinkles, improves sleep, helps relieve sinus pressure and headaches. The company also offers premium computer glasses created to help reduce digital eye strain associated with computer work.
"We offer premium eye massages that rejuvenate strained, sensitive, irritated eyes. Our eye massage method is done by a smart device that lightly rests on your eyes while massaging the eyes and temple muscles", says Dora Grant CEO of Chalant Eye Spa.
She also added, "Over 200 organizations offer their employees membership access to Chalant Vision Wellness centers as exclusive wellness benefits. Chalant corporate partners receive access to custom services to help drive happier, healthier, and more energetic employees while increasing productivity, and preventing future eye diseases".
Chalant Eye Spa is a US-based certified, woman-owned business. Chalant Eye Spa offers an assortment of eye spa treatments and revitalizing eye massages for digital eye strain relief, dark circles, puffy eye treatment, headaches, and sinus pressure. The team comprises dedicated and well-qualified individuals who are passionate about Chalant's vision for the organization.
For more information, please visit:https://chalanteyespa.com/corporate-wellness
Media Contact
Company Name: Chalant Eye Spa & Vision Wellness
Contact Person: D. Grant
Email: Send Email
Country: United States
Website: https://chalanteyespa.com/corporate-wellness