British psychologist Lee Chambers has released the first book in the Flourish and Thrive series entitled Masterpiece Days.
The highly regarded British psychologist Lee Chambers has launched his Flourish and Thrive series of books with the release of the first title. Masterpiece Days: How to Create a Great Life One Awesome Day at a Time, looks at how we craft and cultivate a daily routine that empowers and energises us, while creating time and space for both the essential activities and the non-negotiable habits that support us to make progress towards the human we wish to become. Despite being short in nature at just over fifty pages, it contains the distilled wisdom from a variety of books previously written around topics of optimal living, making them easier to implement and digest.
The book's format is designed around ten pivotal ideas to consider, and these ideas are matched with ten exercises that create space for reflection and planning and ultimately lead to action being taken. Each book in the series compliments each other and builds into a collection of refined wisdom from a wide variety of sources, including ancient civilisations, modern psychology and cutting edge neuroscience. Fusing these together ensures that concepts are explored from a diverse range of viewpoints. It encourages experimentation to find out what works for us as individuals, rather than relying on experts to tell us something that isn't unique to each one of us.
Released on the 29th of July 2021, Masterpiece Days is now available on Amazon in both paperback and Kindle ebook and will be available in the coming month across a range of other good book stores in locations worldwide. The next title in the series will be released in August 2021.
About Masterpiece Days
Have you ever had a day that changed your life?
We tend to underestimate just how much we can achieve in a day, and more importantly, how days very quickly add up to months and years. My life changed when I lost the ability to walk on a day back in 2014. And ever since then, I've been obsessed with how our daily routines and habits make us into the people we are.
Join me as I explore the 10 big ideas and insights that have had the biggest impact on my journey to learn to walk again, start a successful business and lead a happier, healthier life.
This book will provide you with a blueprint to create days that are optimal for you, and contains both a range of ideas to reflect on and exercises to complete. By the end of this book, you will know exactly what you need in your day to move towards the future you desire.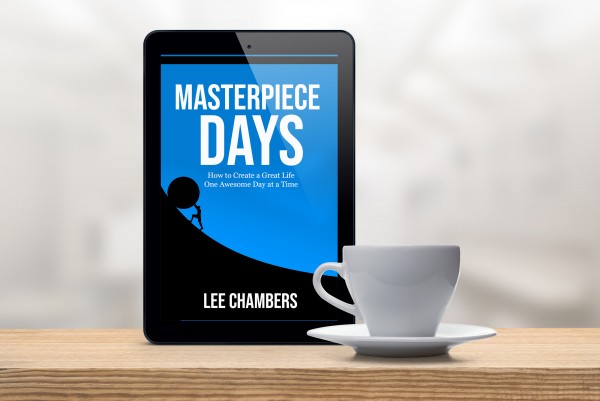 About the Author
Lee Chambers is an award-winning British psychologist, coach and founder of Essentialise Workplace Wellbeing. He has been interviewed by Vogue, The Guardian and Newsweek, and is known for analysing the psychological aspects of the workplaces, wellbeing and colour. His clients include RBS, Gazprom and B&Q, and he works with athletes, leaders and entrepreneurs to support them to reach optimal performance through wellbeing and psychology.
He is the host of the Self Aware Entrepreneur Show, and was voted in the Top 50 BAME Entrepreneurs Under 50 in 2020. He is trusted by publications such as Medical News Today, the BBC and Healthline, and was awarded the psychologist of the Year by the UK Enterprise Awards, and in 2011 won the Ernst and Young Entrepreneur of the Year in the Emerging Entrepreneur category.
Having studied across a range of psychological fields at the University of Surrey, the University of Pennsylvania and Lancaster University, he is now on a mission to distil his learnings into a series of actionable guides to leading healthier, happier lives that promote thriving and flourishing.
Media Contact
Company Name: Press Release UK
Contact Person: Media Relations
Email: Send Email
Phone: 01772 846144
City: Preston
State: Lancashire
Country: United Kingdom
Website: https://www.amazon.co.uk/dp/B09BGKHXQV/