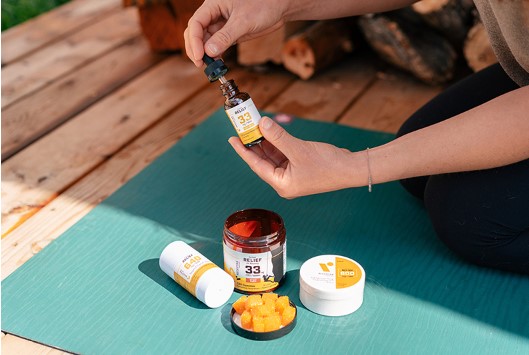 "Receptra Naturals provides serious solutions for health and wellness issues for people and their loved ones, with therapeutic, ailment-specific, and high-potency products."
Receptra Naturals is a top national CBD Wellness company established in 2015 and available at thousands of retailers and medical professionals nationwide. LeafReport.com ranks Receptra Naturals as one of the most effective and efficacious CBD Wellness companies today (https://bit.ly/2TwC5hC).
Receptra Naturals, a CBD Wellness leader since 2015 that has seen significant growth every year since inception is further expanding its nationwide distribution through a partnership with Mr. Checkout's Direct Store Delivery Distributors.
This partnership will provide distributors nationwide the opportunity to access Receptra Naturals suite of 33 SKUs that have "the best accuracy of any CBD product we tested," per Leafreport.com (https://bit.ly/2ZsVEpZ)
With Receptra Naturals, consumers and retailers know they are receiving the highest quality CBD products that go through the most rigorous quality control and testing procedures on the market. All of our products are made using hand-shucked hemp flower, with full and broad spectrum distillate extracted via our proprietary "6 Below 50" extraction process, and manufactured in cGMP-certified facilities in Colorado. Our agriculture is licensed by the Department of Agriculture in Colorado. Each product has QR Codes that link directly to third-party lab test results that are performed by ISO certified and accredited laboratories. Receptra Naturals's oversees the full seed-to-bottle process which allows for the most consistent CBD products available. All products are gluten-free, Non-GMO, and made with organic and all-natural ingredients. In addition, all of Receptra products except capsules are vegan.
Receptra is currently available in over 3000 doors nationwide including grocery, pharmacy, sporting goods, wellness retail, and medical practitioners.
Receptra Naturals is known to be a great retail partner that provides consistent products and loyal customers.
Dr. Corey D. Anden, MD says: "Receptra offers so many high-quality full-spectrum CBD products for me and my patients! Receptra Relief Targeted Topical helps so many conditions (joint pain, muscle soreness, neuropathy, headache, rash) that we call it the "Magic Salve!" Many patients massage the Topical into their lower legs and feet at bedtime to reduce burning and restless leg symptoms so they can sleep. For nighttime, Receptra Rest Gummies are an effective organic alternative to other sleep aides. When anxiety and stress are interfering with wellness, Receptra Relax Oils or Capsules taken daily promote an alert calmness that improves daily functioning for many of my patients. I have personally found that daily Receptra Relief Oil keeps me active and reduces cravings, keeping me on track for a healthy lifestyle."
Andrew Young, VP of Product Management/Vendor Relations at CBD Emporiums has this to say about Receptra Naturals: "Receptra Naturals is a titan in the CBD industry. They have been creating the best products from the very start by owning their own supply chain. What does that mean? The strain selection, hemp farmers, extraction, formulation, and every single botanical contained in their products are all painstakingly crafted for quality. During our vetting process, Receptra Naturals stood above the rest and really delivered the best effects that the hemp plant has to offer. Time and time again we find Receptra Naturals getting stellar reviews because of their caring approach and uncompromising quality. Receptra Naturals' philosophy really has created a brand that delivers the full wellness-promoting potential of hemp. That's something we here at CBD Emporium stand behind. Receptra is perfect for anyone from elite athletes to weekend warriors and everything in between. Even grandma and grandpa can find something to love! You're sure to find an ideal fit for your lifestyle in Receptra Naturals. We love seeing our customer reviews too. They've got easy-to-understand benefits from rest to relaxation to relief that resonate with customers. Honest people of all walks of life appreciate these uses of the hemp plant. And Receptra's right there with you. Receptra Natural products really work and they work well."
Josh Richman, Receptra Naturals's Chief Revenue Officer, said "In a cluttered industry where most companies do not prioritize sourcing, consistency, quality, and trust, we at Receptra Naturals pick our distribution partners as carefully as we hand shuck our hemp flower. We know that education at the store level is imperative for a positive customer experience and look forward to working with Mr. Checkout Distributor to educate our retail partners and their customers on how Receptra Naturals will help them reach their wellness goals."
Brightfield Group reports that the CBD market is valued at $5.3 billion in 2021 with forecasted growth to over $15 billion by 2026.
Media Contact:
Company Name: Receptra Naturals
Contact Person: Josh Richman
Email: jrichman@receptranaturals.com
Phone: 646.670.0603
Country: United States
Website: https://mrcheckout.net/receptranaturals
The products mentioned are THC-free and/or compliant with the 2018 Farm Bill.
Media Contact
Company Name: Receptra Naturals
Contact Person: Josh Richman
Email: Send Email
Phone: 6466700603
Country: United States
Website: https://mrcheckout.net/receptra-naturals/