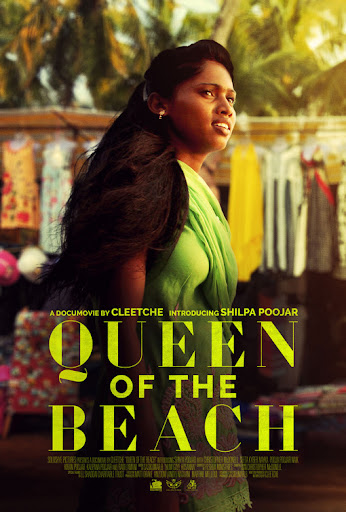 Chronicles 8 years in the life of Shilpa Poojar
Award-winning documentary Queen of the Beach, directed by Cleetche (Chris McDonell), premieres On Digital and On Demand August 15 (Indian Independence Day) from Under the Milky Way.
Winner of 11 film festival awards, including Best Picture and Best Documentary wins at 8 Festivals in India, Queen of the Beach chronicles 8 years in the life of Shilpa Poojar, a child-labourer working on a beach in Goa whose dream is to go to school.
While on vacation in Goa, India, Canadian filmmaker Chris McDonell turns his camera on Shilpa Poojar, a 9-year-old beach hawker hustling tourists to buy clothes and jewelry from her seaside shop. Funny, charming and skilled beyond her years, she is a migrant worker from the unique Banjara tribe and the primary breadwinner for her family. Forging a connection in this chance encounter, Chris returns 3 times over the next 7 years to capture Shilpa's story of sacrifice and survival and help her achieve her childhood dream of going to school – a relentless effort that will test them both along the way.
In her review of the film, Vallerie Kalfrin from The Alliance of Film Journalists said Shilpa "also schools McDonell in what her family and society expect from her, making Queen of the Beach a compelling and balanced portrait."
About Christpher McDonell
In 1989, Christopher McDonell – nicknamed "Cleetche" by his high school classmates – successfully pitched his first film project SOLOSHYE to a local TV station in his Canadian hometown of Orillia, Ontario. Only 17-years-old, he would go on to write, direct, shoot and star in nine 44-minute episodes of the comedy sketch-series, laying the ground for a career in independent filmmaking. In 1991, he moved to British Columbia where he studied at both UBC and the Vancouver Film School. In 1995, he shot a documentary in West Africa, surviving a bout of malaria along the way. And in 2001, he was living his dream: directing his first feature film, TRIBE OF JOSEPH, on a Telefilm-funded budget of $1.5 MM. QUEEN OF THE BEACH is his latest endeavour, an ambitious documentary that spans 11-years in the life of a child-labourer working on a beach in India. Winner of 11 awards, including 8 "Best Pictures", it is being distributed worldwide on VOD platforms later this year. Projects in development include the feature-films, "BEACH_FLY", a recent quarterfinalist at two international screenplay competitions, and "GRIZZLY MESSIAH".
Media Contact
Company Name: OCTOBER COAST PR
Contact Person: Samantha Kristy
Email: Send Email
Phone: 0011 +61 3 99996034 ext. 314
City: SUNNYVALE
State: CA
Country: United States
Website: http://cleetche.com/documentaries/beach-hawkers.html