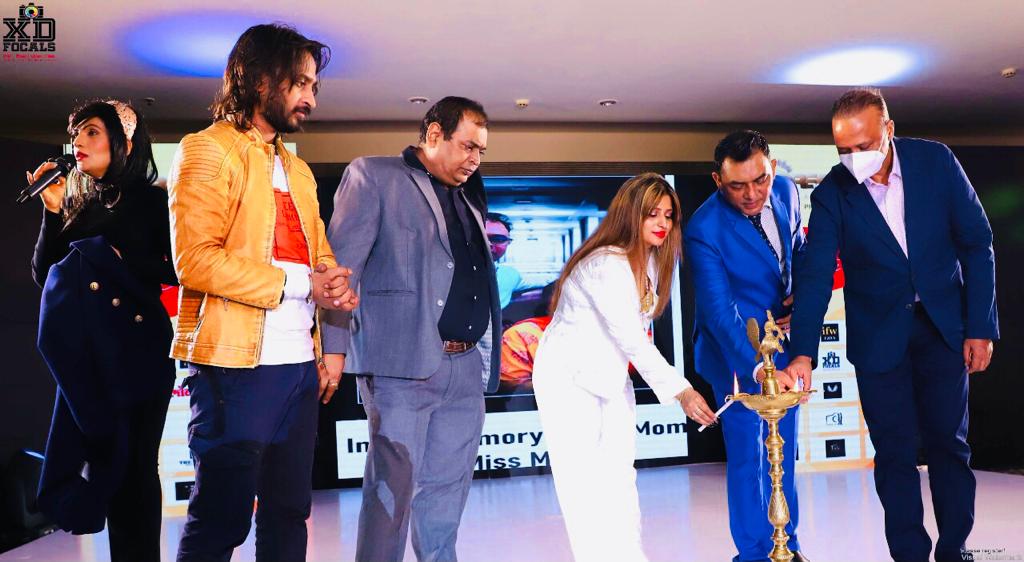 Mumbai (India) on 31st July, 2021 was enthralled by a world class level Fashion Show – India Fashion City Tour (IFCT) – Mumbai presented by Soumya Singh – The Director of Dreamzz Maker Events and Entertainment. IFCT- Mumbai is franchisee of India Fashion Week (IFW) Goa headed by Mr William Xavier.
The IFCT – Mumbai fashion show was a multi – designer, multi-talented show whereby many designers from various cities of India participated and presented their exclusive designs. The various designs of clothing presented by different designers included trendy, ethnic, bridal, traditional and kids' wear. The show included participation by Kids models, Professional models, Celebrity Models, Mr & Mrs models, Plus size models, Transgender Models and also by Differently Abled persons from various cities of India.
The show kicked off mid afternoon at Four Points by Sheraton Hotel Vashi, and the frolic went on up to 10pm. Required pandemic precautions were observed by way of limiting audience, mask and social distancing. With relatively smaller live audience, the Fashion Show was bedazzled by the uniquely creative outfits confidently adorned by the models participating from different cities like Mumbai, Delhi, Kerala, Hyderabad, Bangalore, Chennai, Pune, Nagpur, Jalgaon, Goa, Gujarat, Orissa.
Kids and teenagers, in addition to male and female models of different ages and categories, were seen glorifying the ramp in various costumes.
Various themes, designs, patterns and colors were appreciated with thunderous applause and excited cheer ringing through out the show. Camera flashes went off in sync to the rhythm of the music.
While the event was graced by a) Chief Guests, Mr. Sandeep Singh and Rupa Singh, b) Special Guest – Mr Anil Jalan – Director Lakshay Media c) Title sponsor – Capt Presenjeet Kumar (Director Proactive Ship Management Pvt Ltd) d) Guests of Honor – Dr Sanjiv Kumar (S. K. Builders), e) Media Partner – Mr Vijay Shukla (V.C. Lokmat) and f) Co-Sponsor – Mr Rajesh Kumar Singh (Director Canopus Marine Management Services), g) Gift Partner – Mr Kunal Thakkar (Dr Rasheel), h) Magazine Partner – Mr Anil Nail (The Niche Magazine) i) The hairstyle and make-up artist partner – Lakme Institute (Kharghar) j) Photography Partner – Mr Bablu Singh (XD Focals)
Soumya Singh and Mr William Xavior expressed gratitude to Mr Yash Shelar – The Choreographer, Mr Shobhit Sharma – The Runway & Show Director, Mr Deepak Shetty, Mr Firoz, the Lakme Team, Models, Designers and other team member of the show for their extraordinary efforts to make the show successful. The show was managed well by Trishul – The Divine (Director Shobhit Sharma).
Organizer of IFCT – MUMBAI, Soumya Singh said, "I wanted to bring talents from various cities of India under one roof and also motivate Transgender, Elderly and Differently abled persons to participate in the show and be part of the fashion world. I am very happy and thankful to all Sponsors of the show, my team members, models, kids, media partners, photography partner and designers who supported me to make this show successful."
Soumya Singh Further announced that the next IFCT – Mumbai Fashion Show will be held in Mumbai (India) around Feb 2022 which will be even bigger than this one.
Media Contact
Company Name: Glamoglitz
Contact Person: Rajveer
Email: Send Email
Phone: 917710030004
Country: India
Website: glamoglitz.com