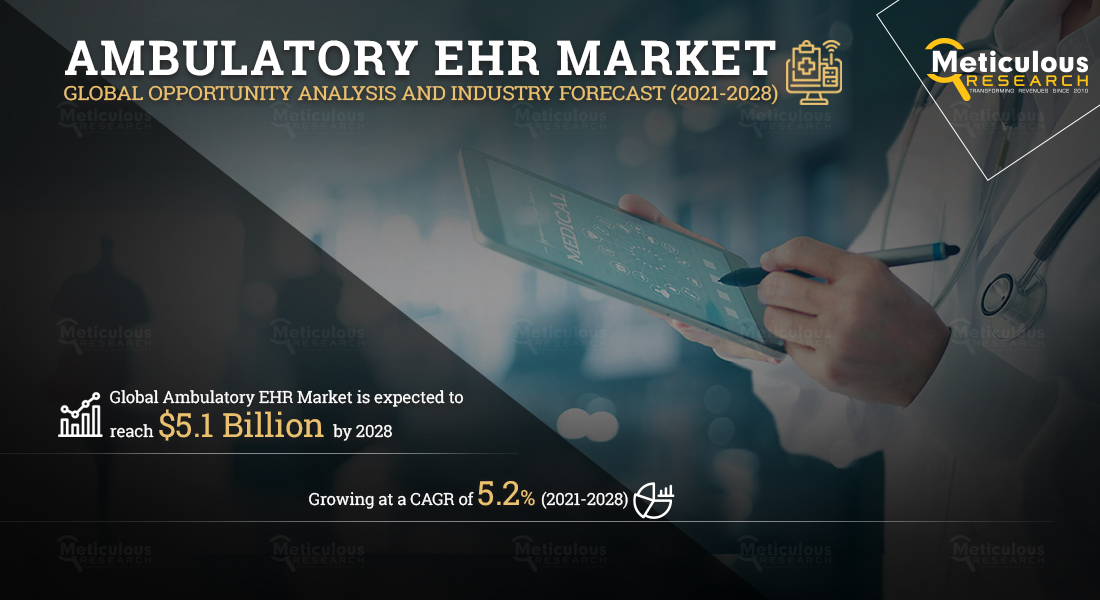 "The Ambulatory EHR Market is expected to grow at a CAGR of 5.2% from 2021 to 2028 to reach $5.1 billion by 202"
Ambulatory EHR Market by Delivery Mode (Cloud-based, On-premise), Type, Practice Size (Large, Small-to-medium, Solo), Application (Patient Portals, Practice Management, CDS, Computerized Physician Order Entry, PHM), and End User – Global Forecast to 2028
Ambulatory EHR systems allow physicians to monitor patients' medical history and long-term care more easily to understand patients' health better, making potential diagnoses simpler. In its latest publication on the Ambulatory EHR Market, Meticulous Research analyses that the global market is expected to grow at a CAGR of 5.2% from 2021 to 2028 to reach $5.1 billion by 2028.
The main factors driving the global ambulatory EHR market are rising government support for the adoption of EHR solutions, increasing trend of patients shifting to ambulatory care rather than inpatient care, and growing need to minimize operating costs in the healthcare industry. Furthermore, the integration of AI and ML and changing scenario in emerging economies are some of the factors expected to offer significant growth opportunities for market players. However, data security issues, high implementation costs, heavy infrastructure investments, and IT infrastructure constraints in low-income countries are expected to curtail this market's growth.
Download Free Sample Report Copy Here: https://www.meticulousresearch.com/download-sample-report/cp_id=5190
Meticulous Research has segmented this market by mode of deployment, type, practice size, application, end user, and geography to provide efficient analysis. The study also evaluates industry competitors and analyzes the market at the country level.
Scope of the Report:
Ambulatory EHR Market, by Deployment Mode
Cloud/Web-based
On-premise
Ambulatory EHR Market, by Type
Modular Ambulatory Software
All-in-one Ambulatory Software
Ambulatory EHR Market, by Practice Size
Large Practices
Small-to-medium Sized Practices
Solo Practices
Ambulatory EHR Market, by Application
Practice Management
Patient Portals
Computerized Physician Order Entry (CPOE)
Clinical Decision Support (CDS)
Population Health Management
Mobile Solutions
Referral Management
Ambulatory EHR Market, by End User
Hospital-owned Ambulatory Centres
Independent Centres
Ambulatory HER Market, by Geography
North America
Europe

Germany
France
U.K.
Italy
Spain
Rest of Europe (RoE)

Asia-Pacific

China
Japan
India
Rest of APAC (RoAPAC)

Latin America
Middle East & Africa
To gain more insights into the market with a detailed table of content and figures, click here : https://www.meticulousresearch.com/product/ambulatory-ehr-market-5190
In 2020, based on the mode of deployment, the cloud/web-based segment accounted for the largest share of the overall market due to its benefits like high flexibility and mobility, with faster and automatic software updates.
In 2020, based on type, the modular software segment accounted for the largest share of the market due to the greater convenience it offers to the user to select specific software modules as per requirement and practice size.
In 2020, based on practice size, the large practices segment accounted for the largest share of the market due to the ability of the large practices to adopt EHR solutions by investing capital and develop the infrastructure.
In 2020, based on application, the practice management segment accounted for the largest share of the market due to the software's ability to manage day-to-day operations related to medical practice.
In 2020, based on end user, the hospital-owned ambulatory centers segment accounted for the largest share of the market since hospital-owned ambulatory centers are facing a growing need to coordinate unstructured healthcare data and have the resources to afford the large initial investment and implement EHR solutions.
In 2020, North America dominated the ambulatory EHR market, followed by Europe and Asia-Pacific. The increasing support by the government to implement EHR and up-to-date IT infrastructure in the region are the driving factors to support the largest share of this region.
Speak to our Analysts to Understand the Impact of COVID-19 on Your Business: https://www.meticulousresearch.com/speak-to-analyst/cp_id=5190
Key Players:
The report provides competitive intelligence in terms of financials, growth strategies, deployment mode, type, practice size, applications, end user, and geographical presence on some of the key players in this market, including Epic Systems Corporation (U.S.), Cerner Corporation (U.S.), Medical Information Technology, Inc. (U.S.), Computer Programs and Systems, Inc. (U.S.), Allscripts Healthcare Solutions, Inc. (U.S.), athenahealth, Inc. (U.S.), NextGen Healthcare, Inc (U.S.), eClinicalWorks (U.S.), Greenway Health, LLC (U.S.), CureMD Healthcare (US), and AdvancedMD, Inc. (U.S.).
Amidst this crisis, Meticulous Research® is continuously assessing the impact of COVID-19 pandemic on various sub-markets and enables global organizations to strategize for the post-COVID-19 world and sustain their growth. Let us know if you would like to assess the impact of COVID-19 on any industry here-https://www.meticulousresearch.com/custom-research
About Meticulous Research®
Meticulous Research® was founded in 2010 and incorporated as Meticulous Market Research Pvt. Ltd. in 2013 as a private limited company under the Companies Act, 1956. Since its incorporation, the company has become the leading provider of premium market intelligence in North America, Europe, Asia-Pacific, Latin America, and the Middle East & Africa.
The name of our company defines our services, strengths, and values. Since the inception, we have only thrived to research, analyze, and present the critical market data with great attention to details. With the meticulous primary and secondary research techniques, we have built strong capabilities in data collection, interpretation, and analysis of data including qualitative and quantitative research with the finest team of analysts. We design our meticulously analyzed intelligent and value-driven syndicate market research reports, custom studies, quick turnaround research, and consulting solutions to address business challenges of sustainable growth.
Media Contact
Company Name: Meticulous Market Research Pvt Ltd
Contact Person: Khushal Bombe
Email: Send Email
Phone: +1 646-781-8004
Address:1267 Willis St, Ste 200 Redding, California, 96001, U.S.
Country: United States
Website: www.meticulousresearch.com