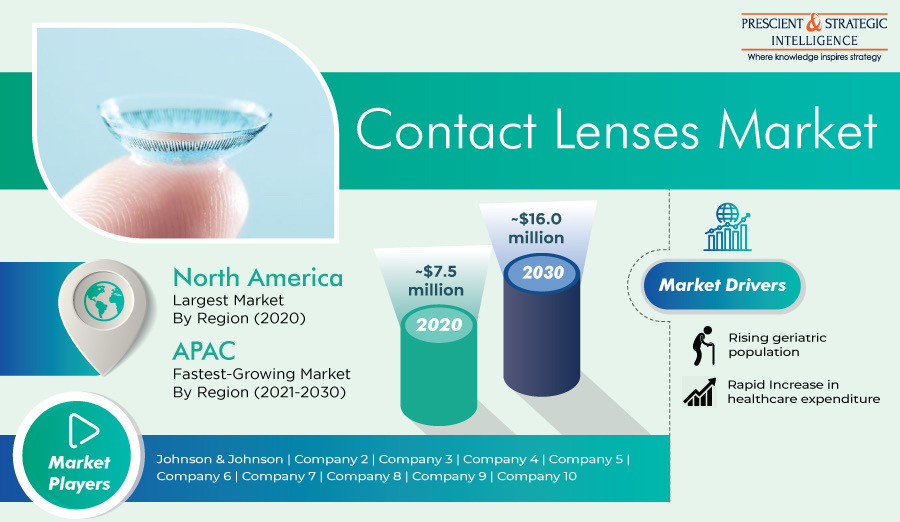 Geographically, North America dominated the contact lenses market in 2020.
Huge quantities of contact lenses are used by the geriatric population, as people experience a wide range of stressors with age. Moreover, as geriatric care is complex and requires the use of cutting-edge therapies and technologies, contact lenses are becoming very popular among older people. In recent years, extensive research and development (R&D) activities have been carried out in the domain of contact lenses and this has led to the development and introduction of improved contact lenses. Owing to technological advancements, healthcare facilities are actively embracing technologically sophisticated optometry solutions.
Moreover, the increasing product approvals will also aid the progress of the contact lenses market during 2021–2030. For example, in March 2021, Johnson & Johnson Medical Devices, a branch of Johnson & Johnson, got approval for ACUVUE Theravision with ketotifen from the Japanese Ministry of Health, Labour and Welfare (MHLW). These lenses integrate vision correction with an antihistamine medicine, to decrease the intensity of eye itching due to allergy. Because of these approvals, the market revenue is expected to rise from ~$7.5 billion in 2020 to around $16 billion by 2030.
Download report sample at: https://www.psmarketresearch.com/market-analysis/contact-lenses-market-outlook/report-sample
At present, contact lenses manufacturers, such as Johnson & Johnson Pvt. Ltd., Alcon Vision LLC, Bausch Health Companies Inc., and CooperVision Inc., are offering opaque, tinted, and enhanced contact lenses, which are available in spherical, toric, cosmetic, monovision, and multifocal designs. These lenses are made up of hydrogel, silicone hydrogel, hybrid, glass permeable, and polymethyl methacrylate (PMMA). Nowadays, optometrists and patients have been preferring spherical lenses over other variants to address visual problems, which are rapidly becoming common due to the surging screen time of people. Contact lenses of various types can be availed from different sources.
The distribution channel segment of the contact lenses market can be categorized into e-commerce, retail stores, and hospitals and clinics. Among these, the retail stores category will account for the largest market share throughout the forecast period. This can be attributed to the rising preference of customers for visiting retail outlets and inspecting lenses before purchasing over buying them online. Moreover, the availability of a wide range of brands and product portfolios in retail stores will support the growth of this category in the foreseeable future.
Contact lenses procured from different distribution channels can be used for daily, traditional, or extended wear. Over the years, such lenses have been primarily used for daily wear, due to the enhanced comfort, convenient disposal, and reduced eye infection risk offered by such products. Moreover, the escalating risk of mask-associated dry eyes (MADE), owing to the COVID-19 outbreak, and growing risk of lower blink rate and insufficient blinking, due to the increasing computer usage, will amplify the demand for contact lenses in the coming years.
Browse full report at: https://www.psmarketresearch.com/market-analysis/contact-lenses-market-outlook
According to P&S Intelligence, the North American contact lenses market generated the highest revenue in 2020, due to the burgeoning geriatric population, which is highly susceptible to vision-related diseases, in the region. The United States Census Bureau forecasts that geriatric people (people aged 65 and above) will account for 21.4% of the total population of North America by 2050. Moreover, the stagnant lifestyle of people has also driven the demand for such lenses, owing to the excessive use of smartphones, computers, and televisions in the region.
Therefore, the booming geriatric population and soaring number of product approvals will accelerate the usage of contact lenses in the foreseeable future.
Market Size Breakdown by Segment
Based on Usage
Daily Wear
Extended Wear
Traditional Wear
Based on Design
Spherical
Toric
Multifocal
Monovision
Cosmetic
Based on Material
Silicone Hydrogel
Hydrogel
Glass Permeable
Hybrid
Polymethyl Methacrylate (PMMA)
Based on Type
Opaque Contact Lenses
Enhanced Contact Lenses
Tinted Contact Lenses
Based on Application
Conventional
Orthokeratology
Decorative
Based on Distribution Channel
Retail Stores
Hospitals & Clinics
E-Commerce
Geographical Analysis
North America
Europe

Germany
France
U.K., Italy
Spain

Asia-Pacific (APAC)

Japan
China
India
Australia
South Korea

Latin America (LATAM)
Middle East and Africa (MEA)

Saudi Arabia
South Africa
Browse Other Related Reports
Age-Related Macular Degeneration Market
Geographically, the North American age-related macular degeneration market generates the maximum revenue, due to the increasing cases of medical conditions such as obesity and hypertension, growing elderly population, and soaring drug prices.
https://www.psmarketresearch.com/market-analysis/age-related-macular-degeneration-market
Wet Age-Related Macular Degeneration Market
During the forecast period, the Asia-Pacific wet age-related macular degeneration market will register the fastest growth due to a boom in the geriatric population and high reimbursements offered by the government for treatment.
https://www.psmarketresearch.com/market-analysis/wet-age-related-macular-degeneration-market
Media Contact
Company Name: P&S Intelligence
Contact Person: Abhishek
Email: Send Email
Phone: +918887787886
Address:Noida Sector 2
City: Noida
State: UP
Country: India
Website: https://www.psmarketresearch.com/market-analysis/contact-lenses-market-outlook