The Air Pro has been the flagship ANC experience offered by EarFun, serving both as the crowned achiever for the top-notch audio quality and solid noise cancellation. From What HiFi to CNN and Forbes, it's been recognized as the best value for a premium entry in the wireless ANC segment. The new Air Pro 2 aims to improve the successful original with new titanium drivers and an entirely new hybrid ANC technology, which will come with a customs seal for an all-out audio escape by EarFun.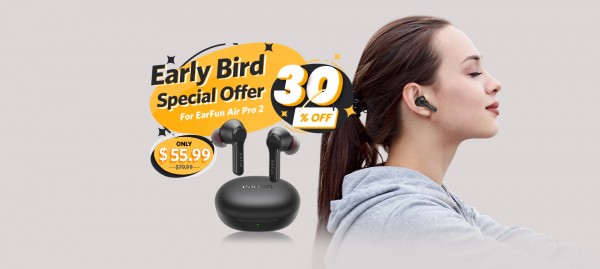 QuietSmart™ 2.0 ANC and Custom Ear Tip Ergonomics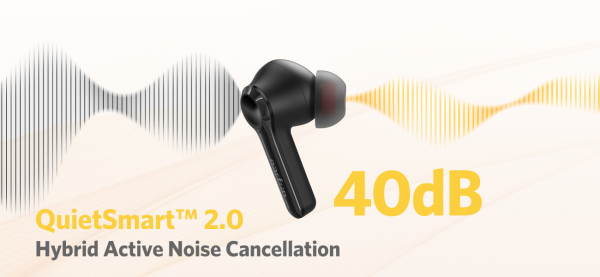 The first feature improvement on the Air Pro 2 is the exclusive next-generation QuietSmart™ 2.0, a brand new EarFun hybrid ANC technology that cancels ambient sound up to an improved 40dB. The original Air Pro did a great job quieting environmental noise so we can imagine the Air Pro 2 intends to bring the silence. In addition to this new hybrid ANC tech, a Wind-Noise reduction feature is included to intelligently pick out sharp surges of wind, whether generated by movement or from the weather itself. A feature to look forward to considering how much wind gets picked up on noise-detecting microphones, cutting through music and phone calls uncomfortably. Getting the intended audio experience is having the proper seal, which is even more true for noise-canceling performance. EarFun has equipped the Air Pro 2 with a hypoallergenic, non-toxic, medical-grade silicone Customizing Ear Tip that contorts to achieve an ergonomic fit that conforms to your ear. The residual benefit is the maximization of noise isolation which aids in facilitating the job of the hybrid ANC.
Titanium Drivers and 6-Mic ENC Call Performance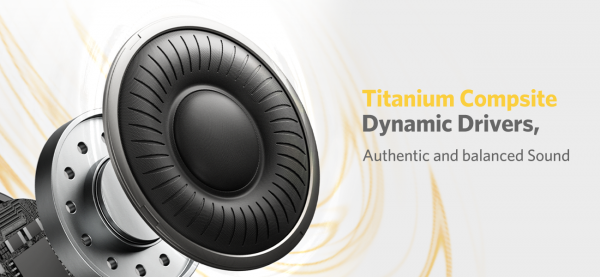 When it comes to audio, a pair of brand-new 10mm Titanium Composite Dynamic Drivers make their debut. According to EarFun, these titanium drivers have been designed to bring authenticity and balance to whatever music you're listening to. They will be accentuating vocals while maintaining penetrating mids and polished but powerful bass. For call quality, one can see the addition of two more microphones for the new Enhanced 6-Microphone Array ENC. Along with the Customized Noise Cancellation Algorithm, the 6-mic array continuously calculates noise emanating from both the user and their environment, nullifying excessive sound before it reaches the ear, preventing the need to over-compensate during a call. With the inclusion of a Transparent Mode that allows ambient sound in, it's clear that EarFun engineers are on a mission to give one control over what they hear while giving reasons to enjoy what they're listening to.
Endless Features
The Air Pro 2 will have the latest Bluetooth 5.2 protocol using the low-power consumption AIROHA AB1562A chip. The approximate runtime on a single charge is 7 hours (6 hours with ANC on) plus an additional 24 hours of playback using the USB-C charging case. In addition to wireless charging, the new earbuds offer fast charging with a mere 10 min charge delivering 2 hours of playback. The tech inside the Air Pro 2 is protected via IPX5 sweat and water resistance. The Air Pro 2 also features in-ear infrared detection technology that monitors when you take your earbuds out, pausing music and resuming once placed back, single-earbud mode, intuitive touch controls, accessible volume controls, and voice assistant activation. Given the number of features and the under $80 price tag, we expect EarFun may have outdone themselves with the Air Pro 2.
Early Bird Special and Availability
The best part is that there is an Early Bird Special for the Air Pro 2 with a limited-time discount of 30% off, only needs $55.99 on www.myearfun.com from now to 31st August. And they are also offering EarFun's Wireless Charging Pad for only $7 more.
Campaign Details: https://b.link/6g3x8d
About EarFun
EarFun was established in 2018 by a collective of experienced industrial designers, acoustic engineers, and music enthusiasts who share the common goal of creating next-generation wireless audio devices. The EarFun team is driven by a passion for music and a commitment to delivering solutions that use the latest technologies to improve the audio experience. With two CES Innovation Awards honorees and an iF Design Award in 2020, EarFun is the most awarded new audio brand.
Media Contact
Company Name: EARFUN, INC.
Contact Person: Helen
Email: Send Email
Phone: 1-772-245-0820
Country: United States
Website: https://b.link/6g3x8d