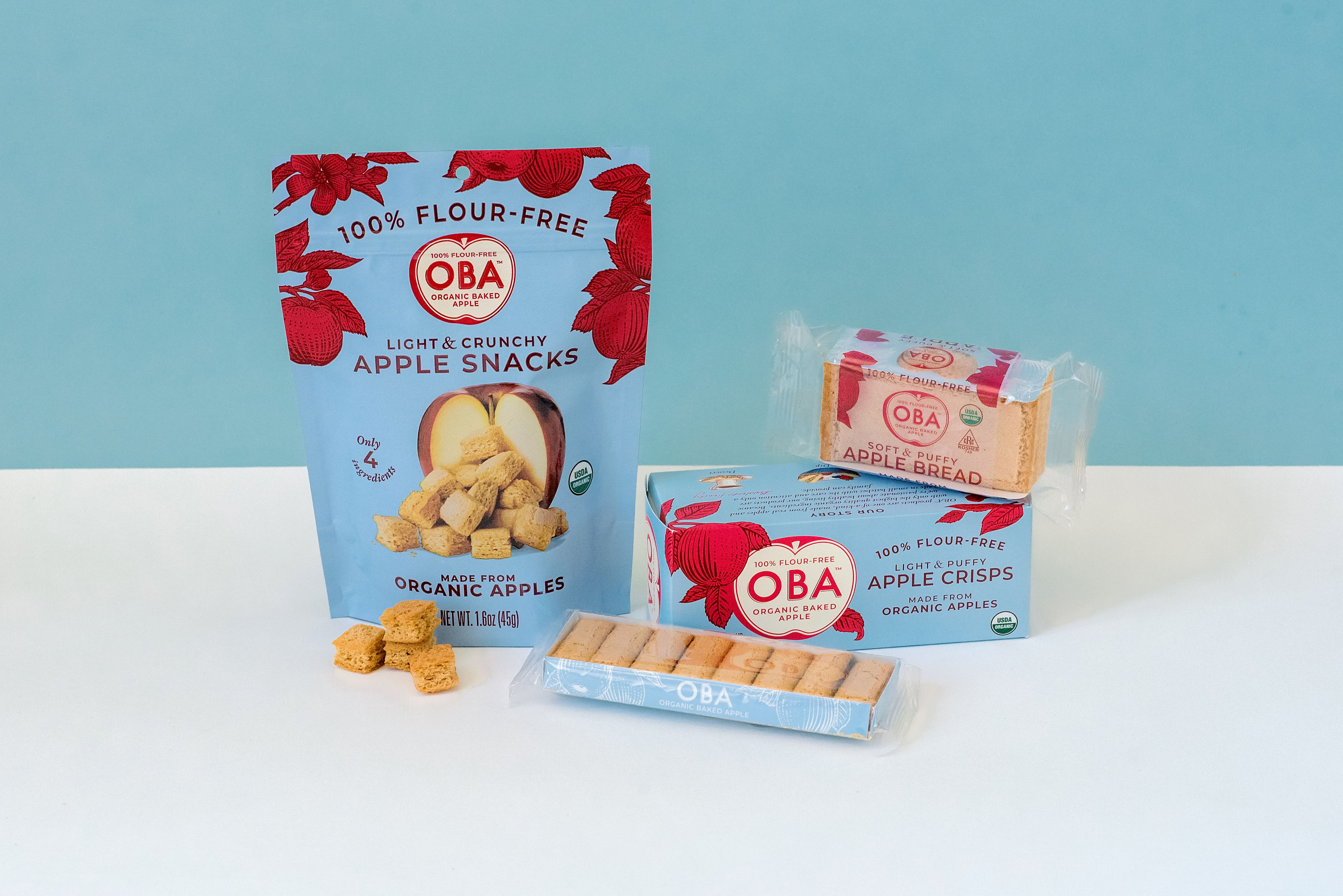 "At OBA Foods we are focused on making innovative, uniquely delicious Apple Bread, Apple Crisps, Apple Snacks."
New and innovative OBA Organic Baked Apple Snacks for foodies who are looking for the next best thing in health eating. Product are made from Washington apples with only the highest quality organic 4 ingredients: Apples, Egg Whites, Cane Sugar, Fresh Pressed Lemon Juice. We are passionate about healthy living, so our products are made in small batches with the care and attention. We have USDA Organic, Gluten Free and Kosher certification
"An apple a day, keeps the doctor away." – Ben Franklin
The founders, Gennadiy & Galina Kovalenko brought this old family recipe with them when he immigrated to the US in 1995. When Gennadiy was a child, his grandmother would always make delicious apple bread, cakes and snacks. He would bring them to school everyday and share with his classmates, his neighbors and their families, too…everyone loved them.
"As he grew, Gennadiy began helping his grandmother in the kitchen, learning the recipes, eventually making them on his own. In 2015 Gennadiy was diagnosed with colon cancer – after a long and difficult road to recovery, our family started paying more attention to healthy AND tasty food alternatives. Gennadiy told us about apple bread and snacks he had while he was a child. We searched for something to compare and found there is nothing else like it on the market.
"Gennadiy & Galina began baking again, tweaking original recipes, creating small batches and sharing with us, our friends and others. Like childhood friends, everyone fell in love with the product. With these improvements, family realized that they could make these healthy and delicious products in larger scale while maintaining the high standards we hold ourselves to.
"And with that…OBA, Organic Baked Apple was born! OBA is offering all organic products to the local independent stores and more. Apple Bread, Apple Crisps, and Apple Snacks and Organic Chocolate coated products. We're just getting started…we are developing more products everyday."
New and innovative OBA Organic Baked Apple Snacks for foodies who are looking for the next best thing in health eating.
OBA'S One-of-a-kind Product are made from real apples with only the highest quality Organic 4 ingredients: Apples, Egg Whites, Cane Sugar, Fresh pressed Lemon Juice. They are passionate about healthy living, so their products are made in small batches with the care and attention only a family can provide. OBA products have Gluten Free, USDA Organic and Kosher certification.
Whether you have health challenges like Gennadiy or suffer from food sensitivities like Celiac Disease or allergies or simply want to eat better…we've got some delicious options that don't compromise taste. Our products will leave you satisfied and feeling great!
Media Contact
Company Name: OBA Foods, Inc
Contact Person: Galina
Email: Send Email
Phone: (224) 261 – 8538
Country: United States
Website: https://naturalgrocers.org/featured-item/oba-foods-inc/