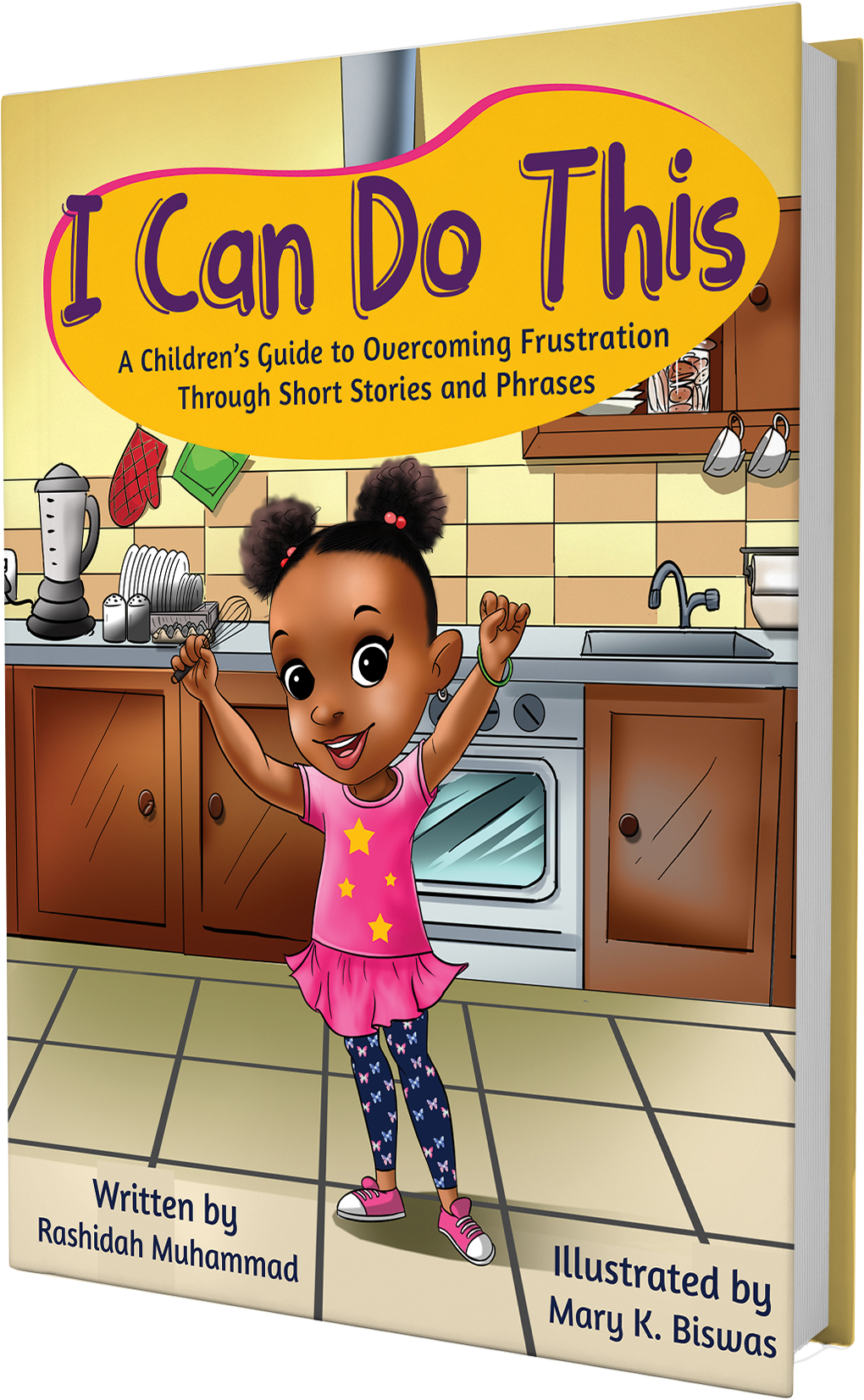 We often allow our own negative mindset and behavior to hinder us from walking in greatness. When faced with challenges, we are forced to ask ourselves – will frustrations win or will patience? To help both parents and kids see how a winning attitude can make all the difference, Rashidah Muhammad has released I Can Do This: A Children's Guide to Overcoming Frustration Through Short Stories and Phrases.
WASHINGTON, DC – August 23, 2021 – In I Can Do This, author and nonprofit founder Rashidah Muhammad introduces us to Raymayyah, who is trying to help her mom make the perfect French toast breakfast. When things don't go as Raymayyah had planned, both her and her mother's reactions will teach readers valuable lessons about maintaining a positive attitude, believing in yourself, and being your best. This endearing and educational book will show how a parent's patient love and guidance can make a huge difference in their child's behavior.
When Rahmayyah was trying to crack one of the eggs, the yolk (which is the inside of the egg) got all over her hands and the table and it missed the bowl. Rahmayyah started stomping, screaming, crying, and yelling. Her face turned red with anger. Her mom picked her up, sat her on the chair and said, "When we are frustrated, what do we say to calm ourselves down?"
Addressing the topic of patience in a way that children of all ages can understand, I Can Do This challenges young readers to assess their behavior when faced with tasks they expected to be easy and teaches them how to respond. By the end of this affirmation book, readers will find themselves encouraged by Raymayyah and learning the same lesson of how to remain calm despite challenging moments.
I Can Do This will serve as a tool to show even the youngest readers that if they remain patient, they can do anything they set their mind to. And just like Raymayyah, their mantra will also become: "I'm smart, I'm strong, I'm kind, and I can do this!"
Rashidah Muhammad is the founder of For the Love of You, a nonprofit organization that financially assists small businesses. She is also nationally registered in emergency medicine with a focus in pediatric emergency care. On a mission to affirm both children and parents, encouraging them not to let anything stop them from walking in their greatness, Rashidah is deeply engaged in community organizations and initiatives, including HWHN (Heal a Woman, Heal a Nation), the Million Man March in Washington, DC, and Associated Black Charities, Inc.
Published by Publish Your Gift®, I Can Do This: A Children's Guide to Overcoming Frustration Through Short Stories and Phrasesis now available for purchase at www.icanbookz.com.
Media Contact
Company Name: Purposely Created Publishing Group
Contact Person: Shani McIlwain
Email: Send Email
Phone: (888) 949-6228
Country: United States
Website: www.publishyourgift.com