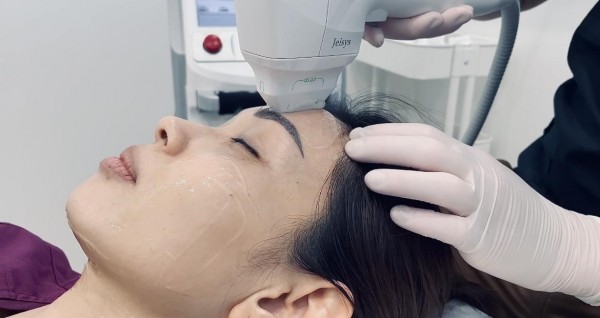 HIFU, High Intensity Focused Ultrasound is the result of the evolution of ultrasound from a simple diagnostic procedure. Ultrasound energy has been around for a long time and because of its non-invasive nature and low rate of complication, it has been widely used as an alternative to traditional facelift.
Achieving The Favorable Face Shape
The pursuit of beauty is an endless journey, many are willing to go through considerable lengths to look fresh and youthful. Across all cultural boundaries, to look attractive is to seek a younger appearance with the most desirable face shape – V Shape Face. It is no surprise in today's context that a slim face that ends with a sharp chin and well-defined jawline is considered a V Shape Face. V Medical Aesthetics and Laser Clinic has helped many to achieve that with HIFU.
Deepest Penetration of Energy in the Current Market
This non-surgical alternative is known for cosmetic procedures for effective sagging skin treatment and melting excess facial fats. It works by producing deep penetration of ultrasound energy to reach the superficial dermis, deep dermis and superficial muscular aponeurotic system (SMAS) layer of the skin. The SMAS layer is where cosmetic surgeons manipulate during a traditional facelift. Medical grade ultrasound sound energy reaches the various layers without damaging the surrounding tissue to contract collagen fibers and remove adipose tissue stored within. Procedure can be done on the face or body, where signs of ageing show.
Benefits of HIFU in Medical Aesthetics
In the practice of using modalities that help in preventing skin ageing, HIFU plays the role in providing non-invasive skin tightening, skin brightening and also skin sculpting. At the epidermis layer, HIFU effectively reduces the production of melanin to lighten pigmentations, brightening overall skin tone. When it reaches the dermis, HIFU uses controlled heating of skin tissue and encourages collagen stimulation. At the adipose tissue layer, HIFU melts facial fats in stubborn areas such as the double chin and cheeks, making HIFU a useful treatment option for patients who have unsuccessful experiences with other skin contouring procedures. Lastly, at the deepest depth where ultrasound energy reaches the SMAS layer, it provides a lifting effect equivalent to traditional facelift.
High Patient Satisfaction and Desirable Results
HIFU has shown high patient satisfaction, as high as 80% at 6 months follow up without post-treatment changes. Most patients experience results as fast as 2-3 weeks after their first session and the procedure is comfortable with minimal pain and side effects that subsides within days, many resume normal activities right after the procedure. With HIFU showing promising results in the Medical Aesthetics scene, V Medical Aesthetics and Laser Clinic continues to pave the way for HIFU to potentially revolutionize the future of non-invasive facelift and skin tightening.
About V Medical Aesthetics and Laser Clinics
V Medical Aesthetics and Laser Clinic was founded in 2019 with 3 locations across central Singapore. Focused on V Face Shape Slimming, Non Surgical Facelift, Pigmentation Removal and all skin related treatments, each facility offers patient-centred care, effective medical aesthetic solutions and competitive affordable prices to all. Be the best version of yourself with V Medical Aesthetics and Laser Clinic.
To book an appointment:
+65 9860 9990
enquiry@vaestheticsclinic.com.sg
https://www.vaestheticsclinic.com.sg/
Royal Square Novena
101 Irrawaddy Road
#11–01/02/03 Royal Square Medical Centre
Singapore 329565
International Building Orchard
360 Orchard Road
#04-06 International Building
Singapore 238869
Triple One Somerset
111 Somerset Road
04-09 TripleOne Somerset
Singapore 238164
Opening Hours:
Monday–Saturday 10.30am to 8.30pm
Closed on Sundays and Public Holidays
Media Contact
Company Name: V Aesthetics Clinic
Contact Person: Media Relations
Email: Send Email
Phone: +65 9860 9990
Country: Singapore
Website: https://www.vaestheticsclinic.com.sg/