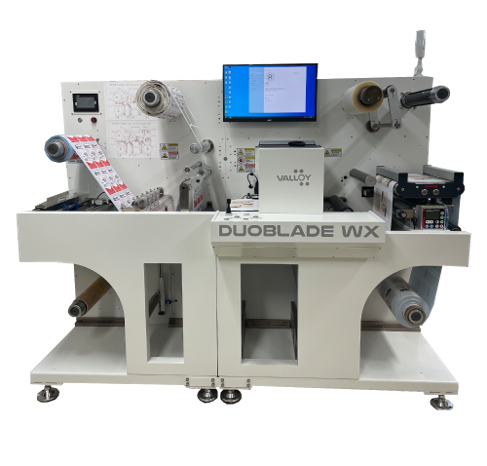 Leading provider of digital labeling solutions, VALLOY Incorporation, announces the launch of a digital knife die-cutter, DUOBLADE WX, an alternative to the popular laser die-cutting machine
The team at VALLOY Incorporation looks ready to once again disrupt the digital labeling industry with the introduction of DUOBLADE WX. Described as "the alternative to the laser die-cutting machine," the product is designed as a digital knife die-cutter, with a wide range of features that stand it out from its contemporaries.
The digital labeling industry has evolved over the years, with technological advancements leading to the emergence of a plethora of solutions from different manufacturers to meet the growing and diverse needs of clients. One of the biggest solutions that have come to the industry in recent times is the laser die-cutting machine, with different manufacturers developing solutions based on the concept. Unfortunately, many of such products do not effectively address the concerns of users. However, the team of forward-thinking professionals at VALLOY Incorporation aims to change this narrative as substantiated with the launch of DUOBLADE WX.
The new product is designed to support most of the functions for digital label finishing like cutting, lamination, slitting, matrix removal, even sheeting, with its 4 cutting heads giving it an edge over other similar machines.
The biggest feature of DUOBLADE WX is automatic job changing by scanning serial numbers. The distance between each cutting head is adjusted automatically and each cutting head to be used according to cutting design is selected and set automatically, as well.
DUOBLADE WX, which was launched by VALLOY Inc. at the end of May, has set the record for the most sales in the shortest time ever, selling over 60 units since it was officially introduced to the market.
For more information about DUOBLADE WX and other products from VALLOY Inc., visit – www.valloy.com. The company can also be found across social media, including Facebook, Twitter, and LinkedIn.
Media Contact
Company Name: VALLOY Incorporation
Contact Person: Christin Park, Marketing manager
Email: Send Email
Phone: +82-2-6082-5022
Address:Rm 1017, DaeMyung Valeon, 127 Beobwon-ro, Songpa-gu
City: Seoul, 05836
Country: Korea
Website: www.valloy.com