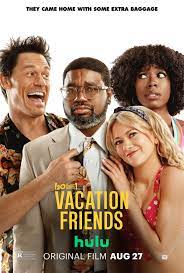 Upcoming actor bags role in the movie alongside top stars including John Cena, Lil Rel Howery, and Yvonne Orji
Small town gentle giant, Travis T. Love casts in Vacation Friends alongside top Hollywood stars such as John Cena, Lil Rel Howery, Yvonne Orji, King Bach and Meredith Hagner. Directed by Clay Tarver, Vacation Friends is an American buddy comedy film set to be the first 20th Century Studios' film to get a global release on the Hulu and Disney+ streaming platforms.
The raunchy comedy is set at a resort in Mexico where a serious couple, Marcus and Emily (played by Yvonne Orji and Lil Rel Howery) become friends with fun-seeking partners, Ron and Kyla (played by Meredith Hagner and John Cena). Getting in on the fun, the usually level-headed couple enjoy a wild and uninhibited week of crazy fun. However, the couple is mortified when Ron and Kyla crash their wedding, creating chaos and proving that what happens on vacation, doesn't necessarily stay on vacation.
SAG-award-winning Travis T. Love plays the role of Fred in Vacation Friends. Youngest of five children from Soperton, Georgia, Travis moved from public school teacher to the big screens. He is renowned for his portrayal of Shumpert (the Bowman) in season 3 of one of the most popular cable series of all time, "The Walking Dead". His most recent work includes Black Panther (2018), The Have and the Have Nots (2017) and Tales (2017). He was able to cop these tough guy roles with the help of acting coaches like Michael H. Cole and Greg Allen Williams.
Away from being seen as a tough guy, Travis is interested in playing positive roles such as teacher, coach, counselor, and even an everyday hardworking farming father. About being a part of Vacation Friends, Travis says, "I was excited to work alongside the talented cast on the set of Vacation Friends. The experience was tremendously fun and insightful. This movie will definitely have you full of laughter."
Vacation Friends will begin streaming on Hulu from August 27 in the United States and on the Star content hub of Disney+ and Star+ on August 31 in select international territories.
For more information on Travis T Love, visit – www.travistlove.com.
Media Contact
Company Name: Love Quarters Production
Contact Person: Manager, Love Quarters Production
Email: Send Email
City: Atlanta
State: GA
Country: United States
Website: http://www.travistlove.com