Manmade Kennels successfully bred one of the giant red nose Pitbulls on earth. The red-nose American bully dog, King Leonidas, is a mighty beast but very docile, bursting the myth that Pitbull dogs are dangerous animals.
OKLAHOMA – Aug 26, 2021 – If you met Leo in his habitat, you would mistake him for Mufasa without the mane. His full name is King Leonidas, a red nose American bully XL dog from Manmade Kennels that weighed a whopping 155lbs as a puppy. Eddie, the owner of Manmade Kennels, considers King Leonidas one of the success stories of their Pitbull puppy breeding program launched 15 years ago. Despite his size, Leonidas is sweet, gentle, and loves goofing around with his owners on their Oklahoma farm.

Video Link: https://www.youtube.com/embed/1WwCLUXCN-w
"We bought our first dog, a game-bred blue nose pitbull puppy, back in 2006," says Eddie of Manmade Kennels. "As a young couple then, we didn't know much about Pitbulls, or dogs in general, although we were excited to have our first pet. When our family grew, we realized our dog's strong prey drive would be a problem around the kids. What we needed was a docile dog that is ideal for families".
Eddie and his wife, Sarah, decided to start Manmade Kennels to breed Pitbulls as companion dogs. Today Manmade Kennels is a renowned brand with affiliate pitbull breeders based in California, Delaware, Mississippi, Louisiana, and Texas. The Manmade Family is growing and has a new pitbull breeding camp based in Chickasha, Oklahoma.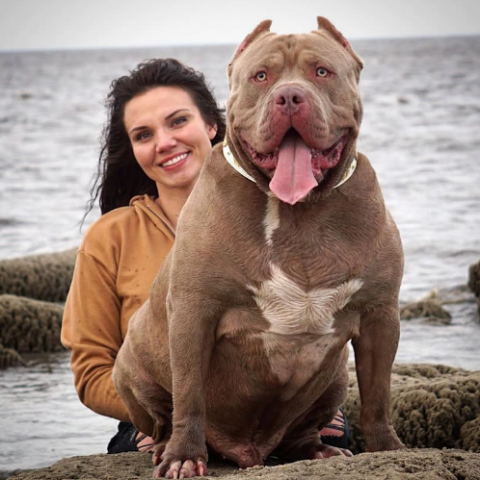 "Leonidas is nothing like the pitbull puppies we had in our first litter. He is pound for pound, one of the largest XL American bully puppies we ever bred. At only 15 months, he weighed more than the average American bully. He often gets compliments for his broad, well-defined head and stocky body. He is also sweet and loves people, beating the myth that Pitbull dogs are dangerous animals."
King Leonidas is one of the ABKC champion studs at Manmade Kennels' breeding program. He produces some of the best champagne pitbull puppies in the world. Besides Leo, other prized studs used in the breeding program include Shadow, Big Hoss, and Sampson. Manmade Kennels breeds red nose pitbull puppies and blue nose pitbull puppies registered by the UKC or ABKC.
For more information about Manmade Kennels, visit their website www.manmadekennels.com or check out their pitbull puppies page www.manmadekennels.com/pitbull-puppies-for-sale.
Media Contact
Company Name: Manmade Kennels
Contact Person: Eddie Perez
Email: Send Email
Country: United States
Website: http://www.manmadekennels.com/