An educational institute offering a high school diploma program for adult non-graduates congratulates students on completing the program and recognizes their efforts and hard work.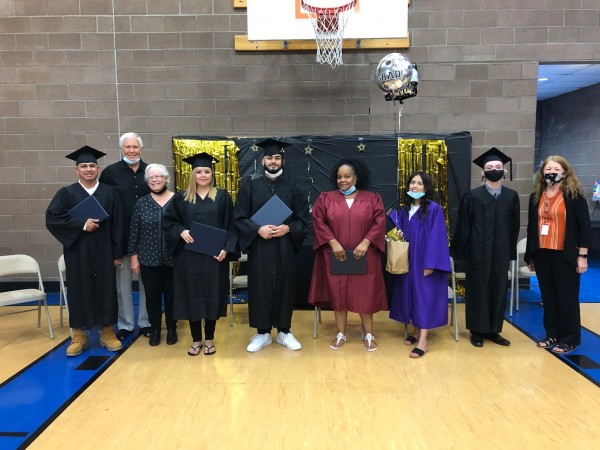 The Alexandria Academy (TAA), a nationally and internationally recognized institute which provides programs to help students achieve their academic dreams, celebrates and congratulates graduates on successful completion of the TAA Diploma Program for adults.
The program is a community outreach program being offered through Dysart Community Center in El Mirage, Arizona, part of the greater Phoenix area. It is offered to individuals who have not completed their high school graduation requirements, regardless of age. The Alexandria Academy recognizes and appreciates students who have challenged themselves to finish high school while working, raising families, and dealing with the daily struggles of life.
This program is a fantastic opportunity for individuals who want to receive an educational diploma. This certification will help individuals who are wishing to pursue a degree at the college level or who wish to increase their chances of getting hired or of receiving promotions and success in their professional careers.
Many employers prefer diplomas over the GED certificate; acquiring a diploma can make it easier for applicants to get hired compared to applicants with a GED. It is a great option for those students who are too old for traditional high school options or for those who want to pursue their own journey toward academic ends.
Desiree Luethy, Director of The Alexandria Academy stated: "We aim, through our work, to help students focus on their paths to success and to achieve their academic goals based on specific needs and personalities. It has been truly a rewarding experience to see adults who have not been able to graduate for whatever reason strive for and achieve this goal. Congratulations to the graduates of the High School Diploma Program 2021, and we wish them all the best for their future endeavors."
If you are interested in offering this program or becoming a volunteer teacher, visit: https://www.thealexandriaacademy.com/contact-us or call directly at (818)619-7779.
The Alexandria Academy (TAA) is an educational institute accredited by the International Independent School Accreditation Board (IISAB). It was founded in 1988 by Stacey McEnnan with a mission to lead students and to walk beside them as they discover paths to their goals. The institute has won numerous awards and recognitions at county, state and national levels since its inception 32 years ago. Providing excellence in education to people of all ages, from youth to adults, TAA focuses on enhancing students' capacities by providing a unique variety of learning experiences.
Media Contact
Company Name: The Alexandria Academy
Contact Person: Desiree Luethy, Director
Email: Send Email
Phone: 818-619-7779
Address:21781 Ventura Blvd 203
City: Woodland Hills
State: California 91364
Country: United States
Website: www.thealexandriaacademy.com