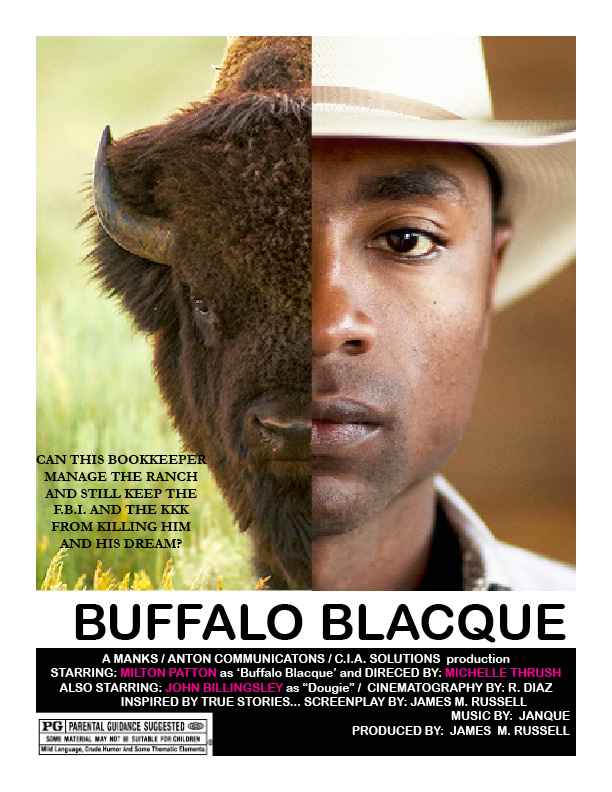 Toronto, Canada – MANKS Motion Picture Studios announces that their screenplay BUFFALO BLACQUE is a finalist in the Screenplay Competition at the 16th annual Peachtree Village International Film Festival (PVIFF) taking place virtually on Oct. 21st-23rd, 2021. Both feature film and episodic versions of the script are available.
BUFFALO BLACQUE is the story of Lucius Henry, a young, naïve, black, New York City bookkeeper, who finds himself locked in a life-or-death battle with the homicidal FBI agent assigned to stop Lucius from establishing a buffalo ranch in the frontier Canada of 1923.
The 'fish-out-of-water' story touches several social-cultural issues, especially those pertaining to Black and Indigenous history and culture. There are also elements of Marcus Garvey and the UNIA, Harlem history, F.B.I. and the murderous KKK.
BUFFALO BLACQUE has received letters of interest from:
Black and Indigenous organizations
C.I.A. Solutions (Alberta's only Indigenous-owned production company)
Michelle Thrush (Canada's premier Indigenous director)
Top black country singer Milton Patton
And John Billingsley (Star Trek, Suits, True Blood)
James, the screenwriter, is Canadian-based with twenty years of experience in the industry. His company has produced six short films, one feature and has four feature films currently in development.
James is taking part in the Peachtree Village International Film Festival because it's the industry-acclaimed platform for film producers, writers and other artists alike to showcase their work to the world.
Media Contact
Company Name: MANKS Productions Inc.
Contact Person: James M. Russell
Email: Send Email
Phone: 416-575-4894
Address:3230 Yonge St. #1222
City: Toronto
State: Ontario
Country: Canada
Website: manks-studios.com