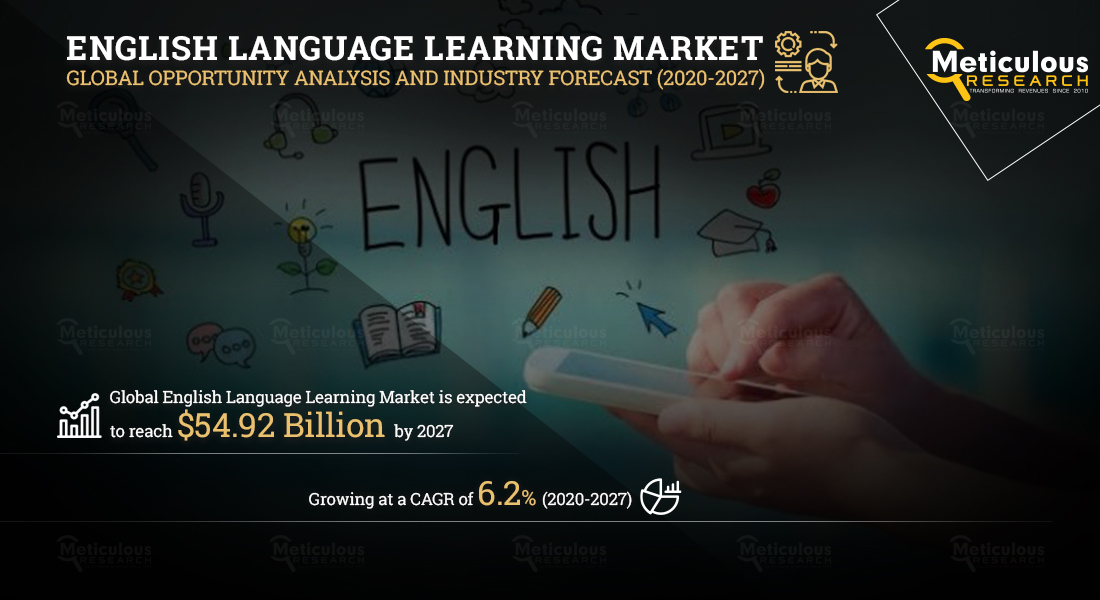 "The english language learning market is expected to grow at a CAGR of 6.2% from 2020 to 2027 to reach $54.92 billion by 2027."
English Language Learning Market by Methodology (Offline, Online, Blended Learning), End-User (Individual, Education, Government, Corporate Learners) – Global Forecast to 2027
English is a language that can be globally used and very well understood. Thus, to have better communication and sustain an individual position in this competitive world, English language learning solutions are essential. In its latest publication on English Language Learning Market, Meticulous Researchanalyses that the global market is expected to grow at a CAGR of 6.2% from 2020 to 2027 to reach $54.92 billion.
Factors such as the penetration of artificial intelligence in e-learning, the rising importance of the English language for business and professional reasons, increased investments for English language learning start-ups and small companies, and affordable English language learning applications are majorly driving the global English language learning market. Also, transnational education and increasing spending on the education sector provide opportunities for the growth of the market.
To provide efficient analysis, Meticulous Researchhas segmented this market by methodology (offline/classroom-based learning, online learning, and blended learning), end user (individual learners, education institutions, government institutions, and corporate learners), and geography (Asia-Pacific, Europe, North America, the Middle East & Africa, and Latin America).
Download Free Sample Report Copy Here : https://www.meticulousresearch.com/download-sample-report/cp_id=5127
Scope of the Report:
English Language Learning Market, by Methodology
Offline/Classroom-based Learning
Online Learning
Blended Learning
English Language Learning Market, by End-User
Individual Learners
Education Institutions
Government Institutions
Corporate Learners
English Language Learning Market, by Geography
Asia Pacific

China
Japan
South Korea
India
Indonesia
Australia
Rest of APAC (RoAPAC)

Europe

Germany
U.K.
France
Italy
Spain
Russia
Rest of Europe (RoE)

North America
Middle East & Africa

Saudi Arabia
Rest of Middle East & Africa

Latin America

Brazil
Rest of Latin America
To gain more insights into the market with a detailed table of content and figures, click here : https://www.meticulousresearch.com/product/english-language-learning-market-5127
In 2020, geographically, Asia-Pacific is projected to command the largest share of the global English language learningmarket, closely followed by Europe and North America. Increasing education spending, rising awareness of advanced learning solutions, and increasing government focus on effective learning through various schemes supports the growth of the European market.
On the basis of methodology, the online learning segment is growing at the fastest rate during the forecast period. Globalization, urbanization, and the desire for better education and employment opportunities drive this market's growth. With the advent of the Internet, information and communications technology (ICT) tools are being used to provide learning content in digital formats.
In 2020, based on end user, the individual learners segment is projected to command the largest share of the global English language learning market. The growing accessibility of the Internet, increased mobile phone user base, and learners' focus on self-development are the key factors driving the growth of the English language learning market for individual learners.
Speak to our Analysts to Understand the Impact of COVID-19 on Your Business : https://www.meticulousresearch.com/speak-to-analyst/cp_id=5127
Key Players:
The report provides competitive intelligence in terms of financials, growth strategies, product portfolios, and geographical presence on some of the key players in this market, including Cambridge University Press (U.K.), Rosetta Stone Inc. (U.S.), Sanako Corporation (Finland), Duolingo Inc. (U.S.), Transparent Language, Inc. (U.S.), Busuu, Ltd. (U.K.), New Oriental Education & Technology Group Inc. (China), Houghton Mifflin Harcourt (U.S.), Memrise Inc. (U.K.), McGraw-Hill Education, Inc. (U.S.), Lesson Nine GmbH (Germany), and ELSA Corp. (U.S.)
Amidst this crisis, Meticulous Research® is continuously assessing the impact of COVID-19 pandemic on various sub-markets and enables global organizations to strategize for the post-COVID-19 world and sustain their growth. Let us know if you would like to assess the impact of COVID-19 on any industry here-https://www.meticulousresearch.com/custom-research
About Meticulous Research®
Meticulous Research® was founded in 2010 and incorporated as Meticulous Market Research Pvt. Ltd. in 2013 as a private limited company under the Companies Act, 1956. Since its incorporation, the company has become the leading provider of premium market intelligence in North America, Europe, Asia-Pacific, Latin America, and the Middle East & Africa.
The name of our company defines our services, strengths, and values. Since the inception, we have only thrived to research, analyze, and present the critical market data with great attention to details. With the meticulous primary and secondary research techniques, we have built strong capabilities in data collection, interpretation, and analysis of data including qualitative and quantitative research with the finest team of analysts. We design our meticulously analyzed intelligent and value-driven syndicate market research reports, custom studies, quick turnaround research, and consulting solutions to address business challenges of sustainable growth.
Media Contact
Company Name: Meticulous Market Research Pvt Ltd
Contact Person: Khushal Bombe
Email: Send Email
Phone: +1 646-781-8004
Address:1267 Willis St, Ste 200 Redding, California, 96001, U.S.
Country: United States
Website: www.meticulousresearch.com