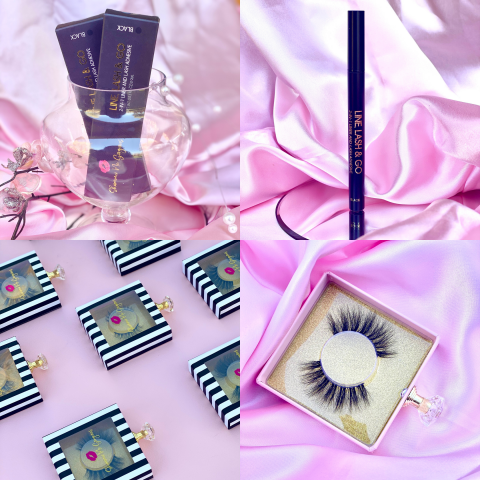 Shimmer Me Gorgeous, a US-based Clean, Vegan & Halal-Friendly beauty brand on a mission to empower women to look and feel gorgeous without toxins. Shimmer Me Gorgeous is the first clean beauty brand to launch Line, Lash & Go, a revolutionary, 2-in-1 eyeliner and eyelash adhesive which has zero magnets and zero glue and requires zero dry time.Line, Lash & Go from Shimmer Me Gorgeous is vegan and halal-friendly and made with clean ingredients (all ingredients rate 3 or less on EWG). The eyeliner is easy and quick to use, smudge-proof and will help lashes stay put all day. The product is also latex-free, sulfate-free, GMO-free, paraben-free, gluten-free, carbon black-free, formaldehyde-free and cruelty-free.
Line, Lash & Go from Shimmer Me Gorgeous has received rave reviews and appreciation from industry experts as well as from the customers. "I have tried so many different brands of lash adhesives and magnetic liners but none of them worked as great! I am super happy with the Line, Lash and Go Liner", said Brittany, a regular user of Line, Lash and Go Liner.
Along with launching Line, Lash & Go, Shimmer Me Gorgeous has also launched Vegan Luxe Lashes that are not only cruelty-free and 100% vegan but also are reusable up to 30 times. These lashes are easy-to-use and beautifully designed with high-quality synthetic materials to give the look of natural hair. These gorgeous lashes complement all eye shapes and are comfortable for all-day wear. Vegan Luxe Lashes works very well with Line, Lash & Go, or any eyelash glue.
Shimmer Me Gorgeous was founded by Fatima Ahmed, who is a makeup artist and a mom. She aims to make non-toxic, vegan and cruelty-free beauty products easily available to women. Her latest product – Line, Lash & Go joins the list of beauty products that are created by her and are making women look gorgeous. "We are a socially conscious beauty brand that gives back to our community, a portion from each sale is donated to help provide clean water around the world," says Founder, Fatima Ahmed.
For more information, please visit: www.shimmermegorgeous.com
Media Contact
Company Name: Shimmer Me Gorgeous
Contact Person: Fatima Ahmed
Email: Send Email
Country: United States
Website: http://www.shimmermegorgeous.com