Developing the Jorgensen Brooks Group mobile application to improve the customer service experience.
Tempe, AZ – Jorgensen Brooks Group (JBG) is an employee assistance firm that provides efficient, cost effective Employee Assistance programs (EAP) to employees and their family members.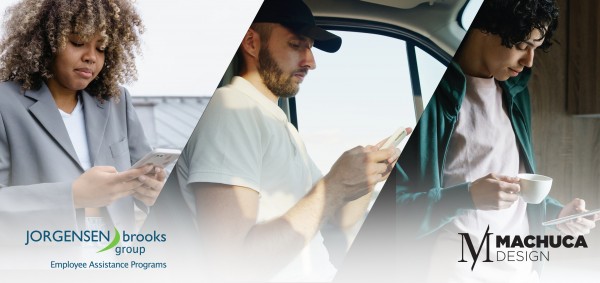 JBG has partnered with Machuca Design, headed by esteemed CEO Raul E Machuca Jr., to launch a new smartphone application for JBG allowing customer to access their benefits through their mobile phone.
The new mobile application allows employees to access their clinical benefit with easy in addition to the thousands of other resources which are free, unlimited and confidential for both the employee and their family.
The UI design is minimalist, yet polished and sophisticated, while also being extremely user friendly in terms of navigation and ease of use.
The application comes with API data implementation. In layman's terms, it is an agreement that allows applications to swiftly communicate and send information to each other, so as to optimize user experience.
JBG and Machuca Design both understand the importance of user feedback. To this end, the JBG mobile application has integrated data analytics into its software, so as to gather information about user responses and behavior patterns, and then use that information to constantly update and improve the application.
Machuca Design
Machuca Design is a marketing services firm focusing on digital design and marketing strategies including graphic design, web design, social media, PPC and SEO.
www.machucadesign.com
214-302-7889
info@machucadesign.com
Jorgensen Brooks
Jorgensen Brooks Group [JBG] provides Employee Assistance Programs [EAP] to employees and family members for problems interfering with work and personal life, as well as workplace management and staff training services to employers. JBG EAP solutions are high-quality, cost-effective, and a proven alternative to more expensive benefit options.
www.jorgensenbrooks.com
888-520-5400
intake@jorgensenbrooks.com
Tempe, AZ 85281
Media Contact
Company Name: Jorgensen Brooks
Contact Person: Media Relations
Email: Send Email
Phone: 888-520-5400
State: AZ 85281
Country: United States
Website: https://jorgensenbrooks.com