755 Sinco Alex Yag laser machine is designed for clinic.
This 1064nm Nd yag laser can treat: Hair removal for Skin type, Facial and body tightening.
Contact Sincoheren for more details and VIP prices if guys are interested in!
What is Sinco Alex-Yag Max?
The Sinco Alex-Yag Max is a single consolidated system that delivers a range of treatments – all skin type hair removal, as well as pigmented and vascular lesions. It is a dual wavelength laser platform that combines the fastest and most powerful 755 nm Alexandrite laser with the 1064 nm Nd:YAG laser for high performance treatment capabilities in terms of speed, efficacy, ease-of-use, outstanding performance, safety and patient satisfaction.
Theory:
The latest generation of 755nm emerald ultra-light hair removal system combines all the advantages of traditional freezing point hair removal and semiconductor laser hair removal. it adopts 755nm standard laser.755nm laser hair removal produces a slight heat sensation wher applied to the skin. The cooling system quickly cools the epidermis without causing damage to the skin, making the treatment more comfortable and safe.
The Alexandrite laser hair treatment focuses a wavelength of energy(755nm)on the area being treated. These intense pulses of light destroy individual hair follicles without significantly affecting the surrounding tissue. While a procedure like electrolysis penetrates the skin with a thin metal probe to halt the growth of individual follicles,the Alexandrite laser procedure is less invasive and less painful and can target a larger area during each session.
| | |
| --- | --- |
| Screen | 12 inches Digital Real Color LCD |
| Wavelengths | Nd YAG and Alexandrite |
| Cooling system | Water cooling & Air cooling |
| Energy | 100J @ 1064nm, 60J@755nm1064nm – 80 joules (J); 755nm – 53 joules (J) |
| Pulse frequency | 0.25, 0.5, 1Hz,2Hz1064nm Up to 10 Hz; 755 Up to 10 Hz |
| Pulse Duration | 0.250-100 ms |
| Lamp | 2 lamps |
| Rod | 2 rods |
| Standard Spot Sizes | Small Delivery 6 mm, 8 mm, 10 mm; Medium Delivery 12 mm, 15 mm, 18 mm |
| Beam Delivery | Lens-coupled optical fiber with handpiece |
| Pulse Control | Finger switch, foot switch |
| Size | 46(W)x69(L)x107(H) CM |
| Net weight | 95KG |
| Gross weight | 135 kg (260 lbs) |
| In charge voltage | 200-240 VAC, 50/60 Hz, 30A, 4600 VA |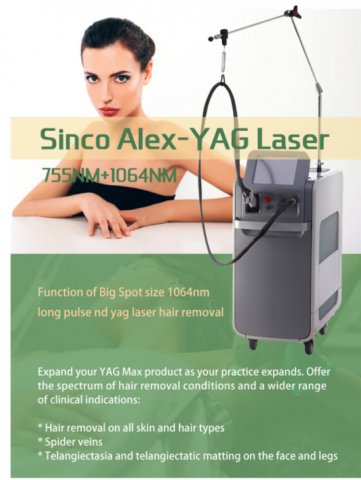 Media Contact
Company Name: Beijing Sincoheren S&T Development co., Ltd.
Email: Send Email
Phone: +86 137 1859 3357
Address:4th Floor, Block A, Jinyun Building, No.43, North Street, Xizhimen
City: Beijing
Country: China
Website: https://www.cntopsincoheren.com/