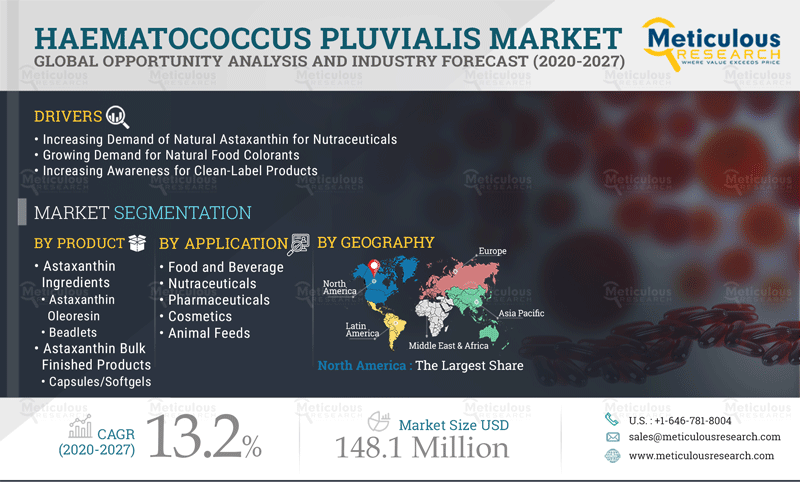 "The haematococcus Pluvialis Market is expected to reach $148.1 million by 2027, at a CAGR of 13.2% during the forecast period of 2020 to 2027."
Haematococcus Pluvialis Market by Product (Astaxanthin Ingredients (Oleoresin, Beadlets), Astaxanthin Bulk Finished Products (Capsules, Tablets), Application (Food and Beverages, Nutraceuticals, Pharmaceuticals, Cosmetics), and Geography – Global Forecast to 2027
Astaxanthin is a reddish carotenoid pigment naturally occurring in haematococcus pluvialis micro-algae and causes the pink-red color in salmon, lobster, shrimp, and other seafood. Haematococcus pluvialis astaxanthin's products are highly used as a dietary supplement owing to its easy availability, coupled with cardiovascular benefits. The product is over 500 times stronger than vitamin E and is much more effective than other carotenoids such as lutein and lycopene. Moreover, astaxanthin's anti-inflammatory properties derived from haematococcus pluvialis help reduce pain in the muscles, joints, and tendons of patients with chronic arthritis. Furthermore, the increasing prevalence of diabetes, cardiovascular diseases, cancer, and cognitive health problems demand more haematococcus pluvialis products. Haematococcus pluvialis astaxanthin increases general blood flow and reduces blood sugar in patients with blood pressure and diabetes.
Nowadays, the rising disposable income, coupled with improving living standards is driving the demand for personal care products or self-grooming products throughout the world. The growing personal care and self-grooming trends among consumers lead to escalating demand for cosmetics and personal care products. The increasing need for self-grooming products is bolstering the demand for astaxanthin enriched with vital vitamins and minerals; that prevent deformities of skin, including dryness, sunburn, and roughness, among others. It also prevents from aging. Moreover, the astaxanthin derived from H. pluvialis improves skin condition in all layers, such as corneocyte layer, epidermis, basal layer, and dermis by combining oral supplementation topical treatment. According to the latest publication on Haematococcus Pluvialis Market by Meticulous Research®, the haematococcus pluvialis market is expected to reach $148.1 million by 2027, at a CAGR of 13.2% during the forecast period of 2020 to 2027.
Download Free Sample Report Copy Here: https://www.meticulousresearch.com/download-sample-report/cp_id=5142
Scope of the report
Haematococcus Pluvialis Market, by Product
Astaxanthin Ingredients

Astaxanthin Oleoresin
Beadlets
Whole Biomass Powder
Water Dispersible Powder

Astaxanthin Bulk Finished Products

Capsules/Softgels
Tablets
Haematococcus Pluvialis Market, by Application
Food and Beverage
Nutraceuticals
Pharmaceuticals
Cosmetics
Animal Feeds
Haematococcus Pluvialis Market, by Geography
North America
Europe

Germany
U.K.
Italy
France,
Sweden
Spain
Russia
Rest of Europe

Asia-Pacific (APAC)

China
Japan
India
Australia
South Korea
Vietnam
RoAPAC

Latin America

Brazil
Mexico
Argentina
RoLATAM

Middle East and Africa
Speak to our Analysts to Understand the Impact of COVID-19 on Your Business: https://www.meticulousresearch.com/speak-to-analyst/cp_id=5142
The growth of this market is backed by increasing demand for natural astaxanthin for nutraceuticals, growing demand for natural food colorants, and increasing awareness for clean-label products. Moreover, the growing use of natural astaxanthin in poultry and aquaculture is further expected to create lucrative opportunities for manufacturers in the haematococcus pluvialis market. However, the high production cost is expected to hinder the haematococcus pluvialis market growth to some extent.
To provide efficient analysis, Meticulous Research® has segmented this market on the basis of product (astaxanthin ingredients (astaxanthin oleoresin, beadlets, whole biomass powder, water dispersible powder) and astaxanthin bulk finished products (capsules/softgels, tablets)), application (food and beverage, nutraceuticals, pharmaceuticals, cosmetics, animal feeds), and geography (North America, Europe, Asia-Pacific, Latin America, and the Middle East and Africa). The study also evaluates industry competitors and analyses the market at a country level.
Geographically, North America is projected to command the largest share of the haematococcus pluvialis market in 2020, followed by Asia-Pacific and Europe. The large share of North America is primarily attributed to the increasing demand for natural food supplements and growing awareness about the adverse effects of chemical products among consumers. In addition, several awareness programs by various organizations are estimated to upsurge the regional market share. For instance, the Natural Algae Astaxanthin Association (NAXA) is focused on increasing awareness about astaxanthin usage. Further, haematococcus pluvialis algae have been approved for use as a dietary supplement ingredient in the U.S. and Canada is one of the major factors contributing to the growth of haematococcus pluvialis in North America.
To gain more insights into the market with a detailed table of content and figures, click here: https://www.meticulousresearch.com/product/haematococcus-pluvialis-market-5142
However, the Asia-Pacific region is expected to grow at the fastest CAGR during the forecast period due to the increasing health consciousness, the growing nutraceutical and food & beverage industries, huge demand for personal care products, and high investments in algae production. Moreover, rising government support for algae production in Asian countries are offer significant opportunities for various market stakeholders in the region.
Based on the product, the astaxanthin ingredients segment is expected to see the largest gains in demand through 2027 in the haematococcus pluvialis market. The growth in the sales of astaxanthin ingredients will be mainly supported by the growing end-use applications of the astaxanthin ingredients, rising awareness about preventive healthcare & nutraceuticals, rising demand of natural antioxidants, growing cosmetic & personal care markets, and government initiatives to support the aquaculture industry. Moreover, the haematococcus pluvialis astaxanthin ingredients market is further segmented into astaxanthin oleoresin, beadlets, whole biomass powder, and water dispersible powder. The astaxanthin oleoresin segment is expected to account for the largest share of the overall haematococcus pluvialis astaxanthin ingredients market in 2020, owing to the growing demand for astaxanthin oleoresin in the food supplements, cosmetics, and nutraceutical industries.
Based on application, the nutraceuticals segment is expected to grow at the fastest CAGR during the forecast period due to the increasing demand for natural astaxanthin derived from haematococcus in the nutraceuticals industry because of its potential effects on various diseases such as cancers, hypertension, diabetes, cardiovascular, gastrointestinal, and liver neurodegenerative, and several skin diseases.
Key Players:
The report provides competitive intelligence in terms of financials, growth strategies, product portfolios, and geographical presence on some of the key players operating in this market, including Cyanotech Corporation (U.S.), E.I.D. – Parry (India) Limited (India), BlueBioTech GmbH (Germany), Algatechnologies Ltd. (Israel), Tianjin Norland Biotech Co., Ltd. (China), AlgaeCan Biotech Ltd. (Canada), AstaReal AB (Sweden), Yunnan Alphy Biotech Co., Ltd. (China), Algae Health Sciences – A BGG company (U.S.), Fenchem (China), Piveg, Inc. (U.S.), Algamo s.r.o. (Czech Republic), Atacama Bio Natural Products S.A. (Chile), Algalif Iceland ehf. (Iceland), BDI-BioLife Science GmbH (Austria), AstaMAZ NZ Ltd. (New Zealand), FjordAlg AS (Norway), Sea & Sun Organic GmbH (Germany), MC Biotech Sdn Bhd (Brunei), Pond Technologies Inc. (Canada), Algicel, Biotecnologia e Investigação Lda (Portugal), Algae to Omega, LLC (U.S.), and Shaivaa Algaetech LLP (India), among others.
Amidst this crisis, Meticulous Research® is continuously assessing the impact of COVID-19 pandemic on various sub-markets and enables global organizations to strategize for the post-COVID-19 world and sustain their growth. Let us know if you would like to assess the impact of COVID-19 on any industry here-https://www.meticulousresearch.com/custom-research
About Meticulous Research®
Meticulous Research® was founded in 2010 and incorporated as Meticulous Market Research Pvt. Ltd. in 2013 as a private limited company under the Companies Act, 1956. Since its incorporation, the company has become the leading provider of premium market intelligence in North America, Europe, Asia-Pacific, Latin America, and the Middle East & Africa.
The name of our company defines our services, strengths, and values. Since the inception, we have only thrived to research, analyze, and present the critical market data with great attention to details. With the meticulous primary and secondary research techniques, we have built strong capabilities in data collection, interpretation, and analysis of data including qualitative and quantitative research with the finest team of analysts. We design our meticulously analyzed intelligent and value-driven syndicate market research reports, custom studies, quick turnaround research, and consulting solutions to address business challenges of sustainable growth.
Media Contact
Company Name: Meticulous Market Research Pvt Ltd
Contact Person: Khushal Bombe
Email: Send Email
Phone: +1 646-781-8004
Address:1267 Willis St, Ste 200 Redding, California, 96001, U.S.
Country: United States
Website: www.meticulousresearch.com